The wide open space on the back of a smartphone may be the most overlooked area in mobile technology today. But that's starting to change, as accessory makers catch on to the primo real estate back there.
Now, PopSlate has joined the fray. Tuesday, the startup gave iPhone 6 users a way to make their pricey Apple handset resemble a YotaPhone, a curious Android device from Russia with a built-in rear display. PopSlate offers the same proposition, except as a Bluetooth-enabled case with a secondary e-ink screen.
"They're helping to validate the second-screen space," PopSlate founder and CEO Yashar Behzadi said of YotaPhone. Behzadi doesn't see the companies in competition; in fact, he said they're friends. "We have a different take on it that's a little more ubiquitous," he said. "Every single aspect of their phone has to be better than an iPhone. [But] we want to extend that, not replace it."
PopSlate sells for $129. That would be a ridiculous price if it were just a case, but it's more than that. Think of it like a wearable gadget, but for your phone—one with its own Bluetooth wireless connection, display, battery and approval from Apple's Made For iPhone certification program.
See also: Mastering Apple's Gigantic iPhone 6 Plus With Puny Hands
Sounds great, at least on e-paper. I checked out the device, to find out if it's worth the cost and how well it earns the increasingly valuable space on our phones' backsides.
Pop And Lock
The back of my own iPhone 6 Plus is already a busy place. It bears a removable iRing attachment and an iQi wireless charging receiver. The latter slips between my clear case and the device, letting me charge the phone on Qi wireless charging pads. I'm running out of room to put new things.
As it turns out, the PopSlate review unit won't fit my device anyway. For now, it's strictly an iPhone 6 affair.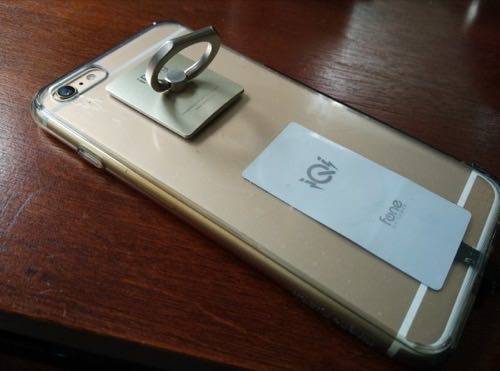 I've been using a PopSlate (on a loaner phone) for a little more than a week now, and its charms are growing on me. That says something, considering the plastic casing—available in white or black—looks pretty mediocre. It's also chunky, at a little more than half an inch in total thickness. Users of Otterbox cases are most likely to feel at home here. Of course, the slide-in case does pack a 240 mAh battery and a secondary screen.
PopSlate gets its name from its primary feature: Using its mobile app, users can "pop"—read, send—black and white photos and illustrations from the phone to the back panel via Bluetooth. The unit remembers a small collection of recent pops, so users can just hit the hardware button on the side to rotate between images. The PopSlate display isn't a touchscreen, so you don't have to handle it gingerly, either.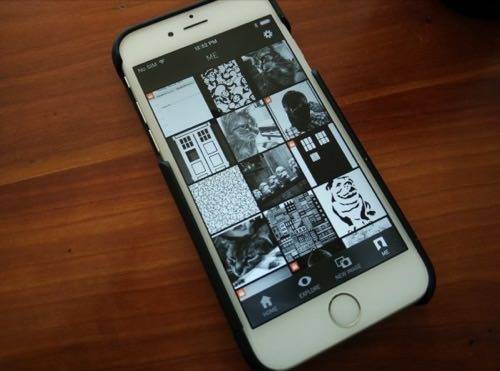 From the app, you can take a photo, do some limited basic photo editing, pull pics in from your Instagram account or camera roll, or follow other PopSlate users.
I particularly like the social features, since other testers and company insiders had some really stunning two-tone "art" and other graphics. Overall, it's easy to see how the product may appeal to art and design fanatics. They can shoot, share or download pics, making for an easy way to adorn their devices with a changing parade of "pops." Others can simply show off images of their loved ones or pets.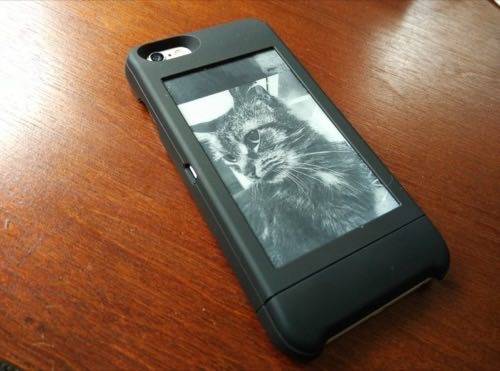 Don't expect high resolution, though. The black and white, 4-inch screen can only display 16 shades of gray at 240-by-400 resolution. While that made for a more "artistic" aesthetic in some cases, other times, the images just looked noticeably degraded.
That matters less when using the rear slate as a holding tank for things like mobile boarding passes, digital movie tickets, street maps, daily agendas, grocery items, to-do lists or other critical information. Users can transmit anything from the front screen to the back, whether through pics or screenshots, and the screen stays on even when the battery on the phone or PopSlate dies. Speaking of power, the e-ink display stretched out the small battery capacity, giving me about a week of use, as promised.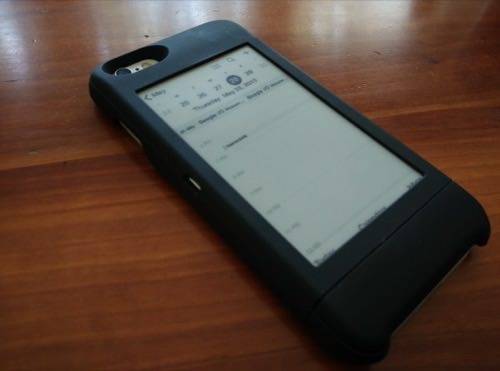 In general, I like the basic concept more than I imagined. But I'm not sure it trumps the pedestrian looks of the physical case itself or its limited integrations. At this point, to take on yet another gadget that requires charging (even weekly), I have to love it or find it absolutely essential.
Neither is true with PopSlate. If it gets a little thinner, amps up its looks and brings down the price, I might find it easier to make that argument.
Software development might help. At the moment, PopSlate only works with a limited number of services. But, according to the CEO, the company has big plans to broaden the popping action.
Screens Ahoy
Although not perfect, PopSlate does look like a clever way to solve problems, from photo app and info overload to limited battery life, using the iPhone's oft-overlooked backyard. But it's not the only company playing with the idea of adjunct displays.
YotaPhone, whose second-generation device sells abroad for $530 to more than $800, will bring its YotaPhone 2 to North America this summer. Samsung also followed up its Galaxy Note Edge, which features a secondary side-oriented display, with the S6 Edge, a beautiful smartphone that boasts two ticker displays on the left and right side of the main screen.
But PopSlate is not a phone maker. It's an accessory maker. The company got its start on crowdfunding site Indiegogo two years ago based on the idea of breaking the screen out into a separate device—which, it turns out, also lays down the groundwork for its own budding platform.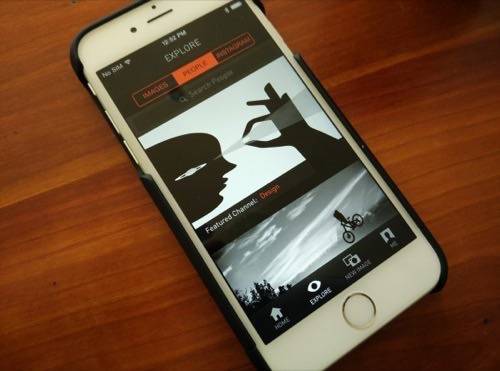 Behzadi says the company aims for three major uses. The first, which targets fashion- and social-minded users, aims to let people show off gray-scale artwork. The second focuses on productivity, which is where popping agendas and to-do lists to the e-ink screen comes into play. The last has to do with "contextual information," said Behzadi, so PopSlate can display the data you need, when you need it.
The company can't manage the third on its own. It needs developers and partners. In the near term, Behzadi told me that his software will integrate with IFTTT, so users can tie other apps and services to their PopSlates. (Apparently, the IFTTT integration hasn't been switched on yet, as I didn't find the channel active when I checked.) The company also has a software development kit in the works that will someday offer developers back-end tools they can use to make their apps work directly with PopSlate.
Eventually, the company will need to create different versions of its products for other devices—an iPhone 6 Plus model, for instance. It will also have to refine its hardware and physical design to earn its spot on the back of our phones. That's no easy task.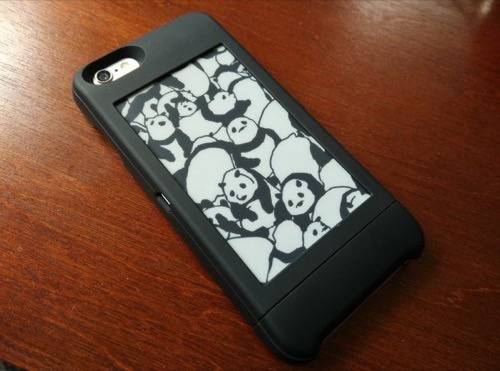 PopSlate essentially has to teach people a new behavior, while proving that its product is worth more than other accessories vying for that space. That's the same conundrum wearable devices face as they fight to rule our wrists.
In more ways than one, PopSlate could become the Pebble smartwatch of phone backsides: an upstart that helps define a category. That's precisely what needs to happen, if it wants to convince consumers and partners that popping is the way of the future.
Photos by Adriana Lee for ReadWrite