Google likes to promote its Android ecosystem with the tagline, "Be together, not the same." Almost nowhere is that more apropos than in the first thing most users see when they pick up an Android phone: Its home-screen interface.
Apple users can rest easy in the knowledge that any iPhone they pick up will look pretty much the same once they turn on the screen. The same is emphatically not true for Android, where most phone manufacturers have gone out of their way to customize Android's basic interface with skins—known technically as "launchers"—that put their own stamp on a phone with differently styled design elements and even new features.
These launchers have even become selling points for some companies. On Monday, for instance, LG released a video showing off its new UX 4.0 launcher, which will presumably show up on its G4 flagship phone later this April:
You may spend most of your time in particular apps, but your phone's home screen is still the first thing you see when you turn it on. It's where you check the time, scan your notifications, move from app to app and—assuming you still do this—make and receive phone calls. It's a pretty important part of what using a smartphone is all about.
Yet many users don't really understand why a Samsung Galaxy S6 looks and behaves so differently from a Moto X or HTC One M9. Even fewer probably grasp that they don't have to live with the interface their smartphone manufacturer installs for them.
Learning a little about launchers, it turns out, offers both power and freedom. Comparing the interface options from Samsung, Motorola, HTC and LG can help inform your decision if you're in the market for a new phone. And knowing more about alternatives—from the stock Android interface offered by Google to other third-party skins also available in the Play Store—can set you free from a subpar launcher or even one that's just grown tired for you.
With all that in mind, let's take a look at what the world of Android launchers has to offer.
A Quick Tour Of Android
First things first: The Android operating system and the launcher that controls the interface are two separate things. Of course, that's not exactly obvious to the casual user.
As you'd probably guess from the name, the Android OS is common to all Android phones. It handles all the phone's basic functions, from shuttling data around and interfacing with underlying hardware (like, say, cameras and accelerometers) to managing apps.
The launcher, by contrast, is basically just another app that sits on top of Android to display and manage the interface. It basically "launches" apps and widgets, sort of like the "Start" button in Windows used to do. Different launchers have different looks, sometimes offer different features, and may be more or less streamlined.
Your new Android phone will come with a launcher pre-installed—typically one designed by the phone's manufacturer. Let's take a look.
Stock Android (Nexus Devices, Motorola)
If you ask most diehard Android fans, "stock" is the interface they prefer to all others. It's Android as envisioned by Google itself, working simply and cleanly without any extra bells and whistles. For some users, it might be the most boring version of Android. For devotees, however, it's the only version of Android worth using at all.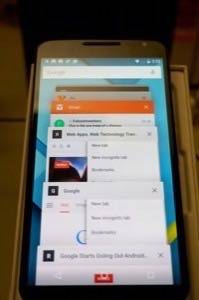 Stock Android—which, at the risk of oversimplifying things, is itself basically a launcher—is more easily defined by what it lacks than by its features. On the one hand, it's something of a blank canvas for users to customize just how they like. On the other hand, it leaves the work of personalization to the user.
And because it lacks the whiz-bang features of some of the other launchers described below, the virtues of stock Android can be a little difficult to grasp. Overall, however, its lack of extra features means it runs fast and clean, with fewer opportunities for OEM-installed software to get in the way or bog down the device's performance.
Stock Android also offers deep Google Search and Google Now integration. Each pane on the Android home screen provides a Google Search bar at the top, allowing for quick searching. And with just a few settings checked, you can say "OK Google" to your phone and issue voice commands to launch apps, search the web, send texts, place calls, and more.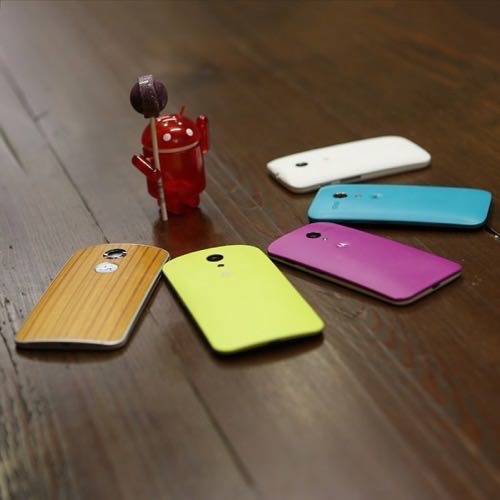 Google Now is the default launcher with stock Android devices, specifically anything in the Nexus line running Android 4.4 or later. Motorola's smartphones, like the Moto X and Moto G, have skins installed that are extremely similar to stock Android.
It's also possible to install the Google Now launcher on other phones for a stock Android-like experience. More on that below.
Bottom Line: Stock Android is the choice of Android purists. If you want a mobile experience that's zippy and uncomplicated, go for stock Android.
TouchWiz (Samsung)
If you ever hear this sound in a crowded room, you're almost certainly hearing Samsung's TouchWiz. TouchWiz is easily identified because of its bright colors, a bluish glow on its notifications, and its cartoony icons. Samsung's UI also gives a few more customization options for app organization and home screen layout, while stock Android is fairly Spartan in that regard.
When most people think of Android, this is likely the version they're imagining. That's because of the sheer number of Samsung-made smartphones that have overrun the world—and TouchWiz runs on all of them. One analyst reported that Samsung's phones accounted for nearly a full quarter of all smartphones sold in Q3 2014 in the world.
While stock Android throws its Google search bar widget at the top of the display, TouchWiz puts it smack in the middle of your home screen. But while the bar is a permanent (if unobtrusive) fixture on stock, TouchWiz lets you remove it if you so desire. The navigation bar at the bottom also shunts the app drawer button to the right-most side of the display, as opposed to the center position it usually occupies on other Android UIs. TouchWiz also offers the option of using the "Easy Home" launcher, which simplifies the UI even further.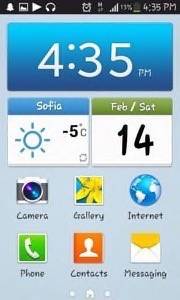 Samsung also has its own take on Google's voice recognition. Called "S Voice," it aims to deliver the same kinds of voice command functionality as Google Now, but head-to-head comparisons have shown that Google Now outperforms S Voice in terms of speed and functionality.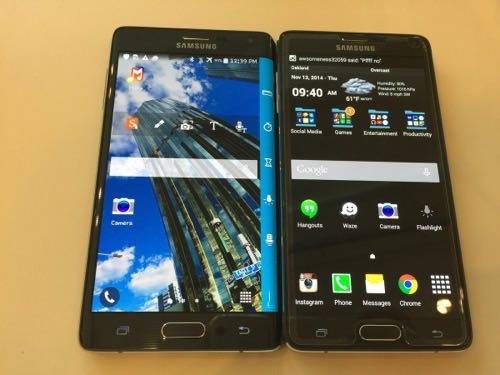 TouchWiz also offers users the Multi Window feature, which puts running apps on-screen side by side. It's a nice addition that gives Samsung an edge in terms of productivity and multitasking.
On the other hand, these extra features and options can sometimes weigh down a phone's speed—though that's something of a concern no matter which non-stock Android you're using. In my own experience with TouchWiz, sometimes apps would hang, crash, or simply suffer from unexplainable bugs. My old Samsung Epic 4G crashed frequently, with trouble running Google Maps. My girlfriend's Galaxy Light has shown some troublesome bugs for months, such as a display that refuses to turn off unless you manually hit the power button.
Recent reviews of the Galaxy S6 say that Samsung used a lighter hand on its latest version of TouchWiz, making it more usable than previous iterations. It's possible, then, that S Voice has grown up and the launcher is more reliable overall.
Bottom Line: If you want to use the latest Samsung flagship, be ready for TouchWiz. It's bright, and has lots of user-friendly options in terms of customization, multitasking, and access. But watch out for the bugs.
Sense (HTC)
Where Samsung's TouchWiz is bright and cartoony, HTC's Sense is a bit slicker and stylized. Its colors are a bit more muted with more minimally drawn icons. Sense starts with a time and weather widget at the top of the home screen, but an otherwise standard navigation bar layout on the bottom.
The newest version of Sense brings Themes with it, which gives users a starting point in terms of wallpaper, icons, and color schemes from which to further customize their experience.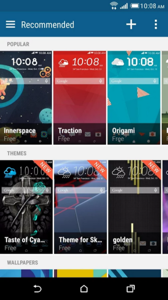 Sense also has options for customizing the navigation bar as well as a few other organizational widgets that other versions of Android don't offer, like Sense Home and BlinkFeed. The former organizes apps you'll need depending on where you are in the world (like home, work, etc.), while the latter is reminiscent of the suggestions offered by Google Now. Users can also use Sense to more easily customize their lock screens with the information they want to see at a glance, like appointments, weather, and email.
Prior to the release of Android Lollipop, one of Sense's biggest draws was its stylish rendering of the operating system and its slick animations. Lollipop's "Material Design" styling catches stock Android up in that regard, which could make many of Sense's other features feel unnecessary or redundant.
Once again, I had a less-than-stellar experience with Sense on my Evo 4G LTE, which had the unfortunate habit of dropping my Wi-Fi network even though its indicator showed I was still connected. Sense also tended to kill tasks or apps that were running in the background—technically a good way to save on battery and RAM, but still annoying when I wanted to resume a song or podcast I'd started earlier.
Still, Sense has a unique style that stands out, and is far less garish than most other Android UIs. And with the forthcoming release of the One M9, it's possible that HTC has made its latest version of Sense even better.
Bottom Line: Sense has undeniable style, and gives your phone a premium software feel. Some of the extras HTC packs into Sense aren't particularly necessary, but they might be fun additions to your mobile life.
UX (LG)
LG's long-running rivalry with Samsung has resulted in an Android UI that shares a lot in common with TouchWiz. The simply titled "UX" (which, presumably, stands for "user experience") isn't quite as colorful or bright as TouchWiz, but it does offer some of the same kinds of features.
Like Samsung's Multi Window for same-screen multitasking, UX has QSlide and Dual Window: the former opens a few specific apps in separate floating windows on the display, while Dual Window, well, opens two app windows side-by-side.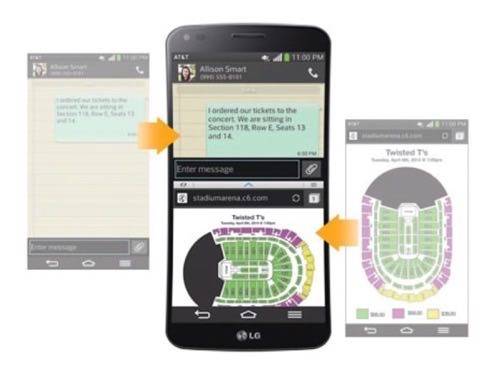 Some new features revealed (and helpfully translated from Korean by SlashGear) by LG to be coming to UX 4.0 include Quick Shot for fast photo snapping even when the display is off, Smart Alert for activity and wardrobe suggestions based on that day's weather forecast, and a drag and drop feature to move Facebook events into your phone's calendar app.
UX 4.0 also features Knock Code, which can activate and unlock the phone's display with a user-set pattern that they tap on the screen itself:
I've never actually owned an LG handset, so I can't speak to personal experience in terms of UX's overall performance and stability. However, it stands to reason that, like TouchWiz and Sense, UX's extra features might keep Android from running as quickly or as smoothly as the stock OS.
Bottom Line: Some interesting photography options and multitasking capabilities make UX an interesting up-and-comer in the world of Android skins. It's got a few strong similarities to TouchWiz, so it's possible that deciding between the two could have more to do with a buyer's hardware preferences in the end.
"Be Together, Not The Same"
Overall, each different Android launcher has its own advantages and drawbacks. For what it's worth, I've long wanted an app on my Nexus 5 that gives me the same kind of multitasking features offered by Samsung and LG. Most third party app solutions I've found seemed sketchy in terms of adware or too disruptive to the overall Android experience, so I'll keep pining.
But for my money, even without single-screen multitasking, the best Android is pure Android. Meanwhile, if you hate the skin you find on your new phone, there are no shortage of launchers to choose from. Just look them up on the Play Store, download and install, and suddenly it's like having a brand-new phone. (Well, kind of.)
On the original Kindle Fire, I was desperate to get away from Amazon's terrible FireOS (a heavily modified, forked version of Android). I enjoyed switching to the Go Launcher EX, but even more launchers have been released since then.
If you have a different take on these Android UIs, let me know in the comments below.
Lead image courtesey of Kārlis Dambrāns; Android images courtesy of Google; HTC Sense image courtesy of HTC; LG Dual Window image courtesy of LG