HTC's One M9 got rave reviews at Mobile World Congress in Barcelona and might be HTC's best offering yet. But this phone, which goes on sale first thing Friday morning, seems doomed to be forgotten—not least because what at first looks like its most remarkable feature is basically vaporware.
The One M9 is a nice enough phone, about which more in a moment. But in a year when the iPhone is gobbling the market and Samsung is striking back with its prettiest phones yet, HTC needs to really stand out from its rivals.
It's A Big Phone, Or So HTC Says
So HTC decided to do just that by boasting about the fact that the One M9 offers a stunning 2 terabytes—yes, you read that correctly—of microSD storage. That would amount to roughly 1,000 times the capacity of a free 2GB Dropbox account.
Here's Jason McKenzie, president of HTC America, boasting about that storage in the company's One M9 press release:
HTC One owners listen to music more than the average smartphone user and so we didn't compromise on what is important for our consumers…. We kept the microSD slot and increased capacity to 2TB because you want your content with you….
There's just one problem: 2TB microSD cards basically don't exist yet. The best you can buy on Amazon appears to be a 128GB card. SanDisk just unveiled a 200GB card—that's still only about one-tenth the size of a 2TB card—that it calls the "world's largest capacity microSD card." (It will also set you back about $400.)
By Moore's Law, we're at least three cycles—that is, between four-and-a-half and six years—away from a 2TB microSD card. That strongly suggests the One M9 will be a dim memory by the time users can lay hands on storage that meets HTC's claims.
The One M9 isn't the first phone to try to excite buyers with larger-than-life storage—the LG G3 tried the same angle last year.
What You WILL Get From The One M9
First thing Friday morning (i.e., 12:01am ET), HTC will make the One M9 available in the U.S. for $649 unlocked. Then it will be available through all major U.S. carriers, AT&T, Sprint, T-Mobile and Verizon, on April 10.
The 5-inch smartphone weighs 157 grams. It will ship with Google's Android 5.0.2 operating system. According to HTC, the One M9 will function for 21.7 hours for 3G talk time and around 400 hours in unused standby—all on one battery charge.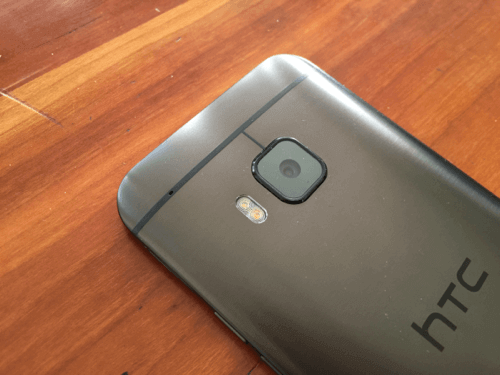 The One M9 also comes with a 20-megapixel rear camera, up to 32GB of storage, and 3GB of RAM.
It's just too bad about that microSD slot. Maybe next decade.
Photos by Adriana Lee for ReadWrite