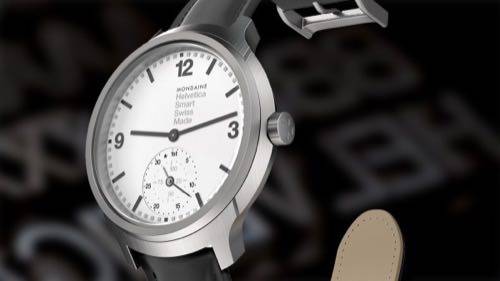 The biggest gadget makers are getting into watches, and now watch makers are starting to respond. Mondaine is the first of the major Swiss manufacturers to release a watch with extra smarts—primarily activity tracking—and the company will be showing it off at the Baselworld trade show in March in a few weeks' time.
The Mondaine Helvetica No 1 Smart can track number of steps taken, distance travelled, and sleep quality. It features a second activity dial much like the Withings Activité. Notably, the watch includes the same MotionX and Sleeptracker sensors found in wearables from Jawbone and Nike—these off-the-shelf electronic components offer anyone a way in to smartwatches.
With the necessary sensors now available and inexpensive enough to incorporate into existing designs, you can expect to see plenty more timepiece lines make the jump from watch to smartwatch. Tag Heuer, Swatch, and several other respected watch makers all have smartwatches in the pipeline.
The established brands in the watch market are bringing in expertise from Silicon Valley. Fossil, for example, announced a partnership with Intel last September that has both companies working together "to further develop wearable technology for the fashion industry."
The Helvetica No 1 Smart
Mondaine's new watch "proudly references its past, while simultaneously taking a bold step into its future," according to the company behind it. It will be able to gently rouse users at naturally beneficial points in their sleep cycle, and provide "Get-Active alerts and Smart coaching" through a companion app running on a phone or tablet.
Getting the software side of the experience right is likely to be more of a challenge for the established watch manufacturers—it's the area that they don't have any previous track record in.
As the watch uses a standard watch battery, it can last for more than two years before a replacement is required, which is quite a contrast to the daily charging routine that Apple Watch owners will have to go through.
The Helvetica No 1 Smart is also the first smartwatch to make use of the Horological Smartwatch Open Platform, a join venture between Silicon Valley-based Fullpower Technologies and Union Horlogère Holding, owner of several Swiss watch brands.
The platform provides back-end number-crunching and sensor monitoring to ensure accurate results from a watch and informed advice based on them. The technology has already been confirmed as powering several other upcoming watches besides the Mondaine model.
Mondaine's first foray into smartwatches will go on sale in the fall of 2015 for an approximate retail price of CHF 850 (around US$900 at today's exchange rate). As yet there's no word on worldwide availability or mobile platform compatibility, but more will be revealed at Baselworld 2015.
Header image courtesy of Mondaine