Don't call Pebble's new smartwatch platform a reboot. That implies scrapping the old and ushering in the new. Consider the new software and its new companion product, dubbed Pebble Time, a progression of the Pebbles that came before.
The old models aren't going anywhere. They're just going to be joined by something a bit flashier.
That flash comes from the color display, on-screen animations and a brand-new microphone—all stuffed into a device that's 20% thinner, founder Eric Migicovsky told me. Even better, he says the device "still has a 7-day battery life," like the previous Pebble watches.
See also: What Pebble Needs To Get Right With Its New Smartwatch Platform
There's a lot to unpack with the announcements, both for consumers and the software developers that make up Pebble's life blood. Its existing ecosystem is populated by thousands of watch faces and apps, and by the company's count, it has sold a million watches so far. To evolve, Pebble has to move carefully—updating its technology and products without leaving its existing customers and developers in the lurch.
Here's what Pebble has in store for its next phase.
Time For A New Smartwatch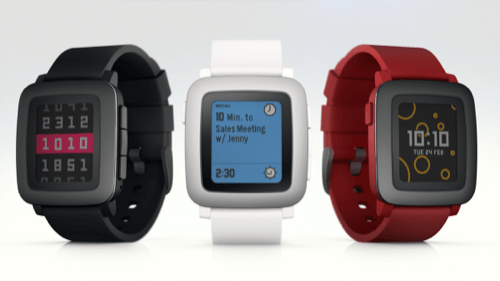 First things first: The new Pebble Time isn't available yet. In fact, Pebble will once again take orders via Kickstarter, with the first hardware shipping in May. (Details below.)
But expect some surprises when you do see it. "This is the largest change we've made to our product line since we launched on Kickstarter the first time," Migicovsky said, referring to his 2012 campaign that raised more than $10 million.
The original Pebble featured a two-tone e-paper display, similar to those found on Kindle e-readers. Such screens are legible in daylight with minimal battery drain. Although basic, they were somewhat charmingly so.
Now those charms have worn thin—particularly as rivals emerge with beautiful high-definition displays. Pebble Time now comes armed with a palette too. There's still no comparison with HD displays, of course, but the color e-paper screen still preserves the battery, allowing the display to stay on at all times. It also helps the smoother animations Pebble now offers, which look more appealing in color than in grayscale.
On the inside, the biggest change is a new microphone.
I previously wondered if Pebble would integrate speech; practically all of the major smartwatches do, and the Apple Watch will, thanks to Siri. Now Pebble Time will be the company's first model to offer voice features. The device will support five languages to start—including English, French and Spanish, with others, such as Chinese, planned in the future.
See also: How Pebble Became The Cheapest Android Smartwatch Around
Making calls from the wrist, however, is not on the menu. "We've decided not to offer that functionality," said Migicovsky. "There's no speaker on the watch either. We did it mainly to emphasize what the best use-case is in the early days—being able to send quick voice responses or take voice notes."
The team is working on the ability to send short audio clips, though, and creative app developers might be able to use speech in other ways. They'll "get an open API in the future, so that anyone can build apps on top of that," he said.
The new Pebble—like the old one—will still last about a week, Migicovsky claims. (In my own real-world experience, the original Pebble tends to go for roughly 5 days between charges.) Of course, your results may vary. If you run animation-intensive applications all the time, Migicovsky admits you'll probably zap that battery.
Pebble Time will also remain fully water-resistant—no small feat, considering it has a microphone—and comes with a sensor array that includes an accelerometer (for movement) and a magnetometer (for a compass).
On the outside, the watch features a curved body to fit the wrist, rounded corners, a Gorilla Glass display, a stainless steel bezel, a new hardware port that allows sensor and fitness accessory makers to connect directly with the device, and a silicon watchband sized at a standard 22mm, so people can change it out easily using the quick-release pin in the strap.
OK, Pebble: Notify Me
One of the Pebble's longstanding annoyances has been the number of button presses necessary just to get to certain apps and other functions. The new software aims to improve on that—in part by shifting away from a focus on apps to one that highlights chronological notifications.
"[The smartwatch] has notifications, apps and watch faces," Migicovsky said. "It's good and simple, but when you add more apps, features and notifications, it gets overwhelming." This is the vexing problem of growing an open platform that could bring forth hundreds, even thousands, of functions. But without an efficient way of navigating that, things can quickly become a frustrating mess, especially on a teeny tiny screen sitting on your wrist.
Ultimately, Pebble decided on a structure befitting a watch: a timeline. "Instead of having individual apps, we've extracted the information from those apps that are relevant to you in your normal day," Migicovsky said. The new Pebble software now pulls in data based on chronology for contextually aware features. Users can call up activities that just happened, future events and data relevant at the present time by pressing respective up, down and middle buttons on the watch.
The information can include yesterday's step count, tomorrow's appointments and the current weather, as well as travel plans, reminders, news, reservations and other data.
"You see the past view, and you can scroll up to see what just happened," said Migicovsky. "The really cool animations is what we're calling the present feed, which is the new app menu." Once within a particular area, users can scroll through different types of data. "Thanks to a new widget view, each app can actually display a little bit of information in the menu screen, so users don't have to actually have to go over to the app itself," he said.
The new software will come with a new software developers kit, though Pebble hasn't announced a specific release date yet. But it will be available soon, he said—a matter of "days or weeks, not months." When it arrives, developers will be able to support the new Timeline, the new color screen, animations and voice features.
Pebble's new Android Wear support will extend to the new operating system as well, and even Web developers will get access to Timeline. "They no longer have to write apps that run on Pebble, and they no longer have to run Android or iOS apps," he said. "They can write it entirely in Web languages, and interact with an OAuth-based, http end client."
The software will also be backward compatible, running the 6,500 apps and watch faces currently in Pebble's app store. As for current Pebble smartwatches—including the original plastic versions and the premium steel model—the company is working to bring the new OS to those older devices.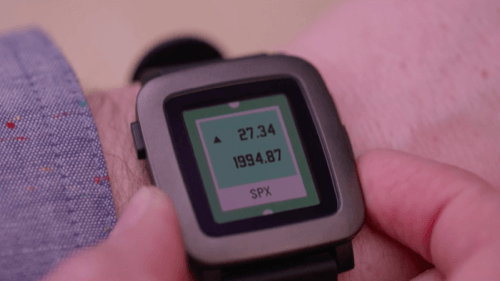 Pebble returns to Kickstarter to launch the new Pebble Time beginning Tuesday with pledges starting at $159. (After the campaign, the full retail price will be $199.) The device—available in red, white or black—supports iPhones, including the 4s and newer models running current versions of iOS 8, plus Android smartphones running version 4.0 and later, which covers devices by Samsung, HTC, Sony, LG, Google, Motorola, Xiaomi and others. The campaign will end in late March and begin shipping in the latter part of May.
With the Apple Watch's debut in April, smartwatch customers will soon have a bevy of choices. But that suits Migicovsky just fine. "I think it's going to be extraordinarily exciting," he said. "There's going to be a ton of attention in this space."
Images courtesy of Pebble.