It took only 20 minutes for the Time, the latest smartwatch from Pebble unveiled Tuesday at 7 a.m. Pacific, to meet its Kickstarter crowdfunding goal of $500,000. In fact, only 34 minutes after launching, Pebble Time hit a million bucks in crowdfunding, and it's set to cross $2 million less than an hour after launch.
It shows no sign of slowing down: If anything, Pebble Time backers are hitting the accelerator.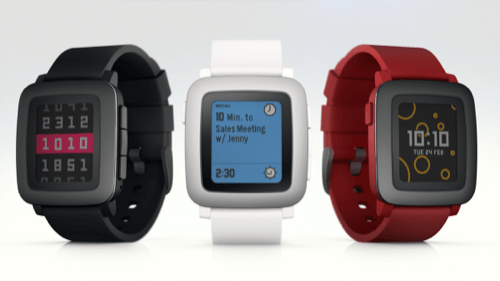 Pebble seems keenly aware of the ridiculously high demand for the Time, having doubled the number of early-bird backer levels available on Kickstarter from 5,000 to 10,000. At that tier, backers can buy the Pebble Time at $159, a $40 discount from its planned retail price of $199.
Its other tiers have also been increased to accommodate the ever-growing number of backers, which, as of this writing, is well on its way to hitting 10,000 within the first hour of the campaign's existence.
Pebble was born on Kickstarter back in 2012, and has since become known as the company responsible for making the smartwatch product category viable. Despite some rocky moments with the original Pebble campaign—largely due to the incredible demand—backers look willing to bet big on the company's ability to deliver with the new Pebble Time, which has an estimated delivery date of this May.
However, as with every Kickstarter campaign, increased success brings the possibility that a creator won't be able to meet higher order demands. While Pebble is a seasoned smartwatch manufacturer at this point, it's entirely possible that the overwhelming success of its campaign so far could be more than it can handle when it comes time to produce the Time in large quantities.
Let's hope that Pebble knew what a hit it had up its sleeve this whole time, and that we'll all be wearing our new Time smartwatches this summer. Meanwhile, there's no telling how high its pledge total will go by the time its campaign ends in 30 days.
Photos courtesy of Pebble; GIF by Lauren Orsini for ReadWrite