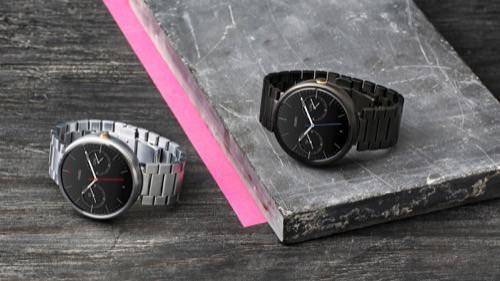 Clever Android developer Mohammad Abu-Garbeyyeh managed to get his Android Wear smartwatch working with an iPhone, no jailbreak required.
To make it happen, Abu-Garbeyyeh used Apple's own application programming interfaces (APIs)—the same ones that Pebble relies on to support iOS devices.
See also: How Pebble Became The Cheapest Android Smartwatch Around
It's the first time we've seen Google's wearable software work with iOS. Here's more on how the hack works.
Have iPhone, Wear Travel
Apple offers developers a way to tie into its notifications: the Apple Notification Center Service (ANSC) APIs. According to the Apple iOS Developer Library, ANCS gives Bluetooth accessories "a simple and convenient way to access many kinds of notifications that are generated on iOS devices."
Using that, Abu-Garbeyyeh managed to get basic iPhone notifications to show up on an Android Wear device (in this case, a Moto 360). "The goal is to only carry an iPhone and an Android Wear smartwatch," said the developer in a comment on Android Beat.
A short demo video provides the evidence.
However, the functionality is limited. The commands can't go back in the other direction. In other words, no voice control features or Google Now–powered pop-ups, as Android Wear users get when connected to Android mobile devices.

Lowering The Smartwatch Walls
Abu-Garbeyyeh himself has said very little about the hack and hasn't yet made the source code available. What's more, it's not clear if Apple or Google will block the functionality, particularly if it starts to see wider use.
Whatever the long-term prospects for this particular project, it highlights the barriers as some manufacturers limit smartwatch compatibility to only certain smartphones. Tizen-based Samsung Gear watches, which only work with Samsung handsets, are prime examples. So is, of course, the upcoming Apple Watch—Apple's official wearable designed from the ground up to work with the company's iPhones.
See also: Hey, Samsung, LG And HTC—Shunning Android Wear Is A Huge Mistake
Google makes many of its top-tier apps available on iOS, and Android Wear product manager Jeff Chang has previously said that he would be "very interested" in adding iPhone compatibility in the future. It would be a smart move for Google. Limiting Android Wear devices is unlikely to boost handset sales, and it leaves the field clear for Pebble to establish itself as the number one cross-platform smartwatch.
If Android Wear ever officially added iOS support into the mix, the platform would suddenly broaden its appeal. Mohammad Abu-Garbeyyeh's hack is evidence that compatibility is possible.
Lead image courtesy of Motorola