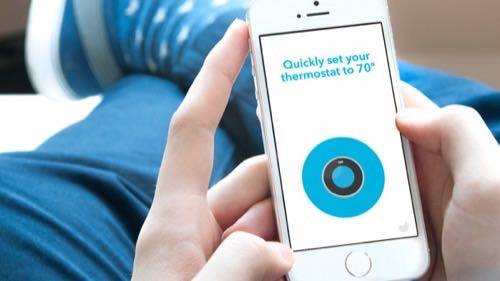 Automation service IFTTT (If This Then That) has launched a trio of new mobile apps to make it easier for users to access its features on a smartphone—or a smartwatch. Do Button, Do Camera and Do Note enable one-tap access to all of the other services plugged into IFTTT, including social networks, smart home devices, fitness networks and Web apps.
See also: Automate All The Things—How To Get Started With IFTTT
Launched publicly in 2010, IFTTT enables users to specify a trigger and an associated action across a wealth of services and platforms. You can build customized "recipes" using online apps (Facebook, Twitter, Dropbox, Gmail, Flickr), mobile platforms (SMS, iOS, Android), smart gadgets (Nest, Belkin Wemo, Philips Hue, Fitbit, Jawbone) and more.
The IFTTT apps launched today for iOS and Android aim to make the service more accessible for first-time users and more convenient to use on a smartphone or wearable. One tap on a Do app could, for example, switch off a home lighting system, send out a preset tweet, or push a photo to Instagram.
Think IF, Not IFTTT
The main iOS and Android apps are also being rebranded "IF" (instead of IFTTT), which the company calls part of its own transition "from a standalone service into a company with multiple products." Co-founder and CEO Linden Tibbets says that the Do apps offer "a simpler and more personal type of recipe—one that runs with just a tap of a button."
Do Button is perhaps the most notable of the new offerings, giving one-tap access to any part of the IFTTT ecosystem. Do Camera focuses on photo uploading and sharing, while Do Note does the same for text. For now, users can only select from a pre-set list of recipes based around other apps and services that IFTTT is plugged into. It's essentially a cut-down, streamlined version of the main service available on the IFTTT website.
While not yet a household name outside the tech industry, IFTTT has built up an impressive number of third-party partnerships. The company hasn't yet publicly shared user numbers, but has confirmed that users have created 19 million recipes so far and run them more than 600 million times per month. The startup has attracted $39 million in funding from a variety of Silicon Valley investors.
It's also responsible for one of the few dedicated Android Wear apps currently on offer, providing instant access to most of its key functions from a Google-powered smartwatch. With Do now in place, IFTTT is better equipped to work on any single-touch device—from a smart home thermostat to the Apple Watch — where input options are more limited.
Photo courtesy of IFTTT