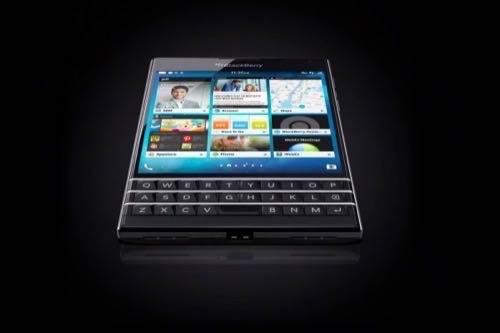 BlackBerry's newest smartphones will return to a major carrier's stores at the end of this week. Starting February 20, AT&T will begin offering the company's Passport and Classic on contract, as well as through installment plans.
Despite efforts by carriers to wean consumers off phone subsidies, in the American market, cheap phones sold under contracts—or, more recently, on installment plans—are the bulk of the market. Faced with lackluster sales of its Q10 and Z10, BlackBerry basically sat out the most recent sales cycle, with no carrier offering subsidized sales.
Getting back into AT&T's good graces means it's "go time" for BlackBerry's latest phones. They've only been available at unsubsidized retail prices directly from BlackBerry and on Amazon.com.
The stakes could be high for BlackBerry. Because if neither phone succeeds at this point, it's not clear they ever will.
A Duo Of BlackBerries
The Passport is the closest thing BlackBerry has to a phablet, with a squared-off 4.5-inch display and a relatively long-lasting battery. The AT&T version trims a bit off the corners, making them rounder, though the rather funky QWERTY keyboard remains the same.
See also: BlackBerry's New Square Passport Is A Ticket To Weirdness
I found the Passport to be a strange device. It's slightly larger than a terra-cotta tile, but thicker. The screen presents an odd viewing scenario, as most online videos do not naturally fit that square-ish shape. It also comes with an unconventionally laid-out keyboard that seems almost intentionally designed for typos.
I had higher hopes for the Classic, which more closely resembles a traditional BlackBerry. The company sent me a unit to check out, and after using it for a few weeks, I found some highs and lows with the device. I was surprised at how much I missed the feeling of a physical keyboard. BlackBerry's traditional QWERTY is a standout—even now, when it has few competitors left. Banging out messages felt oddly satisfying, since I could mash those keys without having to look at my fingers.
The downside: The space dedicated to the keyboard dictates a smaller touch display of 3.5 inches. Overall, the device itself feels slightly thicker and heavier than the old, lightweight BlackBerry phones of yore, like the Torch or Bold.
See also: BlackBerry Launches The Classic, Its Best Hope Yet For Salvation
Both devices support BlackBerry messaging and offer Hub, the company's take on a unified message center. It makes sense conceptually, but in practical application, the swirl of messages—from Facebook and Twitter to work email and personal texts—can feel a bit messy lumped in together. It doesn't help that BlackBerry doesn't always accurately track whether or not you've read them.
The Passport and Classic manage to sidestep the matter of BlackBerry's meager app selection. They do this by running Android apps in addition to BlackBerry apps, which greatly expands what they can do.
But it's not a perfect solution. The Android apps come courtesy of Amazon's app store, not Google Play, which means some major apps—including several Google services—just aren't available.
Are They A Dynamic Duo?
The Passport will only be available on AT&T as an exclusive. The phone will sell for $0 down at a range of installment options—from $21 to $32 depending on the AT&T Next plan. The two-year contract price will be $200, with off-contract pricing at $650.
The Classic will cost less, going for $0 down and monthly payments of $14 to $21 on AT&T Next, or a contract price of just $50. Customers can also purchase the device from the carrier outright for $420. The Classic won't be an AT&T-only gadget. Other carriers, including Verizon, have stated their intention to carry the device, though details have yet to emerge.
BlackBerry's best shot at success may lie with the Classic, whose attractive price point and terrific keyboard naturally sets it apart. But even if you can get over the tinier screen, the app selection and message handling still feels like a work in progress.
Perhaps that's what it was intended to be. Mobile World Congress, a big, annual industry event, will kick off in two weeks. BlackBerry is expected to reveal its next steps then. These could involve an evolution of sorts for whichever device has captured the public's fancy (and dollars) more. Or, if it should face lagging sales, the company may decide to push its work-oriented initiatives—like that still-fresh partnership with Samsung over Android security.
Either way, this may be a make-or-break moment for the company, and what happens in the next few weeks could determine its path for the foreseeable future.
Photos courtesy of BlackBerry