The leveling off of Samsung's mobile business last year sent a message to the consumer electronics giant: Today's tech users want more than just huge, plasticky phones. They want beautiful gadgets that are a pleasure to use.
Enter Samsung's new design chief, Lee Don-Tae. He just joined the technology giant this month to whip its products into (hopefully beautiful) shape.
He may be the new exec on the block, but Lee already has a lot to live up to. He was the former top executive of Tangerine, the design firm that also produced Jony Ive, Apple's vice president of design. Now all eyes are on the new recruit, to see if he can create the same sort of consumer obsession for Samsung products that his Apple counterpart achieved for the Mac, iPod and iPhone.
See also: Turns Out The Samsung Galaxy S5 Tanked Outside The U.S.
Here's more on the man who might be Samsung's version of Jony Ive.
Think Different
Previously, Jang Dong-Hoon, vice president and head of Samsung Electronics' design team, had been considered Samsung's Ive. Now Lee appears to be taking up that mantle.
As senior vice president and head of global design, Lee will report directly to Yoon Boo-Keun, president of Samsung Electronics, and take the reins of the Samsung Design Center. Previously, the center, which is staffed by more than 1,000 people, was controlled by Samsung's chief executive.
It's an encouraging move. Instead of corporate executives making design decisions, Samsung will rely on Lee. In his new role, his primary duty is "to elevate Samsung's design prowess overall rather than focusing on a specific product," a Samsung official told The Korea Herald.
His new employer appears to have a lot of faith in him. One look at Lee's credentials reveals why.
See also: Samsung Reveals Its Master Plan To Connect Your Life
The South Korean national majored in industrial design at Hongik University, studied product design at the Royal College of Art in the U.K., and earned a Ph.D. from Yonsei University in human environment and design. At Tangerine, he has consulted for several global companies, including Samsung, LG, Toyota and British Airways since 1989.
The latter asked the firm to redesign its Club World fold-back seats for overnight business travelers in 1998. Lee worked on "Project Dusk" for the airline, and the team produced the following "z" style folding flat bed.
Chinese gadget maker Huawei also tapped the firm to help it build phones "for Western tastes that was true to the principles and values of the giant Chinese business," according to an online case study.
When the then-co-president of Tangerine addressed the Thailand Creative & Design Center last year, he spoke about a "stall point," a threshold reached by mature businesses beyond which they can no longer progress or expand. Those words seems particularly prescient, given the current task that sits before Lee.
A somewhat soft-spoken, but less breathless speaker than Ive, Lee had advocated the use of "Cognitive Design," or design that generates human desire by genuinely serving people. One of the most powerful ways to attract customers, he said, is by finding their unmet needs and satisfying them. It's a deeply pragmatic and creative approach that may be particularly handy now.
The Grand Design
Fortunately, Lee doesn't have to start from scratch in his new position.
Samsung's latest Gear S smartwatch represents its best-looking and most intriguing wrist wearable to date. That's encouraging, considering its first attempt at a smartwatch, the original Gear, fell back on the the company's bad habit of cramming in ill-fitting hardware. The camera shoehorned into the wristband didn't win many fans.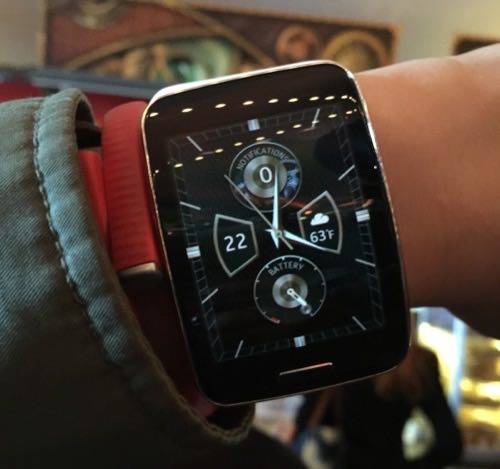 As for phones, the Note 4 phablet and mid-range A-series phones eschewed plastic metal-like trim for real metal, giving them a more premium feel than even the flagship Galaxy S5, a generally very solid device that suffered from uninspired design. (It was almost indistinguishable from its predecessor, the S4.)
Clearly, Samsung has been paying more attention to the look, feel and operation of its products. Cementing Samsung's design ambitions, it also released the Galaxy Note Edge, a phone with a curved glass screen that folds back to offer a secondary "ticker-style" display.
I've seen it up close, and it's beautiful—though the usefulness (and usability) of the ticker display is still in question at this point.
Phones fall under Lee's direction, but it's only one of many product lines. He's expected to elevate "Samsung's design prowess overall," and that's a huge task. The company makes many consumer products—including TVs, washers and refrigerators, as well as mobile devices. Some divisions seem to understand the value of design better than others. (The company even tapped designer Yves Béhar to help create one of its latest televisions, an 82-inch curved model that was on display at the Consumer Electronics Show.)
Most of these products don't tie into any sort of universal Samsung design ethos, though. The brand's hardware products and software can vary quite a bit from division to division. The company sorely needs a single point of leadership to guide those devices. Initially, that will surely lead to more stunning mobile devices. It should also set cohesive guidelines that may extend to all points in Samsung's connected life—from pocket and wrist to home and car.
Creating the design language for a range products that so much of the world uses is an enormous, high-pressure job. But if anyone can beat back the Korean company's stall point, it's Lee. Or so Samsung hopes.
Photos of Don-Tae Lee captured from YouTube video by TCDCThailand; "Project Dusk" photo courtesy of Tangerine; all other photos by Adriana Lee for ReadWrite
Correction: Originally, the story indicated that Jony Ive founded Tangerine. Martin Darbyshire and Clive Grinyer founded the firm. The text was also edited for clarity.