Last year, it looked like Russia would be the recipient of Samsung's first Tizen smartphone, but now India gets the honor instead. Meet the Z1, the South Korean tech company's first smartphone powered by its own open-source, Linux-based software.
Unsurprisingly, the dual-SIM $92 budget device comes with middle-of-the-road hardware on board—including a 4-inch WVGA screen, 1.2 GHz dual-core processor, 768MB RAM and two wholly unspectacular cameras, a 3.1 megapixel rear camera fronted by a VGA selfie shooter.
See also: Samsung Reveals Its Master Plan To Connect Your Life
But hardware isn't the main attraction. It's the software—namely that Tizen 2.3 operating system Samsung developed and now wants to spread across its connected devices—that warrants attention here.
A Mediocre Phone Is Not Boring …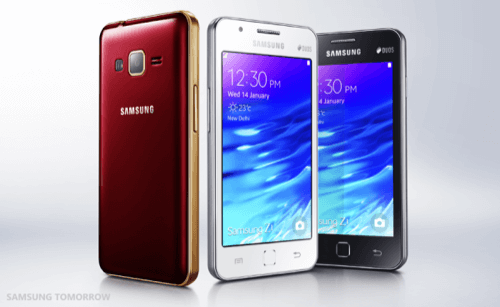 Last year, Samsung saw falling mobile device shipments. Now it appears to be running full-tilt at the mid-tier market. Earlier this week, it launched the Galaxy A7, a lower-end off-shoot of its flagship Galaxy S series line-up.
As an individual phone, even a mediocre one, the latest Z1 should ably handle what Hyun Chil Hong, president and CEO of Samsung in India, says is the device's main purpose: to "meet [the] unique, entertainment-focused needs of local Indian consumers," he said in a statement.
Mobile users in India are voracious consumers of media, and the phone comes with Samsung's "Joy Box" service, for free media and trial access to sources like Hungama.com and nextGTv, for Hollywood and Bollywood titles. To keep the device running, it comes with an "Ultra Power Saving Mode" much like you'd find on higher-end Samsung devices. Wireless provider Airtel steps up to offer 500MB of 3G data free for six months.
Even so, on the surface, it still looks like yet another budget device heading to a developing market. And it would be, if not for the fact that Samsung stuffed Tizen into the Z1, making it the first to hit the market with the company's own software on board.
The biggest challenge in front of the company and its new handset is the lack of Tizen apps. After all, app makers can't just port over their existing Android or iOS apps. They must build on Tizen or rewrite those other versions to work on Samsung's platform.
Now at least there's an actual device on the market to run those apps. It may not be the most advanced device or even widely available, but hold tight, says Samsung. It's just the first of many Tizen gadgets on the way, it promises.
… When It's A Sign Of What's To Come
The Z1 fills in an important gap for the tech giant. These days, mobile devices tend to act as the heart of gadget ecosystems, tying together various gizmos into a connected and inter-connected system. The end result: Homes, cars and personal gadgets that know you and your habits, and give you a remote control for your life or even make decisions for you, if that's what you want.
While it remains an Android device maker, Samsung doesn't want to run its Internet of Things initiative on Google's platform. It clearly has its own plans—which may even include buying BlackBerry (although BlackBerry has denied that report). Renowned for its hardware QWERTY keyboard phones and enterprise security practices, the struggling BlackBerry has a big backup strategy focused on the Internet of Things.
How exactly BlackBerry might fit into Samsung's mobile or Internet of Things plans isn't known yet. What is clear is that the Internet of Things is a top priority for the electronics and appliance maker, and that it wants to put its Tizen software into most every connected product it makes, which is a lot—everything from its televisions and kitchen appliances, to smartwatches and now smartphones.
See also: Samsung On Why (And How) Your Future Smart Home Will Probably Be Theirs
The company used some of its spotlight at the Consumer Electronics Show to discuss how it will put the software in its popular line-up of smart televisions. Previously, Samsung also released Tizen-powered wearables, including its best smartwatch to date, the Gear S.
Until now, Samsung has lacked any sort of mobile device to bring it all together. Granted, the Z1's limited capabilities certainly won't be up to the job on its own. But the handset gives developers a concrete reference point, and shows that Samsung's ready to walk the walk, and not just talk the Tizen talk.
Photos courtesy of Samsung India