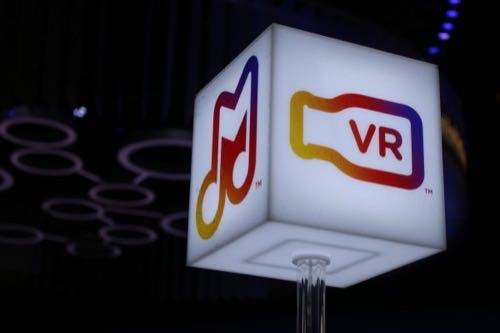 There are two Consumer Electronics Shows every year. One is all about glitz, with big gadget companies producing gonzo exhibits and lavish parties. The other is a low-key affair, where executives in back rooms discuss initiatives that will shape technology's future.
The latter is where I met Matt Apfel, Samsung's vice president of strategy and creative content. He's in charge of making sure there's a decent supply of shows for Samsung's new VR headset, the Gear VR.
At Samsung's press conference Monday, the company announced partnerships with the NBA, Red Bull and Refinery29, among others—including David Alpert, executive producer of The Walking Dead, who signed on to make a series for Samsung's virtual-reality video service, Milk VR.
Gear VR is very important to Samsung, which is why it wants to give its users quality videos to keep them happy—even if it means making them itself.
"Our" Walking Dead
Apfel knows users will get frustrated, even leave, "if there's nothing else you can do with that device," he said. "You're not going to shop right now, you're not going to do email—you're going to watch video and play games."
That's why it lined up partners to come in and flesh out its VR line-up.
Those studios will deliver an array of choices to appeal to diverse tastes. And it's campaigning for more. That's what Apfel wants, though he seemed particularly enthused about Alpert's creative contribution. He mentioned it more than once when I spoke to him.
Until that materializes, the best Milk VR title, "The Recruit," still comes from Samsung itself.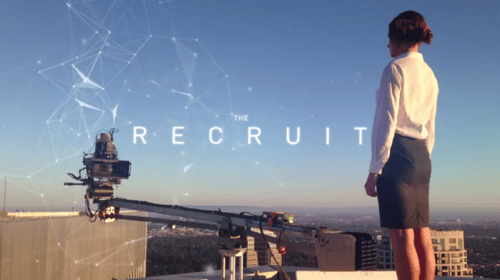 Apfel explained how the three-minute scripted mystery/suspense video came about: "Metaverse pitched us an idea, and we really liked it. We said, let's make this as our first original, as our 'Walking Dead,' our big signature show to launch with."
Although the executive claims Samsung is "not in this to be a content company," it's the sort of thinking you'd expect from cable channels like AMC or HBO, or streaming providers like Netflix and Amazon, all of which offer original programming. (AMC is where The Walking Dead airs.)
Apfel stressed that his company hopes to appeal to filmmakers and other creative types who can use VR as a storytelling tool. Samsung doesn't want to be the sole provider of quality videos for Milk VR, he said.
"We'll always make content," he said. "But hopefully we won't be the only ones."
Take Your Best Shot
Some Gear VR users complain about the spare selection and quality of videos in Milk VR, while others find some of the action nauseating. (Those Red Bull videos probably won't help.)
Apfel said that it's still early days and things will improve over time, promising Milk VR will get new offerings on a daily basis. If "The Recruit"— a slow-boil psychological mystery with no quick camera pans or jarring motions—is any indication, smoother camera moves and post-production work can help take the edge off.
"It's not a function of the goggles; it's a function of the way we're making that content," Apfel said. "So that can be solved."
Addressing issues with resolution quality, not content quality, will be trickier. Those might stem from over-compression of the videos or other technical issues unrelated to the filmmaking process. After all, 360-degree videos tend to involve high data transmission, and as a new service, those kinks may still need to be worked out.
As far as the the production and storyline are concerned, at least Apfel can remove some of those concerns.
He considers "The Recruit" to be "the best-shot video" in Milk VR. "It's also really compelling because you don't know where it's going," he said. "It sort of sets itself up for a series, which is hopefully what we're going to start doing more of in 2015."
Spoken like a head of a budding "content company," if you ask me.
The Recruit photo screen capped from YouTube video by Metaverse VR; all others by Adriana Lee for ReadWrite