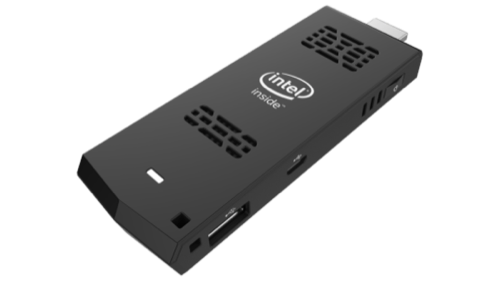 You will soon be able to get a fully functional Windows 8 computer on a stick for $150.
Intel announced its Compute Stick at the Consumer Electronics Show on Wednesday. Unlike the similar looking Amazon Fire Stick or Chromecast, the Compute Stick is a fully functional computer that you can plug into an HDMI monitor.
See also: Intel Pledges $300M To Take On GamerGate And Diversity In Tech
That means it's not just for streaming. By plugging in the Compute Stick and connecting a USB or Bluetooth keyboard, you can turn any HDMI monitor into a fully functional computer for a fraction of the usual price.
The Intel gizmo is built around an Atom quad-core processor. The Windows version will run Windows 8 and come with 2GB of RAM and 32GB of flash storage, while the Linux version comes with half the RAM and 8GB storage. The Linux version is also nearly half the price, at $89.
The Compute Stick will also come with full sized and micro USB ports, Bluetooth 4.0, and 802.11b/g/n Wi-Fi. It can't be charged via the HDMI port, and instead relies on the micro USB port for power.
Intel says the Compute Stick is great for "light productivity, social networking, web browsing, streaming media, and games," essentially making it a kind of tablet substitute (without the portable touchscreen, of course). If you own an HDMI monitor and want to do more than just stream video, the Compute Stick is the smallest, cheapest option on the market for full-blown computing.
Photo via Intel