ReadWriteReflect offers a look back at major technology trends, products and companies of the past year.
Wearables come in lots of shapes and sizes for limbs, fingers and faces now. All the choices and options speak to the same thing: Very soon, mainstream consumers will use and relate to their technologies in whole new ways.
Numerous wearable device categories emerged this year. Here are the five or so that impressed us the most.
See also: Smartwatches And Other Wearables: ReadWrite's 2014 Gift Guide
Pebble Steel
The original plasticky Pebble and its steel sibling got price cuts this year, making them among the least expensive smartwatches on the market.
See also: Pebble Smartwatch Latches Onto Android Wear Notifications
At $200, Pebble Steel offers users a wrist device that can track steps, change faces, work with both iPhones and Android devices, and add plenty of new features, thanks to one of the biggest selections of watch apps at present. The omission of a color touchscreen may put some people off, but other won't mind trading that in for a longer battery life of as much as five to seven days.
LG G Watch R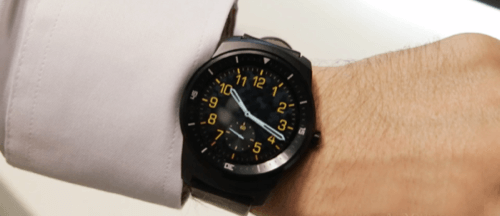 LG's first bland Android Wear watch, the G Watch, was hard to love. Its second, the G Watch R, cut literal corners to give users an appealing, round device that looks like an attractive watch, not a gadget strapped to your arm.
See also: LG and Asus Plant Android Wear In Cool Wrist Gear Territory
After the pretty, round Moto 360, wearable device makers realized that smarter smartwatches demand great technology on the inside and attractive looks on the outside. The G Watch R skews more classic than the modern style of the Moto, making it look more of an elegant timepiece. Its OLED display fronts a swift Qualcomm Snapdragon processor, which can ably handle Google's voice commands and the growing line-up of Android Wear apps. The $300 isn't cheap, but like most technologies, the cost will likely fall over time.
Ringly
Speaking of gadgets that do not shove geek cred in people's faces, Ringly's premise seems too simple to be innovative. But that's part of the disguise, because simple can be smart. Very smart.
Phone notifications trigger lights or vibrations in this smart jewelry, which riff on the retro cocktail ring. Most wearables offer some sort of notifications, but lack of finetuning can be frustrating. Here, different shake patterns or colors help users distinguish different types of alerts and even who, specifically, is calling.
It's not perfect—in my usage, I've noticed some Bluetooth reconnection issues when I stepped far enough away from my phone to lose its signal. But that doesn't overcome its most fascinating aspect: Ringly boasts sensors that could unlock new features, like gesture, down the road.
Jawbone UP24
Jawbone UP24 and Fitbit are the rockstars of activity-tracking, at least for your average, out-of-shape desk jockey. Hardcore workout fiends may find counting steps, sleep and calories too basic, so consider these Bluetooth gizmos the fitness wearables for the rest of us. (Good thing fitness fanatics have other options, like the Runtastic Orbit.)
Fitbit's biggest news this year was its collaboration with Tory Burch, which should broaden its appeal among women. But while that was going on, Jawbone got busy integrating with as many other platforms as it could, from other fitness systems to smartwatches to smart homes. That makes Jawbone one of the most intriguing fitness wearable makers around. Its UP24 is the latest model, at least until the more advanced UP3 launches, which should be soon.
Intel Mica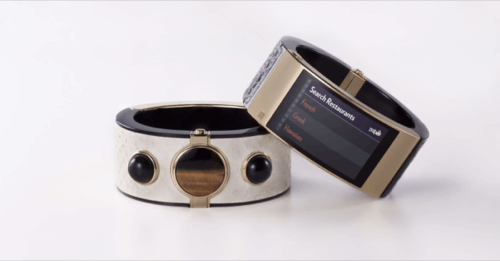 Like Ringly, Intel's Mica (pronounced "mee-kah") can distinguish important notifications. Unlike the ring, the smart cuff offers a display, GPS and its own cellular connectivity, so it can work as a standalone device without a phone.
See also: Intel's Mica Bracelet Just Might Be Smarter Than Your Average Smartwatch
Designed by Opening Ceremony, the Mica smart cuff was one of the earlier collaborations between a design house and tech company. In that sense, it illustrates what can happen when style meets substance. The cuff can pipe texts, Gmail messages, appointments, Facebook updates, Yelp local discovery and more to the wrist, without making the user feel like an abject nerd. It carries a $495 price tag that could stop would-be customers cold, but that includes two free years of AT&T wireless service.
If 2014 gave birth to a slew of wearables, then 2015 is poised to become the year they grow up. The Apple Watch, notably, has yet to launch, and when it arrives, it could ignite a frantic acceleration in this emerging "arms race." Along the way, we may see even smarter rings, cuffs and VR headsets come into view. Altogether, it represents a tectonic shift in the way human beings experience and interact with their personal technologies.
This was a fun list to put together. But I cannot wait to see what lands on next year's list.
Lead photo by Madeleine Weiss for ReadWrite; Pebble, Jawbone UP24 and Ringly photos by Adriana Lee for ReadWrite; LG G Watch R and Intel Mica photos courtesy of respective companies