ReadWriteReflect offers a look back at major technology trends, products and companies of the past year.
Picking out the best gaming hardware is even harder than picking out the top games of a given year. It's difficult to say what's "the best" given that whichever console or platform is the best fit for someone depends a lot on what that person's tastes are; the game libraries for different consoles can vary widely, some have different non-gaming capabilities, and even controllers can make a difference to some. That said, here's an attempt to recognize the best gaming hardware of the past year.
Nintendo 3DS
Nintendo has had very successful titles for pretty much all its franchises on the 3DS, with strong entries for Pokemon, Zelda, Mario Kart, the first new Smash Brothers game since 2008, and Animal Crossing. In fact, the 3DS has had 10 different titles sell over 1 million units. In addition, the Nintendo eShop exists on the 3DS in its smoothest incarnation yet. This gives Nintendo a lot of flexibility in releasing older games for purchase via wireless download, or even newer games like Shovel Knight.
See also: The Top 6 Video Games Of 2014
Nintendo continues to iterate on the 3DS, having released the 3DS XL (a larger version of the handheld that is now more widely available than the 3DS), the 2DS (basically a 3DS without the clamshell structure or 3D capability), and another version of the 3DS that has an extra control stick. The new version has released in Japan but won't be available elsewhere until 2015. Given the affordability (a 3DS XL costs $200, which is at least $100 cheaper than the current generation of consoles), continuing release of high-quality games, and portability of the 3DS, it merits recognition as the best gaming hardware of 2014.
iPad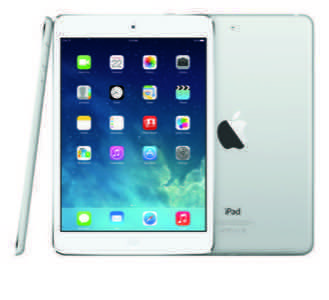 Best Portable Gaming Hardware You Can Purchase For Non-Gaming Reasons

This feels like a sort of boring pick, but it's true. Any game developer developing a game for tablets pretty much has to release an iOS version at some point. The Playstation 2 is considered by many to have the largest library of game titles of any console. The exact number is hard to pin down, but it is safe to say that the PS2 was wildly successful. The Sony website advertises it having at least 1,800 games, which is a ton. By comparison, there are over 300,000 games available in the Apple app store right now, according to PocketGamer. Even if a lot of those are terrible, that sheer volume of games is stupefying.
Beyond the incredible likelihood that the iPad has at least some games that appeal to you, it's also reasonably powerful and easy to use. Also, you can use it for all the other things you'd use a tablet for. The iPad Air 2 is the most recent iteration of iPad, but if gaming is your main concern, the iPad mini is substantially cheaper ($249 versus $499 for the cheapest iPad Air 2), although you are sacrificing some power and 1.8 inches in screen size.
XBox One
Best Video Game Console By A Hair

All of the entries for this generation of game console (PS4, Xbox One, Wii U) are very close. I chose the XBox one as the best because its menus felt the most intuitive to navigate to me and it had the most appealing game library to me personally. I also happen to like how Xbox controllers fit in my hands more than other controllers. Both the PS4 and Wii U have the functionality I most like about the XBox One, namely that it's pretty much all the entertainment I need from one device as a millennial cord cutter. Not having cable, I get most of my entertainment streaming from one service or another, and all three consoles have access to Netflix, Hulu, HBO Go, etc.
Both the PS4 and Xbox One are more powerful than the Wii U in terms of technical specifications, although the Wii U has some very unique gameplay experiences due to its integration of the main screen experience and smaller, Wii U gamepad experience. In my experience, the Wii U also had some of the most fun multiplayer experiences, and just game out with a new Smash Brothers game, one of Nintendo's biggest console exclusives and draws. If you prefer Nintendo franchises or find yourself playing a lot of party games, the Wii U might be the best fit for you.