ReadWriteReflect offers a look back at major technology trends, products and companies of the past year.
With new technologies like wearable devices starting to break into the mainstream, it's easy to look at the old smartphone industry and proclaim it a big, dull dud. But as 2014 winds down, the year proved that earlier complaints of smartphone innovation stalling out were a bit premature.
See also: Smartphones: ReadWrite's 2014 Gift Guide
These five devices went against a sea of sameness to offer genuinely useful, appealing or uncommon features.
Apple iPhone 6 Plus
At 6.22 inches high and 3.06 inches wide, with weight that just tips over 6 ounces, the iPhone 6 Plus is simply too much phone for some people. Good thing Apple launched a pair of phones this year. The smaller iPhone 6 may still be larger than its predecessor, but at least it's powerful enough to handle iOS 8 and Apple Pay mobile payments without busting any pockets.
See also: Mastering Apple's Gigantic iPhone 6 Plus With Puny Hands
But if you can wrap your head (and your hands) around it, the Plus gives Apple's iOS mobile platform its best opportunity to shine. That 5.5-inch "HD Retina Display" comes with full 1080p resolution and 401 pixels per inch, offering a lush, roomy environment somewhere between a phone and a compact tablet.
The 6 Plus also offers other some improvements over its smaller 4.7-inch sibling. These range from nice flourishes, like face icons set next to texts in Messages, to the camera's very handy optical image stabilization, which can help thwart the effects of hand shakes in dimly lit settings.
The best thing about the 6 Plus: battery life. Apple doesn't disclose the milliampere hour ratings of its iPhone batteries, but iFixit teardowns reveal that the Plus offers 2915 mAh battery, while the iPhone 6 comes with a 1810 mAh battery. In other words, the bigger phone comes with a battery that's about 50% bigger than the smaller model.
Granted, iOS 8, the latest version of the iPhone software, hasn't exactly had a smooth roll-out for any iPhone, past or present. But software evolves over time; hardware doesn't. And when it comes to the latter, Apple's first phablet is its best smartphone yet.
Samsung Galaxy Note 4
The Note 4 answered critics who complained about the Note 3's cheap and cheesy aesthetics. The new version offers a more premium feel, thanks to Samsung ditching the faux-metal plastic for real metal bands and foregoing the fake stitching that used to outline the back.
The new model also offers a slimmer bezel for a more beautiful 5.7-inch QHD Super AMOLED screen. The display packs in 515 pixels per inch, making it sharper than the one in the iPhone 6 Plus, as well as the Note 3. That stunning display doesn't zap the battery, though; the device comes with a huge 3,220mAh battery. Software optimizations make it last even longer, and when it does need topping off, fast-charging features make quick and easy work of it.
Other tweaks include a mildly improved S-Pen and stylus software, a new fingerprint scanner and heart-rate sensor inherited from the Galaxy S5, and a different processor that may or may not really improve performance. But the real thing of note is not the Note itself—it's the development surrounding it. Samsung is in mad pursuit of smart homes, virtual reality, smartwatches and other areas, and associated gadgets that tie into Samsung phones will likely demand the latest, most advanced hardware.
For instance, the Gear VR—one of the most intriguing VR headsets of the year—only works with the Note 4.
Motorola Moto X (2014)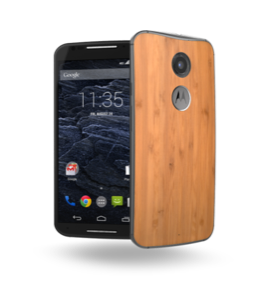 Google execs must be having seller's remorse at having offloaded Motorola onto Lenovo. The Moto X has become a critical darling, offering a pure, non-modified version of Android in a sexy, yet affordable package that users can customize themselves.
Available with a leather backing (as well as alternatives like wood), almost everything about the second-generation device feels high-end. Like Samsung, it ditched a plastic trim to go with metal, putting real aluminum on the sides. Those flank a bigger 5.2-inch full HD screen that offers more room, yet sits even more comfortably in the hand.
The phone's outward charm is matched on the inside with faster performance and the appeal of speedy software updates that only stock Android can afford. There are no internal customizations or mods to get in the way, guaranteeing that the Moto X (like Google's flagship, the Motorola-made Nexus 6) will get the latest versions as they roll out.
The X may not be a perfect smartphone—the cameras and lack of microSD card slot leave something to be desired—but it comes with good battery life, competitive processing power and a snazzy style proposition. If gives users put off by the Nexus 6's big 6-inch screen another option for a stock Android phone, at an affordable price of $500 (full retail) and $50 on contract.
OnePlus One
CyanogenMod may not be everyone's cup of tea, but it's a popular operating system for Android-savvy users who enjoy customizing every little bit of their smartphone experience. Typically, people have to root their Android device and install the modified software, but this year, CyanogenMod got its very own dedicated smartphone.
Given the spirit of experimentation inherent in the OnePlus One, you might expect a tinker toy of a phone. You'd be wrong. The One offers a slightly curved, texturized back that feels stable in the hand. If you're familiar with the beauty known as the Oppo Find 7, the high build quality or craftsmanship of the One will seem extremely familiar to you. Oppo holds a part ownership stake in OnePlus, and its phone is made at Oppo's production plant.
The device features respectable internal hardware specifications, as well as a 5.5-inch full HD screen that offers high visibility, even in broad daylight.
The One runs CyanogenMod 11S, which is akin to stock Android. It's a variation on Android KitKat 4.4, with a few key differences such as an expanded desktop mode, gestures to trigger the camera shutter, voice-controlled wake mode, and interface themes that are customizable down to even small details, which should really appeal to control freaks. As with any experiment, however, stability can be elusive. Fortunately, the no-contract price of $299 to $349 (for 16GB to 64GB) takes some of sting out of that.
BlackBerry Classic
A late-breaking addition to the list, the BlackBerry Classic marks the return of the company's celebrated hardware QWERTY keyboard. Few smartphones offer physical keyboards anymore, so this recent debut should please an incredibly underserved market. Mostly, the phone shows that BlackBerry may still have some life left in it—even if it had to hark back to its past to get it.
See also: BlackBerry Launches The Classic, Its Best Hope Yet For Salvation
The most impressive thing about the Classic is that it seems intent on solving problems. Don't want a huge phablet? Classic, with its 3.5-inch display and keyboard, is operable in one hand, thanks to its narrow body. (The phone measures 5.1 inches in height and 2.8 inches in width.)
Need to bang out long emails or edit documents? Those crested, finger-friendly keys set in a traditional configuration (not like the previous Passport) should help. Need a particular app? There are two app stores, BlackBerry World and Android apps via Amazon Appstore.
The device comes with physical keys, a trackpad and a touchscreen, as well as revamped QNX software and cloud, syncing and security features. While watching movies or editing Instagram photos may work better on bigger phones, Classic is for the no-nonsense user who needs to slice through crowded inboxes, messages and docs with ease. It's for busy people and those who like to fashion themselves as VIPs with an all-business 'tude—like rapper Drake or even Kim Kardashian.
http://instagram.com/p/w1uwQGDQKJ/
There's also something kind of cool about being associated with a company whose comeback involves a Boeing deal for a spy phone that can "self-destruct." (Cue the Mission Impossible theme.) There's nothing like joining forces with a maker of fighter jets to amp up the cool factor.
iPhone 6 Plus photo by Hadrian and Drake photo by s_bukley, both courtesy of Shutterstock; product photos courtesy of respective companies; all others by Adriana Lee for ReadWrite