To further boost the appeal of its TV streaming stick this holiday season, Google is aiming to take some of the irritation out of sharing control of Chromecast video with its new Guest Mode.
This is the culmination of the ultrasonic pairing efforts Google first unveiled last summer. With ultrasound-enabled Guest Mode, friends sitting in your living room can easily and gleefully fling videos from their phones to your flat screen without having to join your Wi-Fi network. No hunting down the password, and no dealing with alphanumeric strings of nonsense.
See also: How Chromecast Makes Shared Viewing Easier: Bat Squeaks
Well, at least for some folks. Like many tech innovations, the Chromecast guest mode is a little involved.
How Guest Mode Works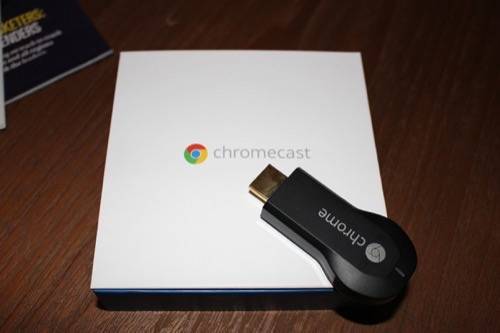 To start, you launch the Chromecast app on your mobile device, choose the TV you want to cast to, and then switch on the "Guest Mode" setting.
Turning on Guest Mode prompts the Chromecast stick itself to activate a special Wi-Fi beacon, one that tells your friends' phones that a Cast-ready TV is available. Their phones will then sense your Chromecast (under "Nearby Devices") when they hit the cast button—say, on a YouTube video.
This is the point where things get a little tricky. The Chromecast will first try to link up to a guest phone using inaudible sounds to transmit a four-digit PIN code, using the ultrasound technology Google announced at its Google I/O developers conference last June.
If the ultrasonic pairing doesn't work for some reason, your guest can type in that four-digit PIN. Chromecast tries to make that easy; it will display the code on your TV screen in your Chromecast backdrop, and will also pop it up on your phone in the Chromecast app. Once your guests are all paired, you're off watching those insanely cute animal videos.
To recap, you first turn it on in the Chromecast app. Friends find a video, choose your TV stick to cast it to, and it either starts working right away, or they punch in a 4-digit code. Beats digging up and typing in a long hexadecimal string of characters.
6 Things You Need To Know About Guest Mode
Google provided a bit more detail about the new feature:
It's opt-in: If you don't want Guest Mode, no problem. Just don't turn it on. It's also easy to turn off.
It's Android-only: If you want Guest Mode, but you and your friends have iPhones, then you've got a problem: It only works for Android devices with Android 4.3 or higher.
You still need Wi-Fi, but you're the only one who does: Guests don't need even to have Wi-Fi turned on. But to manage Chromecast's settings through the mobile app, you and the TV stick must be on the same Wi-Fi network.
The PIN resets: Chromecast randomly generates the 4-digit code. The PIN resets every 24 hours, or whenever the Chromecast reboots, whichever comes first.
It doesn't work with all apps: Guest Mode won't work with apps that stream videos or music stored on a phone or tablet, even if they're using Google Cast, the technology that powers Chromecast.
Teens might hear buzzing: Some younger users may hear brief buzz during Guest Mode use. Ultrasonic technology uses high frequency sounds that are largely inaudible to humans, but some teens are able to pick up on sounds in that range. Google claims the buzzing should be brief and cause no discomfort.
Since Google first announced ultrasonic pairing, some users have asked me if the high-frequency ultrasounds will drive their pets nuts. Google hasn't officially addressed this concern, but insiders tell me that animals will be fine.
However, the real test of new features always comes when the public gets their hands on them and reports back in. So we'll keep our ears perked for any canine or feline discomfort, now that Guest Mode is live.
For more info, watch the promo video below, or check out the Guest Mode help pages or the FAQ here.
Lead photo screencapped from Google video; all other photos by Adriana Lee for ReadWrite