As a woman with tiny hands, making peace with the iPhone 6 Plus took some effort. It's the largest iPhone ever, and my mitts skew itty bitty. But I got the hang of it, only to land on the receiving end of some weird reactions—some from women, but mostly from men.
Tis the season to check out new gadgets, and some can't help but stare at my handset, even three months after its launch. I don't blame them. Big phones have been around for years, though the enormity is completely new for the iPhone and its users.
See also: Mastering Apple's Gigantic iPhone 6 Plus With Puny Hands
I get a lot of wide eyes, even looks of disdain at times. The reactions split down the gender line, turning the question of whether to get Apple's largest phone into a conversation about the politics of gender.
A "Reminder" To Women That They Don't Count
Go back through the years, and you'll spot the strange ways the mobile industry catered to the sexes. Don't forget to guffaw at the lame female-focused HTC Rhyme, with its light-up notification charm, and reminisce with the Palm Pre and its girlfriend, the Palm Pixi.
Well, at least those phone makers were trying. Tech companies have come to consistently let down female users, as sociologist Zeynep Tufekci argued in a Medium post last year. "For most men, it's just one small, added benefit," she wrote about growing screen sizes. "For many women, though, it's a reminder that the tech industry doesn't always remember or count your existence."
For her, the issue took on even greater significance: The size of her Nexus 4 actually prevented her from documenting tear gas misuse in Istanbul, Turkey:
… as my lungs, eyes and nose burned with the pain of the lachrymatory agent released from multiple capsules that had fallen around me, I started cursing.

I cursed the gendered nature of tech design that has written out women from the group of legitimate users of phones as portable devices to be used on-the-go …

I especially cursed that I could not lift the camera above my head, hold it steadily *and* take a picture—something I had seen countless men with larger hands do all the time.
Her Nexus, which had a 4.7-inch display, would be considered modest now. It's roughly equivalent to Apple's "small" iPhone 6, which also disappointed Tufekci. Meanwhile the trend for phablets—or phones with screens sized at 5 inches or more—is still going strong. And so the iPhone 6 Plus and its 5.5 inches of screen has turned Apple, a brand loved by women for years, into a phablet maker.
But The 6 Plus Freaks Out … Men?
CNET trotted out a study earlier this year that indicated women prefer Apple gadgets. So one might assume that if the big bad 6 Plus unnerves anyone, it would be its meek user base of weak-fingered ladies. And yet, most of the negative reactions I've gotten came from men.
My iPhone 6 Plus is way too much phone, they tell me (notably, from a distance; many don't even want to touch it). Strangers stop me to ask about it frequently. When I ask if they'd like to hold it, women tend to accept the offer. Most guys decline. Even my husband, who always inherits my phone after I've taken the family upgrade, refuses to have anything to do with my 6 Plus.
I wondered what was going on. Research suggests men are prone to snap judgments, and it's possible this plays into it, at least for male iPhone users. (Android users of both genders have had phablet options for years.) The purse effect may help explain the difference: Women might be more open to it, since they have a purse in which to stash bigger devices.
But maybe something else is at play. In an opinion piece over the summer, technology expert and analyst Tim Bajarin noted that "once 5-inch and even larger 6-inch phablets hit the market, they became real hits with women, especially in Asia where women make up the largest demographic of phablet users in the world."
As an Asian woman, I can attest to the fact that we have some of the smallest hands around. And apparently, in general, we embrace phablets. The reason: Big phones can serve dual needs. As Bajarin wrote:
[F]or many women a phablet really is a cross-over device and serves as their smartphone and mini tablet, so that they only have to carry one device with them instead of two.
As much as I want to buck generalizations, I have to admit that this describes me perfectly too. I haven't touched my iPad mini in weeks.
The Major Pros And Cons Are Universal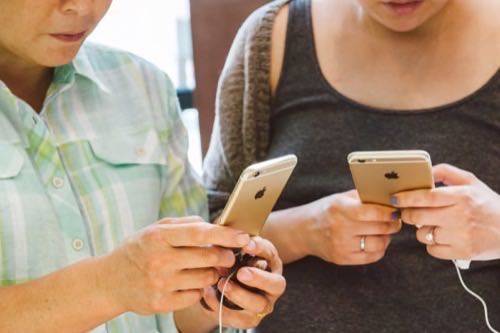 Like Tufekci, I'm a woman who has pined—quite publicly—for a decent compact phone. Now I'm a convert. I figured out how to make Apple's colossus work in my petite grip, and there's no going back. I'm spoiled.
I no longer squint to read text on websites that won't let me zoom in. Videos and photos look glorious on a large screen. For navigation, a big display mounted to the dashboard offers obvious benefits. I also have more room to view any lengthy messages I write, making my phone much more of a productivity tool than any of my previous small phones. I even find Apple Pay kind of fun, now that there's no threat I'll drop my phone.
The one benefit that matters most: battery life. A big phone comes with a big power cell. The iPhone 6 Plus can go nearly twice as long as my old iPhone 5S. And when it's not socially acceptable to have the world's biggest iPhone sitting out on a table, I can use my smartwatch and my Ringly notifications ring for alerts—neither of which will hammer this magnificent battery.
The 6 Plus has downsides too, of course: It's expensive, and plenty of apps still haven't optimized for it, so they look a bit blurry. Then there's that pesky bending issue—which, even if it's overblown, still haunts my dreams. But overall, I find the pros far outweigh the cons.
That's not to say one size fits all. But I wonder, if Tufekci or any of the male naysayers gave a phablet some time, would they find a way to make peace with it too? Because the most important benefits, at least for Apple's phablet, seem to be pretty gender neutral.
Lead photo and photo of couple by Hadrian courtesy of Shutterstock; Apple Store photo of female shopper amid male shoppers bu Canadapanda courtesy of Shutterstock; all others by Adriana Lee for ReadWrite