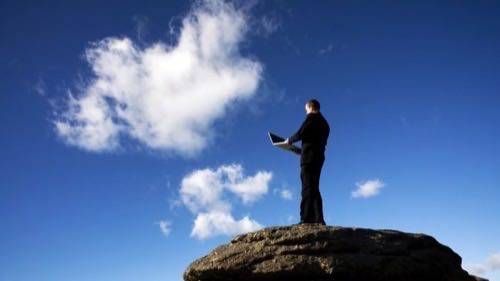 Two years ago Digital Ocean had a mere 140 Web-facing servers and a simple mission: make developers lives easier. Today the New York City-based cloud provider runs 116,000 servers and surpassed Rackspace to become the world's third-largest Web-facing cloud, according to Netcraft data.
See also: Amazon Cloud's Huge Head Start: It's All About The Developers
Digital Ocean, once a puddle, is living up to its name. That should have competitors worried, especially given Digital Ocean's uncanny ability to make lots of money selling to individual developers, Atlassian-style.
While the company is quick to suggest it's not competitive with Amazon Web Services, its rabid attention to developers increasingly makes it a cloud AWS can ill-afford to overlook.
To learn more about how Digital Ocean caters to developers, I sat down with Mitch Wainer, co-founder and CMO.
ReadWrite: DigitalOcean has been growing faster than the overall cloud market. What are you doing that is different from what other cloud providers do?
Mitch Wainer: Being developers ourselves, we were often frustrated by the complexity of the majority of cloud providers that catered to the needs of enterprise. That's why we focused on building a platform that enables and educates developers to successfully launch, configure, and scale their apps on an infrastructure environment with minimal manual effort.
Developers Are Job One
RW: Digital Ocean claims to be developer-centric. What is it that you've built that is particularly developer-friendly?
Wainer: Ultimately, we made user experience a top priority. We set out to create the simplest infrastructure solution that would cater to the needs of individual developers.
The combination of having a simple user interface, straightforward pricing, fast hardware, and provisioning created a very attractive offering for developers. Our API is easy to consume, follows GitHub schema, is curl-able and restful. All of these things greatly reduce the barrier of entry to getting an application into production, which we feel is the bottom-line for developers.
RW: Everyone targets developers these days, but most companies mostly fail to appeal to them. What is it that separates truly developer-friendly apps or infrastructure from those that aren't?
Wainer: Many companies try to appeal to the broader developer market, but few actually focus on making an ideal solution for the individual developer. We feel a responsibility to ensure every feature we come out with remains simple and puts the user first.
See also: You'll Never Really Innovate On Someone Else's Cloud
With the Digital Ocean platform, a lot of the guess work from pricing to feature sets is removed—you know exactly what you're going to get, you know it's going to be good, you know it's going to scale with your application easily, and you know exactly how much you're going to pay for it every month.
RW: AWS is the 8,000 pound gorilla in the cloud. What can Digital Ocean or anyone else possibly do to disrupt AWS?
Wainer: We don't consider Amazon a competitor. They're a great company shipping awesome tools for the enterprise, but at the end of the day that's not our scene. We're focused on simpler alternatives that are more user-friendly and truly built for the individual developer.
Getting Out Of Developers' Way
RW: You make it easy for developers to deploy an application to your infrastructure, but who manages infrastructure/operations in this developer-centric world?
Wainer: We strongly believe that developers will increasingly become the decision makers in technology as more businesses come online. So the best thing we can do as their infrastructure provider is give them an extremely reliable foundation, the best tools, and community resources so ultimately we can stay out of their way and let them be in total control.
We offer one-click installs of leading open-source technologies such as Docker and CoreOS. We have an active community platform where everyone from beginners to sysadmins can come and read Linux tutorials, as well as partake in conversations around open source.
Developers don't want their infrastructure provider to hand hold them through the experience—they know what they want for their applications. It's our job to empower them with the best foundation, tools, and educational resources.
RW: Digital Ocean is based in New York City. Tell me about the New York startup scene and why a new crop of developer-friendly startups are cropping up there. Is NYC the new Silicon Valley?
Wainer: The energy of the startup scene is palpable in NYC, and people from a wide variety of professional backgrounds are changing their career paths to get involved. We've got finance experts, designers, management consultants, and advertising creatives bringing over their unique perspectives and highly specialized expertise.
The result is a blend of entrepreneurial spirit, aesthetic intuition, and financial savvy that continues to fuel explosive growth. Add to that a fast-growing number of young, talented developers coming out of places like the Flatiron School and General Assembly and you've got a recipe for innovation that's particular to New York.
Lead photo by George Thomas