Pretty Geeky is an ongoing series that explores the role of style and design in wearable technology.
After months of ramping up, Intel's partnership with design house Opening Ceremony officially made its bid for women's wrists Monday, filling in a few more details of what its new MICA intelligent bracelet—on sale next month—has to offer.
Good looks are a given. The cool-hunting designers from Berkeley are known for mixing classics with some edge and theatricality. That's a perfect match for a new device in an emerging category with plenty to prove—mainly, that people should want to wear it.
See also: Intel's MICA Smart Bracelet, For Women Who Want Luxury Tech
End result: Intel technology stuffed inside a high-fashion Opening Ceremony design. The hard plastic accessory features an inward-facing, curved sapphire glass display, along with a hinged closure and luxury touches, including semi-precious stones, 18-karat gold accents and Ayers snakeskin exterior (in black or white).
It's a high-fashion item, and it comes with a high retail price to match: $495. But when you look into the details, that price may actually be cheaper than you think. In fact, it could be less expensive than your typical smartwatch—and more intelligent too.
The Functionality's Looking Pretty Good
Generally, most wrist-worn devices work primarily as fitness trackers or notifications gadgets. A few others—like Samsung's Gear S smartwatch, will.i.am's upcoming Puls cuff and Omate's TrueSmart watch—attempt to do it all, essentially slapping a shrunken smartphone on our wrists.
MICA (pronounced "meeka") stands for "My Intelligent Communication Accessory," so it's no surprise that it sits firmly in the notifications category. It could have hopped on the step-tracking or heart-monitoring bandwagon too, considering Intel bought quantified-fitness company Basis earlier this year. But it doesn't.
That's a strength, not a weakness. While plenty of competitors try to stuff in as many features as possible, MICA has no such identity crisis. It knows exactly what it is and who it's for: fashionable women who want to know when people contact them. And not just anyone.
The device offers VIP alerts, allowing some selectiveness over notifications. Intel's MICA lets users create lists of filters, so they can prioritize certain contacts or categories of messages. MICA also respects Gmail's "Important" contacts filtering, making it easy to delineate which contacts get to reach you on the bracelet.
Granted, message filtering may not seem like high technology, but don't underestimate its importance. Priority notifications have been a fundamental gap in all the major wearables I've tested this year. My wrists have basically become numb to vibration alerts, thanks to an incessant stream of emails, texts, Facebook updates and other notifications, all of which come flooding to my arm. Granular control that narrows them down to just the most important alerts has been pretty much non-existent.
Think of it this way—if you're putting your phone away, you're probably engaged in an activity that only the most important messages should disturb.
See also: What Not To (Android) Wear: One Woman's Search For Smartwatch Bliss
The alerts may land on that inward-facing screen, or just subtly vibrate. Either way, they don't rely on your smartphone as the source. MICA is a standalone device, with its own data connection, that functions independently.
Intel claims MICA can run for two days between charges. In reality, that's not much. But that says more about the dismal state of battery life in all wearables, not just this bracelet in particular. Two days is actually on the longer side of the typical range for any connected wrist gadget with a display.

The Expense Is Just Skin Deep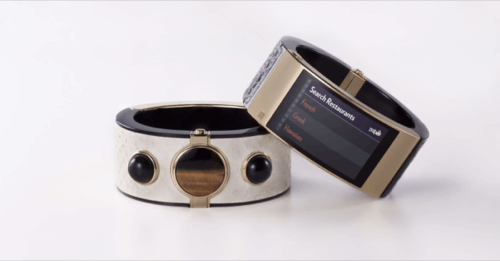 The $495 price may be average, even cheap, for a luxury designer accessory. This is, after all, a water snake-skin bracelet with high-quality materials. The black version features pearls from China and lapis stones from Madagascar, while the white bracelet offers a tiger's eye from South Africa and obsidian from Russia.
Even so, it's still a gob-smacking sum for a market that tends to hyperventilate when prices rise above $250. Here's what levels the price out: The bracelet comes with two free years of AT&T wireless service.
The details or data limits in the plan haven't been disclosed, but at minimum, AT&T charges $15 for 250MB of monthly data. Over two years, that's $360, which means MICA's hardware actually costs about $135.
Thanks to that connectivity, MICA is not beholden to another device. It can freely pipe select texts, Gmail messages, calendar appointments and Facebook alerts. Built-in GPS also serves Yelp alerts for stores and restaurants in the vicinity, and lets TomTom push "Time to Go" prompts, which know where and when your next appointment is, can estimate travel time based on your location, and tell you when to leave.
And if you somehow lose the bracelet, you can locate it, access it remotely or lock it down from an online portal.
What you can't do is pay for things—like the Apple Watch or Pebble. But mobile payments aren't a proven, essential feature yet. Messages, notifications and remote geo-location are.
Likewise, you can't snap a photo, write an email or track your steps. In terms of entering information, you can only send canned or pre-set customized responses to messages. But that's a product of feature distillation, not a flaw. MICA doesn't want to be all things to all people. It focuses on its primary function—to provide useful notifications, and to make sure you look good wearing it.
To start, MICA will launch at Opening Ceremony retail locations in New York and Los Angeles, select Barneys locations in New York, and online at OpeningCeremony.us and Barneys.com.
For more information, you can check out the company's press release here. Or view Intel's promo video below, starring Parks and Rec's Rashida Jones.
Photo of white MICA on a wrist by ReadWrite. All others courtesy of Intel/Opening Ceremony