Samsung may be known for wacky gimmicks—like its weird rap-music corporate video—pocket-busting smartphones and bizarre press conferences. But it's incredibly serious when it comes to its future.
At the Samsung Developer Conference in San Francisco this week, the Android maker and Tizen evangelist is laying out its path forward, and it has less to do with phones than pushing other emerging areas. That's not exactly a shock. Samsung's dismal earnings and newfound push in mid-level smartphones, with the A3 and A5, suggest the company doesn't see its future in our pockets.
No, the company has other plans. Like Apple and Google, it's hitting the gas pedal on its own version of the connected life. This week, the South Korean company is revealing its four-point strategy to make it happen: Bring connected health, wearables, smart homes and virtual reality to, erm, real reality, all under the Samsung banner. It's an ambitious play, throwing so much at all these nascent areas all at once.
It might even work.
Home Is Where The Sleeve Is
Already a giant in kitchen appliances, washing machines and other home electronics, Samsung is out to give its machines more connected superpowers, courtesy of the recently acquired SmartThings platform.
See also: SmartThings Wants To Make Samsung Work Harder In Your Home
The company has long offered smart appliances and gadgets, but never really connected those dots into a cohesive system. With SmartThings' developer-centric platform in its tool chest, it will make vacuums, fridges and more work together, and with all manner of Samsung devices for remote control and automation.
I met up with SmartThings founder and new Samsung staffer Alex Hawkinson at an event Tuesday night, and he couldn't wait to show me how he controls his home from his wrist. "I can control my house from here," he said, pointing to the curvy Gear S on his arm. He explained that the watch gave him handy touch control and voice features, and that's apparently just a taste of the integrations to come.
Samsung televisions could also someday control lights, locks and more, and smartwatches may trigger door locks and give you readings from moisture or motion sensors. And unlike Apple's HomeKit initiative, Samsung's system won't be locked to a particular mobile platform. Hawkinson told me that SmartThings will continue to work across iPhones, Android gadgets and Windows Phones, as well as wearables.
Speaking of wrist candy, Samsung has been going full steam ahead: It has produced no less than six different wrist gadgets under the "Gear" brand family name: the Gear S, Gear Live, Gear Fit, Gear 2, Gear 2 Neo and the first Galaxy Gear.
If Samsung seems frenzied about wearables, President Won-Pyo Hong reveals why: He told the audience at the conference that the global wearables market will grow from $22 million in 2014 to $135 million in 2018.
How Do You Like Your Reality?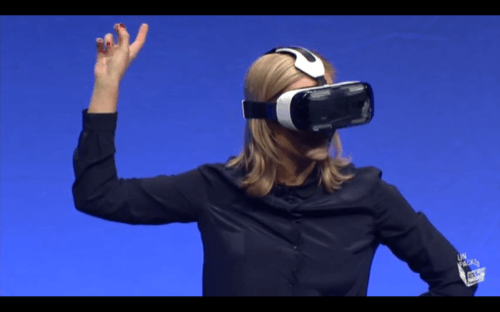 Wrists aren't the only wearables Samsung is latching onto these days. The Gear VR, its new Oculus-powered virtual reality headset, gives partners some room to get more creative.
While VR or AR fits neatly into business applications—say, for doctors seeing virtual procedures as they operate, or warehouse workers checking into visual supply chain levels—how they fit into Samsung's big picture seems less obvious. So I met with Qualcomm this week, who showed me how its developer partners are using the Gear VR—powered by a Note 4 phablet seated directly inside—in both augmented reality and virtual reality modes.
By looking at an AR-equipped "Guinness Book of World Records" paper book, the page's printed dinosaur suddenly stood up and popped into my field of view. I also saw a 3D animation of the world's tiniest human stand up in front of me, played a 3D racing car game that shot around the room, and window-shopped a virtual motorcycle that materialized in front of me. The rep switched to a VR view, and suddenly I was on top of Mount Everest, looking around in 360 degrees at virtual clouds and mountaintops.
Samsung's also intent on making it easier to capture that sort of virtual world, thanks to its new VR-capable Project Beyond 360-degree camera.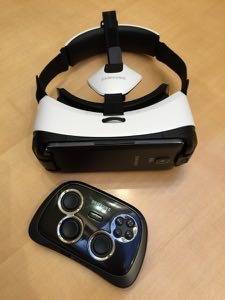 The fact that the Galaxy maker also happens to be a global leader in display technologies and televisions introduces some interesting scenarios. Consider a massive virtual Samsung smart TV splayed out on the wall, or augmented or virtual gaming using your real-life living room as the setting.
We're a ways off from this becoming standard, but it's clear that Samsung, Qualcomm and others are hoping to usher in connected 3D education, gaming, entertainment, e-commerce and much, much more.
Healthy Ambition
Like Apple and Google, Samsung also believes digital health will become a major force driving the connected life in the future. With its wearables push and smart home initiatives, it already has the groundwork to let people monitor their own wellness at home or on the go.
What many people acquainted with Samsung's consumer electronics may not realize is that the larger Samsung Electronics global empire also makes hospital-grade healthcare machines. So it has the resources to link up its "quantified health" initiatives on the consumer side with its huge brain trust of experts—people who know exactly how to monitor health and what to do with that data.
Before it can get there, though, it first needs to spur development with its current connected health efforts. Currently, the Galaxy maker's S Health system—which functions as little more than a repository of fitness data—hasn't exactly set the world on fire. But the company just launched its SIMBand reference device (which is a spitting image of its Gear S smartwatch), to help developers create more digital health apps and features.
Meanwhile, Samsung—which actually employs twice as many engineers as Google—continues to push its Tizen operating system. At this point, Tizen operates a few Samsung watches and will power its new fleet of smart TVs, the software development kit for which just launched. The company is clearly doubling down on it now, heavily proselytizing the open software at the show this week.
In some ways, Samsung's promise as purveyor of connected life could be greater than either Google or Apple. They have to rely on partners to flesh out their vision. But Samsung, as a maker of more than just mobile devices—from home appliances and TVs, to healthcare machines and other technologies—has already established itself as a giant in multiple, crucial categories.
Granted, as a massive corporation, aligning its internal initiatives can be a massive operation. But Samsung has the outsized ambition—and perhaps fearlessness and creativity—to try.
Feature photo cropped from image by Kevin Krejci; all others by ReadWrite