Pretty Geeky is an ongoing series that explores the role of style and design in wearable technology.
Two new smartwatches debut this week hoping to make people forget about the bland wrist gizmos that first flew the Android Wear flag this summer.
Arriving at Sprint on November 14, LG's circular $300 G Watch R joins Asus' curvy new ZenWatch, which reportedly launched for $199 on Sunday at Best Buy. They hit the market with a few improvements on board—including nicer aesthetics, better-than-average battery life and, at least in one case, more features beyond stock Android Wear.
See also: New Android Wear Update Supports GPS And Offline Music Syncing
Though not perfect, this set of watches looks like the most promising—and perhaps most appealing—devices in the Android universe so far. Good thing too. The hype and frenzy around good-looking, functional wrist gizmos has been amping up. All sorts of contenders are trying to swoop in ahead of Apple Watch's arrival early next year.
LG and Asus think they have what it takes to boost Android Wear's appeal in this increasingly crowded market. Let's see if they're right.
LG Figures Out Being Square's No Fun
The rather basic first LG watch, the G, was just a half-baked squarish slab, built merely to show off the Android Wear software. Now the company puts its best aesthetic foot forward with a gadget that looks more like a real watch than nerd gear.
Meet the classic, but awkwardly named G Watch R. (Let's call it GWR, for short.)
On the inside, the new and old watches run exactly the same voice-powered Android Wear software. On the outside, they couldn't be more different.
GWR takes a cue from the Moto 360, a round watch lauded for its looks, by lopping off the corners and producing a circular watch. In both cases, the designs suit men, without necessarily alienating women—at least not those who like trendy, round "boyfriend watches."
But where the 360 skews more sleek and modern, GWR goes a more traditional route. Taking a subtle poke at its cohort, LG also touts it as "the world's first watch-style wearable to feature a full circle display that utilizes 100 percent of the watch face." (Moto 360 took some heat for cutting a small section off the bottom of the watch face.)
GWR resembles a really nice diver's watch, with an angularly inset black metal body that's water- and dust-resistant, and leather straps sized at a standard 22 mm, for easy swapping.
One internal that does differ: battery. There's good news and bad news with that, though. Apart from the Sony Smartwatch 3, whose GPS will probably eat its advantage, the GWR tops all the other Android wearables. The bad news is that the whole list is still pretty disappointing—unless you enjoy unstrapping and recharging every day or two. For that privilege, GWR customers will pay $300.
Samsung Gear Live: 300 mAh
Moto 360: 320 mAh
LG G: 400 mAh
LG G Watch R: 410 mAh
Sony Smartwatch 3: 420 mAh
It's a tough proposition, considering competitor Pebble just slashed its prices. Its watch—now available in rainbow colors, for what CEO Eric Migicovsky calls "fast fashion"—goes for $99 for the plastic model, and $149 for its premium steel version. Pebbles also work for both iOS and Android devices, and last as long as 5 days on a single charge.
See also: Fruity Pebbles And The New Crop Of Stylish Wearables
That's still nowhere near as long as standard watches, with their months- or even years-long battery life. But that's the unfortunate reality with today's smartwatches. Either compromise with an e-paper display and buttons to spare battery, like the Pebble, or go with beautiful, touch-enabled features that guzzle power.
Even Apple's smartwatch can't overcome that obstacle. When it launches, the iPhone maker's watch will cost $349 minimum, and possibly as much as $5,000 for the gold luxury version. Apparently even fat wallets can't buy freedom from the shackles of charging.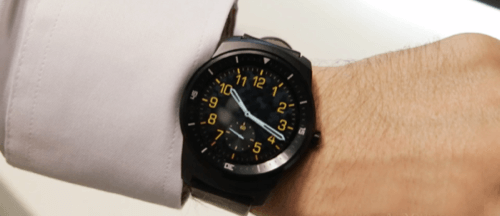 At least with its classic looks, the latest LG watch makes the irritation more palatable than most of its Android predecessors.
Asus Puts Some Zen On Our Wrists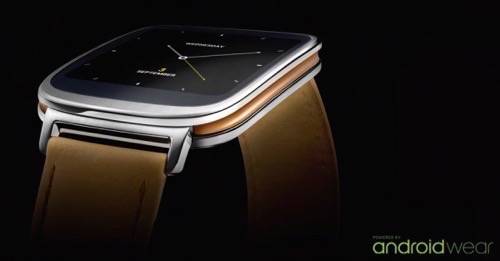 When LG's GWR arrives, it will go head to head with some stiff Android Wear competition from the get go, thanks to Asus. After having introduced its ZenWatch at IFA in Berlin last September, the Taiwanese company appears to be in launch mode now.
Asus is known for creative, even oddball, gadgets—like its PadFone mobile device, which offers a bizarre smartphone-dock-keyboard combo that posed as something of a laptop replacement. It seemed like the company's first smartwatch could be destined for strangeness too. But the ZenWatch isn't weird; it's unique in some tempting ways.
The device features a "2.5D" curved glass display—which is marketing-speak for something that's perhaps close to, but not quite 3D. As if that's not enough to set it apart from the other Android wearables, it also does more with Google's smartwatch software than any of the others to date.
All Android Wear watches—including LG's latest—run a basic "vanilla" version of Google's software. Asus breaks that mold, being the first hardware partner to put its own user interface on it. The company customized its ZenUI interface for its watch, offering some customized features and apps, such as a tapping function to find its paired smartphone.
On the outside, the ZenWatch shares a little of the Apple Watch's design language. That's not necessarily a bad thing. It's not even a duplicative thing, considering Asus unveiled its wrist gizmo first. But Android users who like Apple's aesthetic, but not its iOS mobile platform, may want to take note.
Asus' curved screen relies on energy-efficient AMOLED technology, which should help spare at least some battery power. The silver body is rimmed on the sides by rose-gold bands, with the case attaching to a standard 22mm stitched brown-leather strap.
ZenWatch won't benefit from Android Wear's new GPS location support, the way the Smartwatch 3 does. It simply doesn't have the hardware for that, so the heavy lifting for fitness features and navigation will still require a smartphone.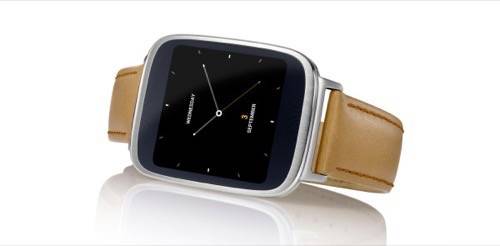 Maybe that's for the best, though. GPS can hammer batteries, and it's not clear if the ZenWatch's 370 mAh battery could take the hit. But at $199, the Asus ZenWatch offers some new twists without exceeding the average range of smartwatch pricing. Or at least, it's supposed to.
The company planned to launch the device at Best Buy on Sunday, followed by a later release on Google Play. But it wasn't online or in stores on Sunday. I searched again on Monday, finally seeing the ZenWatch on Best Buy's site, but as of this writing, it's listed as "coming soon" for $230.
What a shame. Because when it comes to Android Wear devices—none of which are perfect—ZenWatch looks like one of the most intriguing of the bunch so far.
Asus did not immediately reply to a request for comment on pricing or availability.
Update 11/11/2014: RW reader Brett_Freeman points out that the watch has popped up at Best Buy online now for that $229.99 price.
Update 11/14/2014: Best Buy's online pricing appears to be an error. An Asus spokesperson told me the company was working on that with the retailer, and it appears they fixed the issue. It now appears on BestBuy.com for $199.99. The device is now also available in the Google Play store for the same price.
Invasion Of The Wrist Lashers
No one has yet managed to make the definitive case for smartwatches. But plenty are trying, and not just LG and Asus. The hopefuls are coming out of the woodwork now, vying for top contender in this arms race.
A year ago, few companies were in this niche. Now there's a veritable stampede of design-oriented watches on the move.

LG's first watch definitely couldn't run with that pack. Its second now gives us some food for thought, as does Asus' new device. Considering how Android Wear started, these gadgets mark progress in the platform's evolution—both on the inside and the outside.
Puls photo by Adriana Lee for ReadWrite. All others courtesy of the respective companies.