To salvage its business, BlackBerry's exciting new strategy is to deliver a modern smartphone … circa 2006. It sounds like a joke, but the company's serious about its upcoming Blackberry Classic Q20, heading to the market in December.
CEO John Chen took to his company's blog on Wednesday hoping to appeal to the BlackBerry faithful. He wrote, "The things you remember about BlackBerry that made you better are better than ever with BlackBerry Classic." They really do need to be better. A lot is riding on this calculated blast from the past.
Next month will mark a year since Chen took the reins, and so far, BlackBerry's most notable efforts have been one weird smartphone, one luxury device and an expansion of the company's BBM messaging platform. Beyond that, BlackBerry stays busy staving off an exodus of its business clients (with some success), while hocking its real estate holdings to fund its comeback campaign.
See also: How BlackBerry's Focus Will Shift In 2014 After Massive Quarterly Loss
It's clear that this comeback involves BlackBerry literally coming back to what made it a household name: well-designed physical keyboards on phones that are shaped to fit inside pockets and palms. In a world obsessed with "embiggening" smartphone displays, the move seems pretty wacky.
But maybe the time-trip is not as crazy as it seems. Because making phones people want isn't actually the goal.
Really, it's only just the beginning.
Time Travel And (Hopefully) Resurrection
This week, Kim Kardashian went on record stating her love for BlackBerries. Chen hopes she's not the only one. As he wrote: "Innovation is not about blowing up what works to make something new—it's about taking what works and making it better."
What worked for BlackBerry were phones like the Bold and Curve, with their "highly pocketable" shapes and well-designed physical keys. BlackBerry loyalists can look forward to the Q20 bringing back that renowned keyboard—not the cramped configuration jammed into the latest Passport—and the return of the trackpad, which went missing entirely on recent models. According to Chen, Classic will also come with a "bigger and sharper" display and a "growing app catalog."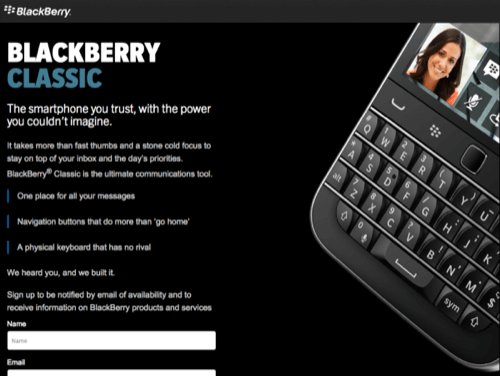 Chen's back-to-the-future spiel recalls the days when BlackBerry was the smartphone maker to beat. But the iPhone's debut in 2007 and Android's launch (via T-Mobile's G1) in 2008 caught BlackBerry with its pants down.
An extended series of flops ensued—like the Storm touchscreen phone, the Playbook tablet and the Torch sliding touchscreen-keyboard hybrid. On the software side, fans had to wait nearly two years for BlackBerry's revamped QNX software, a robust Unix-based operating system intended to help the aging platform compete with Android and iOS. But by the time BlackBerry 10 finally came to smartphones (in 2013, with the Z10 and Q10), its window of opportunity had pretty much closed.
These flubs didn't happen under Chen's watch. (You can thank former honchos Thorsten Heins and Mike Balsillie for that.) But the current CEO still tried to explain the inexplicable:
It's tempting in a rapidly changing, rapidly growing mobile market to change for the sake of change—to mimic what's trendy and match the industry-standard, kitchen-sink approach of trying to be all things to all people.
That hasn't gone too well for BlackBerry. It now trails Windows Phone, sitting at number four in the worldwide smartphone rankings. Its latest smartphone, the squared-off Passport, looks like it's catching on with at least some folks, but the gadget's gotten mixed reviews and probably won't lift BlackBerry out of its long-running funk.
But QNX just might.
One If By Car, Two If By Things
During an earnings call last year, in December 2013, Chen said:
QNX is probably one of the crown jewels. Every time I come here, our partners call me and customers call me that really want to work with us on QNX…. The plan is to invest in this and grow. The plan is to go by other vertical because we are doing very well in automotive vertical, we are going to continue to focus on that, but we're going to start looking in adjacent verticals to expand the business. In addition to that, we're going to build a platform that are cloud based, that is going to be machine-to-machine based architecture.
Speaking of automotive, Google and Apple are both pursuing connected automotive systems, the former with Android Auto and the later with CarPlay. And in fact, Apple already uses QNX for its CarPlay entertainment system. Ford is reportedly considering doing the same for its Sync platform.
QNX, which BlackBerry has owned since 2010, is especially good at securing and connecting systems to mobile gadgets. These days, pretty much everyone wants to connect all manner of things to phones—including smartwatches, smart homes, fitness gizmos, televisions and, yes, cars. ZDNet reported that as many as 40 automotive companies already work with it.
That positions QNX as a potentially major player in the so-called "Internet of Things." That's what BlackBerry is actually hanging its salvation on. It just needs to survive long enough to make it happen.
Kim Kardashian—BlackBerry's Loudest Advocate
This week, the world found out yet another Kim Kardashian "secret": She's a BlackBerry hoarder. The reality TV star stopped by the Recode tech conference to talk about her blockbuster mobile game app, and in the process dropped some completely unrehearsed talking points about her love for—and obsession—with BlackBerry devices.
.@KimKardashian tells @karaswisher she is so addicted to BlackBerry that she buys old ones on eBay & fears they'll go extinct. #codemobile

— Walt Mossberg (@waltmossberg) October 27, 2014
"I'm afraid it will go extinct," the celebrity told tech journalist Kara Swisher on the Recode stage. "I'm on a mission to make that not happen."
Kardashian probably won't actually open her diamond-studded wallet and snap up BlackBerry the company herself, even if she did joke about doing just that). But every little bit helps, especially public support from a pop culture icon and social phenomenon like Mrs. Kanye West.
Of course, very little happens by accident in the highly managed world of social-media celebrity. Kardashian hasn't denied being a paid spokesperson for BlackBerry; instead, she gave this coy response when Swisher asked if she'd talked to the company about a paid promotional gig: "I feel like I should. I'm going to make a call after this."
BlackBerry, meanwhile, offered an equally non-denialist denial in a statement to the New York Post: "We're thrilled to have loyal and passionate fans."
Still, if Kardashian winds up giving BlackBerry some juice—say, as a throwback trend or fad—the timing would be spot-on. BlackBerry Classic's hardware naturally differentiates it from the phablet throngs. If Kardashian or anyone else can help the phone stay in the "cool retro gadget" instead of the "sad, recycled lameness" ditch, BlackBerry could conceivably stage a revival of sorts. These phones were, after all, once status symbols.
BlackBerry doesn't need a massive hit. It needs a product that makes enough money to buy some time, so the company can push its real initiative: that QNX platform.
"We are committed to earning your business," Chen blogged, "or earning it back, if that's the case." Of course they are. Because Classic isn't merely an attempt by BlackBerry to relive its old glory days as a hot smartphone maker (at least not completely). It's digging up the past to lay a foundation for the future—one that goes well beyond phones.
Photos of BlackBerry, Jessica Lange and Kim Kardashian by 1000 Words, Helga Esteb and worldswildlifewonders, respectively, for Shutterstock; product images courtesy of BlackBerry