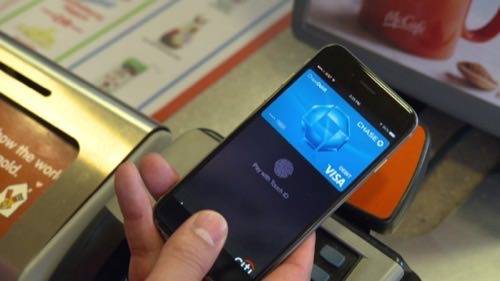 Apple Pay may leap off store checkout counters and head to building security, buses, subways and other places, reports The Information.
According to the site, the iPhone company is seeking out partners to expand the scope of its Near Field Communication–based mobile payments system. So far, Apple has reportedly spoken with HID Global and Cubic, makers of secure electronics building access solutions and transit fare systems.
Currently, the NFC chip—offered by the iPhone 6, iPhone 6 Plus and upcoming Apple Watch—works only for paying at in-store cash registers equipped with compatible terminals. Apple has not yet granted third-party developers the tools to support NFC in its mobile devices. But if the deals are successful, the company's mobile products could be used as secure passes for things like building keycards, transit passes and more.
See also: Apple Is Walking Into Payments Naked
Apple has already shown deep interest in turning its iPhones (and perhaps Apple Watch) into secure access products. It already struck a deal with Starwood Hotels, so guests can use the iPhone to unlock hotel room doors. However, this arrangement hinges on the device's Bluetooth technology, not NFC. The latter would present a more secure option, as it stores data separately in the Secure Element, where Apple Pay currently stashes users' credit card data.
See also: Apple Pay: I'm Not Impressed
While the company may be looking to expand its NFC-based features, other companies are trying to tear it down. Although Walgreen's happily embraces Apple Pay, CVS and Rite Aid pharmacies have intentionally shut down its NFC systems, effectively barring Apple Pay (as well as any other system that uses the same technology, like Google Wallet).
A spokesperson for Rite Aid said the chain was "still in the process of evaluating our mobile payment options." But the real reason may be the fact that these drug stores are part of the Merchant Customer Exchange (MCX), a consortium of retailers that has its own payments system in the works, called CurrentC. That's far from the only competition. For instance, long-time payments competitors PayPal and Google are certainly gearing up to do battle with Apple Pay.
See also: Apple Is Less Than Inviting To PayPal In Apple Pay
Apple's take on mobile payments—which could still use some work—enters a crowded arena that doesn't want for competition. That may explain why the iPhone maker's exploring other territory, even before it has fully established itself in payments. It's a hedged bet. Apple is wasting no time trying to cement its iPhones (and Watch) at the center of its users' lives. And this is only just the beginning.
Photo courtesy of McDonalds