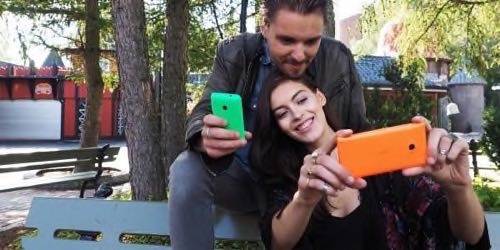 Nokia's outposts around the world are letting the cell-phone brand's fans know that they're saying goodbye: Microsoft is changing the name of Nokia's smartphone business, which it bought last year, to Microsoft Lumia.
Nokia France and Nokia UK will be among the first to usher in the new name, according to posts on the business's country-specific Facebook pages, followed by other countries over the coming weeks. (The Verge was the first to report on the coming changes.)
Cutting Off The Roots
With this, Microsoft officially sheds one of the last few vestiges of the old business from its acquired line of smartphones. It seems sudden: The Nokia name was emblazoned right on the front of the Nokia Lumia 730 and 830, unveiled just last month. But the writing has long been on the wall.
The Redmond, Wash.-based corporation, which bought the Finnish company's devices and services division last spring for $7.2 billion, renamed it Microsoft Mobile and laid off more than 12,000 employees. Nokia's mobile site also started redirecting visitors over to Microsoft Mobile's new site last month, right around the time when a leaked internal document indicated that Microsoft was preparing to drop the Nokia name.
Nokia still exists—the remaining business, which consists of a digital mapping unit, telecom infrastructure, and intellectual-property licensing, will keep the Nokia name after Microsoft finishes excising it from the devices business. (Update: Microsoft has decided to keep the name for its lower-level phones. See below.)
Microsoft didn't have to dump "Nokia" this quickly. The original acquisition deal allowed the company to continue using both the "Nokia" and "Lumia" brand names for several years.
But the company likely wants to clean up its smartphone branding. With Nokia continuing to operate as a separate company, removing the name from Microsoft's primary smartphone business heads off confusion.
It may seem brutal, considering how Nokia was practically synonymous with cell phones for decades. But the changes come during the run-up to the holiday shopping season.
That's a key time period for any gadget company—particularly one trying to push Windows up from a distant No. 3 position in smartphone operating systems.
Photo courtesy of Nokia UK
Update 10/24: Microsoft has agreed to keep the Nokia branding on entry-level phones, such as the Nokia 130.