Google debuted its latest Nexus devices—the Nexus 6, a huge new phablet with a 6-inch screen, and the Nexus 9, an 8.9 inch tablet—and formally launched Android 5.0 Lollipop, the latest version of its Android operating software.
In an unexpected move, Google also announced a streaming-media and gaming box similar in some ways to the Amazon Fire TV, which it calls the Nexus Player.
We're Going To Need A Bigger Pocket
The Nexus line has long served as Google's flagship Android devices—unlocked, generally high-end phones and tablets that run a stock version of Android, unsullied by manufacturer modifications and unburdened by carrier crapware. They serve as reference devices for manufacturers and offer Android purists the opportunity to own a phone that's closer to Google's vision than any other out there.
See also: The Google Nexus Line Is Alive And Well And (Maybe) About To Birth A Phablet
The Nexus 6, manufactured by Motorola—a first for the former Google unit—bears more than a passing resemblance to the same company's Moto X smartphone, although it has a much larger screen (6 inches compared to 5.2 inches on the X) and will doubtless lack some of the Moto X's niftier software features, such as voice control and "active display" notifications that don't light up the screen.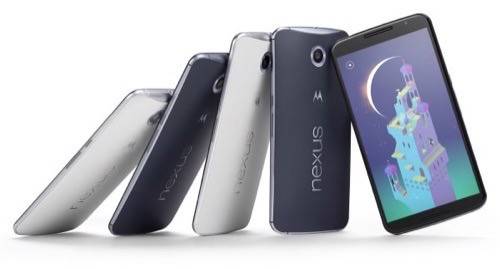 The Nexus 6 features a 13 megapixel camera, same as the Moto X, and features a 3220 mAh battery that Google claims will deliver "over 24 hours of use from a full charge."That's substantially larger than the 2300 mAh cell powering the Moto X, which has gotten dinged in reviews for poor battery life.) Motorola plans to bundle the phone with its "turbo charger," which the company says can provide another six hours of battery life with 15 minutes of charging.
Oddly, the Nexus 6 doesn't feature a full 64-bit processor, even though the new Android Lollipop supports them. (The phone's Snapdragon 805 apparently has some 64-bit elements but doesn't process data in 64-bit chunks—the acid test of 64-bitness.)
The Nexus 6, however, will also be substantially more expensive than the Moto X, which retails for $500 without a contract. The Nexus 6 will launch in late October starting at $649 with no contract, presumably for the 32GB version; Motorola says it will also release a 64GB model.
Missing so far are any specs on the phone's weight or thickness, suggesting that neither spec may be particularly impressive.
Type On The Tablet
The Nexus 9 tablet, built by HTC, doesn't have much in the way of special features—and, as with the Nexus 6, there are no details as to how much it weighs or how thick it is. It does have a 64-bit Nvidia Tegra K1 processor, an 8 megapixel rear camera and 1.6 megapixel front camera, a 6700 mAh battery and will come in 16GB and 32GB versions.
No word yet on the price. The current Nexus 7 tablet, made by Asus, starts at $229 for the 16GB version.
Perhaps the most striking thing about the Nexus 9 is that it will work with a new magnetically attached keyboard, à la third-party keyboards for the iPad or the "type cover" Microsoft sells for its Surface tablet. The Nexus 9 keyboard will be sold separately; there's no price information yet.
Google TV In A Hockey Puck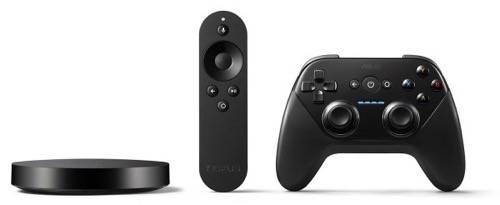 Google is also continuing its assault on other makers of streaming-media devices like Roku with the Nexus Player. This is a hockey-puck shaped device whose circular exterior evokes one of the company's earliest living-room failure, the overpriced and underpowered Nexus Q, though obviously Google has learned a few things since then.
The Nexus Player that will let you stream movies, shows and music to your TV from services such as Netflix, Hulu and Pandora; you can also "cast" photos or videos to it from other Android devices the same way you can with Google's $35 Chromecast. The device doubles as a game player—presumably of Android game apps, though Google isn't clear about that yet.
The Nexus Player offers voice-controlled search much like the Fire TV from Amazon—though we won't know for a while if the Nexus Player will suffer the same growing pains. It also promises to sync up shows between your Android devices, so you could start watching on your TV and continue on a tablet in bed.
Google hasn't yet announced a price for the Nexus Player. It will sell a companion game controller separately.
And Then There's The Software
Android Lollipop, which Google first previewed as Android L at its I/O conference in June, is a mostly under-the-hood update of the operating software. It features 5,000 new application programming interfaces (see our API explainer) for developers and a redesigned user interface Google calls "Material Design," which is intended to make using Android devices more intuitive and to provide a more uniform look and feel across them.
See also: Google Previews The Next Big Release Of Android: "L"
Lollipop offers a few additional innovations for users, such as (quotations are from Google VP for Android Sundar Pichai):
Syncing between Android phones and other gadgets so that "songs, photos, apps, and even recent searches from one of your Android devices can be immediately enjoyed across all the other ones"
Support for multiple user accounts, so your kids can sign into your tablet without disrupting your settings, as well as a "guest user" mode
Additional privacy settings so that only certain notifications are displayed on your lock screen, which only certain people can get through if you're in a meeting or at a movie
A "battery saver feature" that should "extend[] the life of your device by up to 90 minutes"
Security features that will let you unlock an Android phone by pairing it with a "trusted device" such as a smartwatch or a car
Images courtesy of Google