Apple's new iOS 8 software comes with a huge load of new features for iPhone users—some of which you could easily overlook.
That's because iOS 8 doesn't push change in your face the way iOS 7 did when it launched a year ago. Less graphic and design intensive, the newer operating system essentially offers people more control over their devices. Some of those features rely on app developers to support them, which means the full panoply of new option made possible by iOS 8 will only emerge over time.
See also: The iPhone 6 Dilemma—Finding Enough Useful Apps To Fill A Bigger Home Screen
For now, the best way to check out some of the bigger changes is to fire up Apple's stock apps or those from eager app builders who have already jumped on the iOS 8 bandwagon. Here are a few places to start.
Note: Linked app names will take you to iTunes Preview or the Apple App Store.
Update your apps
Some of your apps now take advantage of iOS 8, so to experience the newness, be sure to update your apps in the App Store. Or maybe even download a few new ones, including:
LastPass: Finally, password managers like LastPass and 1Password (below) have been unleashed on iDevices. Although free users can still use the app the way they've always done, premium subscribers can save logins directly from Safari or securely identify themselves by fingerprint with Touch ID. The security app will also work with other apps so that you can save, say, your Facebook login within your LastPass account.
1Password: Like LastPass, this app can save or fill in logins from Safari and some third-party apps, and uses Touch ID fingerprint scanner to authenticate you. Free users get some of these features; premium subscribers get them all. But if you're an existing user of the previous version, you get version 5 and all of its Pro features for free.
See also: How To Download iOS 8 When Your Phone Is Too Full Of Stuff
Box: Share files between its cloud-storage service and Pages or other apps.
Evernote: Save pics and webpages in Safari as notes, and make new notes from the Notification Center widget. Premium account holders can also use Touch ID for security.
Pocket: Ditch clunky bookmarklets and workarounds. Now you can save articles directly from Safari for later viewing. In the Pocket app, you can also send items directly to Twitter, Evernote, WordPress and more.
Instapaper: Save articles from within any app, or check out the list of all your day's saved items in the Notification Center widget.
Pinterest: Now supports pinning directly within Chrome or Safari (via the "more" setting).
Yahoo Weather: It's no stranger to the Notification Center, but now it sports an animated widget in the Today section. Nothing like seeing moving rain or snow to really hammer home the need for an umbrella.
Change your keyboard
Apple finally allows users to switch out the built-in keyboard with one from an outside developer. Swype, SwiftKey, Fleksy, Minuum, and the upcoming PopKey offer alternatives that do some creative things with the old finger play we're used to—from replacing tapping with finger-dragging to putting an animated GIF/emoji keyboard under our digits—at prices ranging from free to $1.99.
See also: Hold Up! Here's Why You Might Want To Postpone That iOS 8 Upgrade
Note: Not all apps permit third-party keyboards. And some keyboards come with a few bugs, like the much-anticipated Swype app. However, for those that do work, they really turn the ho-hum process of hunt-and-peck into a smarter and faster, even fun, activity.
To activate:
Download a keyboard from the App Store
Go to Settings > General > Keyboard > Keyboards > "Add New Keyboard…"
Note the warning, as it's a major one: Once you activate a third-party keyboard, it has access to everything you type (including credit card numbers or logins).
Once you're done, you should see the keyboard in apps such as Apple's own Safari, Notes, Mail and Messages, plus some others.
Tap on a text-entry box where you'd normally enter an email, a search request or similar text and let the app pull up the keyboard. The new one should come up. If not, keep tapping the globe key (at the bottom) until you see it.
Make Notifications Center Work For You
Now you can add an Evernote item, access your latest Dropbox upload or double-check your next OpenTable reservation—all from the Notifications Center.
In addition to making its own apps work smarter in that space, Apple has also allowed third-party developers to create widgets. Some merely amount to attractive alerts or status reports, while others let you take immediate action without actually launching an app.
To see what you can use, swipe down from the top of the screen to access the drop-down Notifications Center and tap the "edit" button at the bottom of the Today view. From there, you can add or remove widgets.
Your selection depends on the apps you have installed; if you want more, you'll have to add more apps. Day One journaling app, Yahoo Weather, The New York Times and NYT Now, Instapaper and numerous others support widgets, with plenty more on the way.
Behold The Glory Of Messages
Messages got a few handy updates in iOS 8. If you have an older iPhone or plan to upgrade to the iPhone 6, you won't get the fun little profile pics that iPhone 6 Plus users will soon enjoy. But you do get a few other tidbits.
When you add to or start a conversation, you can now send a voice message by tapping the microphone icon (on the right). If you receive one, just put the phone to your ear, and it triggers playback. Apple sets them to expire after 2 minutes by default, which you may change to "Never" (in Settings > Messages > Expire). But be warned—if you and your pals are particularly gabby, those audio messages can really pile up.
Another nifty feature: You can tap Details (at the top right, in a Messages conversation) to share your location or mute the chat.
Mourn The Camera Roll, But Revel In Other Photo Joys
Eagle-eyed folks may notice that the Camera Roll is gone. This is bound to upset some people, as our repository for on-the-fly photos has been with us since the beginning. Take a moment to reflect, if you need it.
Done? Good. Because there's more to explore regarding photos. Cruise around the Albums tab in particular, because you'll spot things like Recently Added, Recently Deleted, Bursts and other categories Apple implemented to help you organize your mountain of pictures.
You can now favorite photos, as well as also hide embarrassing ones, at least somewhat, by making sure it's visible only from the Albums tab. Just tap and hold (or long press) it, and the option to "hide" pops up.
As for the camera itself, you'll want to play with new features like the built-in timer (at the top), and the focus and exposure controls. In previous versions of iOS 7, one tap on the subject automatically set both. Now you can fine-tune them individually. You still focus by tapping on the screen, but you can change the exposure (the yellow box and slider) by dragging your finger up and down. This works for still photos as well as videos, though the only camera mode that doesn't apply to is Pano.
Speaking of vids, to take the time-lapse or slo-mo video recording for a whirl, swipe past the video setting at the bottom. (They're situated on the left of "video").
Chat Up Siri
If you're connected to power, you can set Siri to respond to your voice without holding down the Touch ID button. Just go to Settings > General > Siri and hit the toggle for "Allow 'Hey Siri'." And if you want to identify a song, you can now ask the voice assistant to identify that for you. Shazam integration makes that possible, so you can ask her "Can you tell me what song is playing?"
The only bummer is, due to the limitation within Shazam itself, Siri can't ID songs that you sing or hum to the phone, the way SoundHound does. Well, maybe someday.
In the mean time, touchless Siri activation will be really handy when I'm cooking or driving.
Enjoy Using Safari, For A Change
Apple just killed the only two reasons I still use an alternate Web browser over Safari: access to desktop versions of mobile webpages, and the ability to save and fill logins using an outside password manager. These are major features, and it's all too easy for most people to miss them.
The first, requesting the full desktop versions of mobile sites, seems to be hidden by default. When you access a webpage that's clearly designed for a mobile viewing, just tap inside the address bar to pull up your familiar grid of bookmark icons. Then grab the page and drag it down, to reveal two options at the top: "Add to Favorites" and "Request Desktop Site." So simple and yet so buried.
The other feature, saving or filling logins using a third-party password manager, comes in very handy—especially if you're not too keen on iCloud managing that precious info and sharing it across all of your Apple devices. I'd rather use apps like 1Password or LastPass. To conjure it up, I tap the "share" icon (the middle, bottom key), go to the bottom row and swipe over to "More…" That's where I toggle on the new security app and move it around, depending on where I want it situated.
The new icon shows up as another button on the bottom row.
Parents: Activate Family Sharing
When you update to iOS 8, one of the first options that come up is the ability to turn on Family Sharing, which lets parents control or share songs, books and apps between household members. if you didn't turn it on then, you can still activate it in Settings > iCloud > "Set Up Family Sharing…"
The first one in the house to do it becomes the principal account holder or "Family organizer."
As organizer, you're in control of what and how all Apple digital assets from iTunes, the App Store and the iBookstore are shared with up to five people—that is, after you put in your credit card details. Since you're on the hook for the money, you also get authority to approve or reject purchase requests from your minions … I mean, family members. Also, check out the family version of iCloud Photo Stream sharing. The kids will love having all those embarrassing baby pics on their phones, so their friends can see. Trust me.
There are numerous other tweaks and changes to the way you handle everyday stuff, including:
Mail's new swipe-worthy options

Reply notifications, if you're waiting for an email response

New battery usage rankings (in Settings > General > Usage > Battery Usage)

New Health app, to corral your HealthKit health and fitness data (erm, when they arrive, that is)

The controversial "Recents" list of recently contacted people and favorites, available in multitasking mode (which you have to double-click the Touch ID button to see)

QuickType eerily accurate predictive typing feature, now included with the stock Apple keyboard

Quick reply for Messages inside the pop-up alert, and ability to swipe texts to the side, to see when they were sent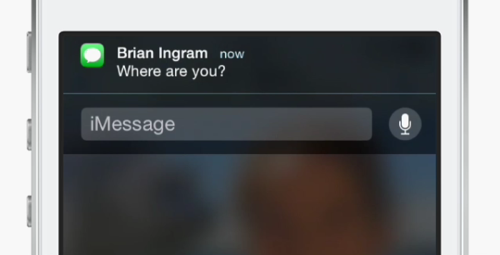 What you won't see: a lot of Continuity features, which hand off conversations, browser sessions, and files to your Mac desktop. This feature requires Mac OS X 10.10 Yosemite, which is expected next month. If you'd rather wait for the grand rollout, you can shut off Handoff in Settings > General > Handoff & Suggested Apps. Otherwise, you get a few limited features for now, if you have multiple Apple devices—like iPhones, iPod touches and iPads.
Likewise, if you fell for the practical-joke tip that Apple made its Messages app individually lockable to prying eyes, you'll be sorely disappointed to learn it's not true. (But there are workarounds, inelegant though they may be.) It's a good idea, though, and hopefully we'll see it officially arrive in a future update.
Overall, iOS 8 brought some major updates to our Apple handsets and tablets, touching on numerous areas of its whole mobile operating system. For now, most of them look new and exciting. But as with any big software rollouts, it may just be a matter of time before bugs and glitches show up to ruin the party. (That's certainly the case for anyone with an iPhone 4S, many of which appear to be buckling under the weight of the new software.)
But if you're not a 4S user crippled by iOS 8, then enjoy this time. There are a lot of new things in this software update, so take a few minutes tonight or this weekend to get reacquainted with your trusty device. It has learned some new tricks, and those changes are way more than just skin deep.
Lead photo courtesy of Apple; screenshots by Adriana Lee for ReadWrite