ReadWriteHome is an ongoing series exploring the implications of living in connected homes. This week, it is sponsored by Best Buy.
How cool would it be if you had a house you could control from wherever you are? If you never had to remember to turn the lights off again, or worry about losing your house keys, or wonder if the dog is sleeping on the couch?
That's the promise of the smart home of the future: a connected home where heating, security and entertainment are fully automated and all of the latest gadgets enable creature comforts with the press of a button or a spoken command.
The Connected-Living Future Is Here
That promise is becoming a reality far faster than we realize. Thanks to Wi-Fi and smartphones, our homes are ready for connected thermostats, media players—and even door locks.
And the best part is that even if you're not a technology wizard, you can purchase a household's worth of sensors, cameras and devices for far less than it would have cost just a few years ago—and set it all up yourself.
Strategy Analytics, a research and consultancy firm, predicts some 21 million U.S. households will be "smart" in some sense of the word by the end of 2014. That number is expected to increase to nearly 224 million homes by 2019. The U.S. accounts for nearly 40 percent of the global total of connected homes. Western Europe and China are expected to catch up once products and services become more available there.
Spending on smart-home systems is expected to increase from $48 billion this year to $115 billion five years from now—that's an average annual increase of 19 percent. Strategy Analytics' 2014 smart-home forecast notes that homes with broadband are most likely to participate in the connected home. That's already the majority of homes.
There are many products now on the market and sold at mainstream consumer-electronics stores that can allow you to reduce energy costs with learning thermostats, add smart security systems, or just experience the cool factor of a smart home.
Here are just a few of the items you can buy now in each major category.
Energy Efficiency
Nest's Learning Thermostat, which warms or cools your house based on instructions you give it via a smartphone, is now on its second generation. Nest also offers the Nest Protect, a smoke alarm and carbon-monoxide detector.
Gadgetmaker Belkin's WeMo switches help cut energy costs by letting you turn lights and electronics on and off using a compatible iOS or Android mobile device.
Even your washing machine is getting into the act. LG makes a 5-Cycle Ultralarge-Capacity High-Efficiency Steam Smart Top-Loading Washer featuring what it calls "Smart ThinQ" technology. The washer is connected via Wi-Fi to a cell phone app (download required) so you can remotely monitor your washer and download wash cycles.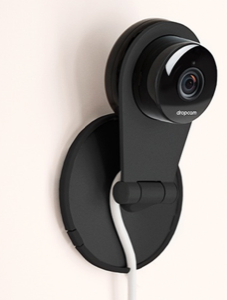 Security And Monitoring
Dropcam helps you keep a watchful eye from your compatible iOS or Android device. The standard Dropcam and the Dropcam Pro cameras feature 25-foot night-vision range that will let you know if it was your dog or your kid who ate the last cookie on the table.
The Legrand Adorne Wireless Video Doorbell Intercom Kit allows you to see who's at the door and communicate with them even if you're not at home. The device includes one exterior video doorbell camera and one interior intercom unit to receive camera images.
Add to those the Kevo Smart Lock from Kwikset. It lets you use a modern smartphone with Bluetooth 4.0 as a key, or you can control the lock remotely with the Kevo app. Pair that with a MyQ garage door controller that lets you control your existing garage door opener through your smartphone. Imagine letting your relative park in your garage and enter your house remotely—and then closing the garage and locking the door for safety once you can see they're inside.
Media And Entertainment
Samsung's HT-F9730W Smart Home Theater System series allow you to connect to the Internet through your home's wireless system and share content from a mobile device. When paired with a connected stereo receiver like the Sony 4K Ultra HD and 3D Pass-Through A/V Home Theater Receiver, you could queue up your favorite movies and music and have them ready to play the minute you walk in the door.
For the epicurean in the family, Samsung also makes a 4-Door French Door Smart Refrigerator with an embedded 8-inch Wi-Fi-enabled LCD display. Surf the Web and access apps like Pandora or its built-in Grocery Manager while you grab your favorite chilled beverage.
Have you wired up your smart home? We're interested in hearing your story. Leave a comment or tweet at us at @RWW.