There's a problem with gadgets today, and Pebble CEO Eric Migicovsky thinks he knows exactly what it is: "Technology shouldn't change your own personal habits. It should mesh into the lifestyle you already live."
It sounds like common sense, but in a world where inventors too often expect people to adapt and conform to new technologies, it's a radical thought. And quite possibly, it's the secret of success for the 27-year-old tech founder's Pebble smartwatch.
The device landed in the spotlight in 2012 after raising more than $10 million in preorders on Kickstarter, the crowdfunding website. Now the product has bloomed into a platform in its own right, with more than 400,000 units gracing people's wrists and more than 15,000 developers creating nearly 2,400 watch apps for it.
Donning a red hoodie and flip-flops, Migicovsky joined ReadWrite Editor-in-Chief Owen Thomas for a casual chat at Wednesday night's ReadWriteMix, where he shared Pebble's journey and what it took to galvanize one of the hottest areas of consumer technology today—the rapidly growing wearables market.
How Pebble Got Rolling
It may surprise some folks to know that Pebble is not Migicovsky's first smartwatch. That honor goes to InPulse, a device he released in 2010 that initially worked with the BlackBerry smartphone. But even though it paved the way, the Vancouver-born Canadian found he still needed to make a compelling case for wrist-worn tech.
"What we had to do, what we had to prove, was that there was so much more value to putting something smart on your wrist," he said.
Like the InPulse, Pebble focused on the basics first.
"I found the core functions, the notifications and phone calls, were the most important to me," said Migicovsky. So he focused on the basics and left the rest to third-party developers.
This was how a single device became a launchpad for a whole ecosystem. As the company worked to fulfill orders for Kickstarter backers last year, it also prepped the PebbleKit, a software development kit, and reached out to app developers. Those efforts laid the groundwork for its very own app store, which launched a couple of months ago.
Extending An Arm To Developers
"It's more than just us," said Migicovsky. "It's great to see how others are pushing [things]."
What he's referring to is the company's reliance on those 15,000-some outside developers who are fleshing out Pebble's features.
He describes Pebble as "an open platform that people can hack on," and it's perfectly fitting. Thanks to the growing inventory of smartwatch apps, users can do numerous things from their wrists—from checking into locations and paying for Starbucks lattes, to remotely snapping photos and tracking swimming activity (thanks to Pebble's accelerometer).
"Platform plays require engaging developers, engaging users," he said. So they invest their energy into the questions that matter: "How can we make tools and incentive models that support them?"
Pebble has put a lot of energy into developer outreach, including contests and sometimes even paid trips to the Palo Alto, Calif., office. Meanwhile, an increasing portfolio of established companies joins the fold, including Mercedes-Benz, iControl, Yelp, and GoPro, among others.
Migicovsky remembers being wowed when Mercedes-Benz approached him. The car company had started working on a Pebble app and only then asked "if we wanted to check out what they've been working on. Uh, yes!" he said. Now certain Mercedes owners can have car data literally at hand, and the app even shakes the wrist when there's an obstruction on the road ahead.
It's all part of Pebble's fundamental vision of tech that fits into people's existing lives. With so many creative apps at the ready, users can craft whatever experience works for them. They can even craft their hardware experience too.
Hardware Matters
Big box retailer Target has now picked up the first-generation, all-plastic Pebble, selling it through its vast network of stores. Those original models were recently joined by a stainless version called the Pebble Steel, which is available only on Pebble's website. So which do people prefer? "Around 60% of our customers right now on our website are picking Pebble Steel," said Migicovsky.
Both models follow his primary approach, to make a device that works alongside gadgets like smartphones, not replace them by stuffing cameras or cellular radios in there.
"We can connect to other devices, as opposed to putting them in the Pebble itself," he said. "Given the right technology, it's something we might do, and there's a laundry list of things we could put in there. But there are other products that do it much better."
Those moves, along with its e-paper display, enable Pebble's long battery life—a key feature for any wearable device.
"We couldn't do what we we're doing now five years ago," he added. Advances in mobile computing, which allowed for ubiquitous Internet connectivity, changed everything. So did better battery technology and the evolution of Bluetooth, in particular its low energy profile.
"Bluetooth LE (low energy) is going to do a lot to change the world," he said. "There's going to be a lot more clothing and sensors and other things." Such wearables will boast long life and cool interactions with iBeacons, the new wireless routers that allow consumer devices to connect to the Internet, not just smartphones and tablets.
When that comes together, consumers will benefit from automated features that make life easier. And Migicovsky wants Pebble to be part of that future.
Others Join The Arm Race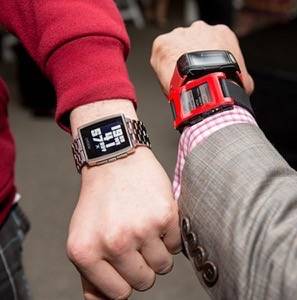 Of course, making things easier for users is not always, ahem, easy.
The company has had plenty of challenges too. It frustrated early backers when it couldn't deliver products on time last year. Fortunately, Migicovksy learned a few things from his experience with InPulse.
"Do not overbuild your inventory. It very nearly killed the company," he said. Migicovsky turned those piles of unsold InPulses into a visual reminder for his team of mistakes and missed opportunities.
Despite the InPulse's failure, a chastened Migicovsky and his team survived to create a new smartwatch. Now he and Pebble are major player in an expanding market full of competitors.
Not that Migicovsky sweats the competition much. He's seen rivals like Sony, Samsung, Qualcomm, even Prada, and others before. However, Google may be "one of the more credible competitors that we've had."
He was referring to the Android Wear platform introduced last month via the Moto 360 and LG G smartwatches. But just because "it's interesting," that doesn't mean he's threatened by the tech giant.
"It definitely provides a different vision for wearables than we're going down," he said, referring to Pebble's openness. He noted that Google may have once had the same stance, but "with Wear, they're acting against that. They lost control with Android, and I think they're a little unhappy. And they [might be] going back the other way with Android Wear," he said.
How that competition will shake out isn't entirely clear yet. In the meantime Pebble, the little startup that could, has done everything it can to get rolling, and it's not done yet.
"What we're doing now is building the first operating system that purpose-designed for wearables," he said. "There's a lot of opportunity with having a different form factor to create new experiences."
It's an opportunity, not just for Pebble, but for the consumers who buy them—as well as the developers who are taking the smartwatch further than even Migicovsky himself could imagine.
Event photos by Kara Brodgesell for ReadWrite; InPulse image by Owen Thomas for ReadWrite; Mercedes-Benz Pebble app photo by Adriana Lee for ReadWrite; Moto 360 image courtesy of Motorola
ReadWrite is proud to support Girls Who Code through its ReadWriteMix events. We ask attendees to make a minimum $10 donation to reserve their seat, with all proceeds going to Girls Who Code.