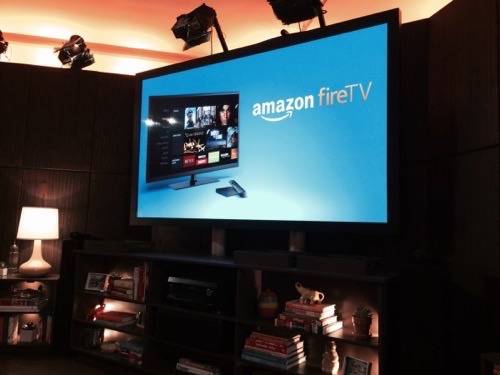 Amazon just unveiled its TV set-top box—and it's called Amazon Fire TV.
Fire TV features a quad-core processor and a dedicated GPU, as well as 2 GB of RAM for a smooth interface and fast-launching applications and videos. Fire TV also features dual-band Wi-Fi with MIMO, so applications and videos start downloading and streaming immediately. It also supports 1080p HD support and Dolby Digital Plus surround sound, but it also comes with a newfangled remote with built-in Bluetooth.
Amazon will release the Fire TV for $99, starting today.
"Fire TV has three times the power and performance of Apple TV, of Roku 3, and of Chromecast," said Peter Larsen, VP at Amazon. "It fits underneath your TV, behind your TV. It fades seamlessly into the background." (Larsen also said the Fire TV is "thinner than a dime," but that's only true in the sense that it's thinner than a dime is wide. The Fire TV is 0.7 inches thick.)

How Amazon Wants To Fire You Up
The box offers a new feature called ASAP intended to predict what TV shows and movies you're going to watch so it can queue them up and start them instantly. It's supposed to learn over time, so ideally this feature will only improve upon use.
Fire TV also features channels from a number of streaming services and production studios, including Netflix, Hulu+, ESPN, Showtime, TED and Disney; more will join shortly after the release of Fire TV. (HBO Go, however, is a notable no-show.) Amazon Studios will also be releasing a number of shows this year, especially in the fall. At Wednesday's press conference, Amazon previewed 10 new Amazon Studios original series, including Bosch, Mozart in the Jungle, and Transparent.
"This isn't a closed ecosystem," Larsen said. "It has a ton of content. But how do you find this content? This is what you do on Fire TV: (speaks) 'John Malkovich.' You can now see all of the movies John Malkovich is in, and easily add any of them to my Watch List. There's a microphone integrated into the remote control so I don't need to yell across my living room."
You can even ask for "princess movies," and Fire TV will try to show you all the movies in the Fire TV libraries that have princesses in them.
The Fire TV also has a few other special features, including a special hub for viewing photos from your smartphone, as well as X-Ray, a one-step process that allows Kindle Fire tablet users to see all of the characters and actors in the movie or TV show, the music that's playing in a scene, and more.
Starting next month, Fire TV will support music apps, including anything you've purchased from Amazon. It will display lyrics on your television, which are synchronized to every song.
Kids And Games
Amazon's kids app FreeTime has also been adjusted for the Fire TV—there's a new interface that's very kid-friendly, and kids can't leave the FreeTime app unless they use a password their parents have. But this way, it also provides a way for kids to wade through their own content without mixing into shows and movies mom and dad are watching. Parents can even set time limits on their kids, and even customize it for certain days of the week or weekend. FreeTime Unlimited offers high quality age-appropriate content, and unlimited means to explore the content so parents don't have to play "sheriff" in the living room.
But that's not all. Fire TV is also great for gaming.
"Millions of people have game consoles, and they love them. But many millions more don't have gaming consoles because they can't afford them or they don't want to pay for them," Larsen said. "These customers now have to go down to their smartphone or tablet or play their games there, but they'd love to play their games on TV."
Gamers can play their games on Fire TV with the Fire TV remote, but they can also use the phones and tablets they already own to play games. Many of these gaming features are coming out next month, but Amazon already has a number of important gaming publishers lined up, including Sega, Double Fine, Disney and more—it'll even have Minecraft, but Amazon Game Studios will also be building games from the ground-up for Fire TV and Kindle Fire tablets.
Amazon even created its own video game controller—the Fire Game Controller—which will be available for $39.99 and will give users Amazon coins so they can get start their Fire TV experience with games to play. Amazon will even allow for multiplayer games, where users can play on the Fire Game Controller and the Fire TV remote control at the same time.
Fire TV games will also be much cheaper, on average, than console games. The average price of a paid game on Amazon Fire TV will be $1.85, according to the company.
A Brief History Of Streaming
In the days leading up to Wednesday's media event in New York City, which was advertised as an "update on our video business," various sources said Amazon would release an Android-based TV set-top box that can pull apps from the Amazon Appstore.
Amazon launched its digital video services in 2011, shortly after Netflix bet its future on streaming movies and TV instead of mailed DVDs. Like Netflix and Hulu, Amazon has invested heavily in programming, both by licensing popular shows and movies and by creating its own.
And to watch all that, customers need some sort of streaming-media device.
Amazon sells many such gadgets, including the Chromecast, Apple TV and Roku boxes, but the company says customers often complain about these products. Search is hard, especially for titles that aren't on "bestseller lists." And Larsen said customers are often unhappy with what they consider poor or slow performance of these streaming devices.
"Customers shouldn't have to tolerate this kind of laggy performance anymore," Larsen said. "There's no reason for it."
The third major problem with TV set-top boxes is that they're closed systems. Larsen said he owns an Apple TV and an Amazon Prime account, but you can't access your various accounts—and if you can, you usually have to pay an extra subscription fee (Xbox Live users must pay $60 a year to access Netflix via Xbox.)
"We need to invent and simplify on behalf of customers," Larsen said. "We created an experience that offered state-of-the-art power and performance so you can sit back, relax and lose yourself in the director's world."
Prior to the event, our sources close to the situation said Amazon's device is "one of the most powerful set-top devices," and even made mention that it would be tiny, but not a dongle—it would be more like Apple TV, but reportedly "zippier."
At one point, the Wall Street Journal said Amazon would unveil a free, ad-supported streaming service, but Amazon flat out denied those rumors at the time. And yet, it makes sense for Amazon to launch a set-top box that could leverage apps from Amazon's various digital catalogues, including the Kindle ecosystem. Also, Amazon's media streaming service, Amazon Prime Instant Video, features 40,000 movie and TV titles, according to Amazon.
Rumors leading up to the event differed when it came to price—some said Amazon could release an extremely competitive set-top box, around the same price or lower than Google's $35 Chromecast, while other reports said Amazon's device would be a "premium" gadget that would be more expensive than Chromecast, but still cost less than Apple's $99 solution.
"Amazon already has a media ecosystem, they already have an ad network, and they already have a tested monetization strategy," said Mark Hoelzel, a research analyst for Business Insider Intelligence. "Plus, they have 20 million Prime Members who would see a sub-$35 streaming device with unlimited Prime streaming as a no-brainer."
All images by Dave Smith for ReadWrite