Like a rolling stone, Pebble just can't stay static. Last month, the smartwatch popped up on Ellen, got plans for its own app store underway and wrapped up its #ifihadapebble contest for app developers. Now the company's at it again with a bevy of new announcements.
At CES, Pebble just revealed a launch timeframe for the store, a rockstar lineup of apps from developer partners and a brand-new premium smartwatch called Pebble Steel.
A Smartwatch For Grown-ups
The product's name derives from its forged and CNC-machined stainless steel fabrication, a departure from the sporty, all-plastic housing of the original. Pebble Steel comes in brushed stainless and matte black (though this Zoolander fan begged founder and CEO Eric Migicovsky to come up with a blue version, just so I could get something called "Blue Steel").
Pebble Steel features Gorilla Glass, anti-fingerprint coating, colored LED indicator/notification light and two watchbands in leather and metal (included). It also comes with a premium price tag. While the original version will keep its $149 pricing, the new model raises that ceiling to $249.
Considering one of Pebble's main differentiating characteristics is its affordability amid the growing $300+ competition, it will be interesting to see how would-be customers receive this new model.
See also: How The Smartwatch Arrived On Time: Pebble's Eric Migicovsky
For Migicovsky, the value lies in resolving a common customer dilemma. "We got some feedback from people saying, 'When I go out to dinner, [Pebble's] not the watch I put on my wrist'," he said. Pebble Steel was designed to address that lifestyle issue, without sacrificing the internals that made Pebble popular—including e-ink display, sensors, 5-to-7-day battery life and waterproofing (up to 5 atmospheres). And it manages to shave some of the size and thickness without shrinking the screen size.
I asked if all that metal might interfere with the antennas, making it tough for the watch to communicate with the primary Android or iOS smartphone it's paired with. Migicovsky grinned. "See the gap and that metal at the top [of the watch]?" Turns out, that's part of the antenna. Thanks to this clever design, "the range is equal to, if not better, than the original Pebble," he said.
An App Store Cometh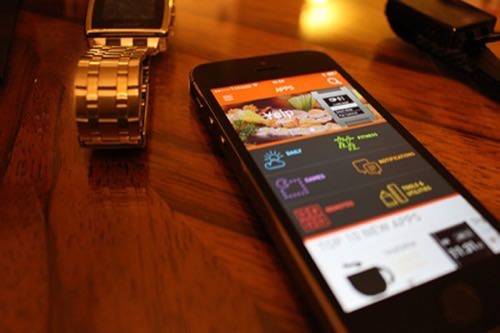 Pebble gave developers a heads-up about its coming app store, even urging them to prepare by getting their apps updated to version 2 of the Pebble Software Developer Kit. Now Pebble is ready to snip the ribbon and open the virtual doors at the end of January.
The app store will come via a software update to the existing Pebble mobile apps for Android and iOS. Users can launch their mobile app as the single point of entry to browse Pebble apps or try out and download watchfaces directly to their smartwatch.
The software update will come with something iOS customers have been clamoring for—the ability to retrieve alerts. Previously, notifications would flash onto the device, and if a user couldn't deal with it in that moment, that was too bad. They couldn't get it back. Now, they'll be able to call them up right on their wrists.
The Pebble app store will also offer an "app locker," which are essentially bookmarks for apps. Pebble only allows for eight apps at a given time to be loaded on the watch, so the locker will hang on to apps you were interested in, making it easy to keep track of the ones you want to check out or use.
Partner Promenade
Pebble promoted partnerships with a few noteworthy developers, and it's not hard to see the appeal of the apps they wound up creating. Some intriguing features that are being unveiled at CES this week:
Yelp: Restaurant picks on a watch can be handy on the go, and with a shake of the arm, the software can even randomly choose a place nearby to go.
Foursquare: It just doesn't get easier than check-ins from a watch.
ESPN: Die-hard sports fans can get scores across a variety of sports at a flick of the wrist.
Pandora: Control playback, even up- or down-vote songs, without pulling out your phone.
Mercedes Benz: The watch can display car data—from distance, fuel and tire pressure to parked location—as well as control the infotainment system. But those aren't the coolest features. This is: When the system detects accidents, traffic or other problems up ahead, Pebble can shake that wrist to let the owner know there's a disturbance.
And that's just the beginning. More than 3,000 developers are creating apps for the app store, says Migicovsky. And that means a whirlwind of new features could be landing soon. That's good news for Pebble users, as well as the company itself.
Last year, far bigger companies entered the wearables market. Pebble's winning formula has been to interpret the wants of its customers and stay open to the creative juices of its app makers. If it can stay nimble and keep up the momentum in 2014, we could be witnessing an interesting transition—one that could potentially take the company from startup to juggernaut.
Feature image by Adriana Lee for ReadWrite, shot with the Canon EOS Rebel SL1 digital SLR camera.