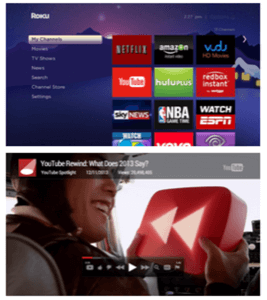 Something strange is afoot in Google-land. Its YouTube service has just decided to provide some of the Chromecast's most distinctive features—namely YouTube streaming and casting—to a Chromecast rival: the Roku 3.
Just in time for the holidays, the Roku 3 gets to unwrap YouTube video as a brand-new channel. In addition to streaming standalone vids and subscriptions, users also get the decidedly Chromecastic ability to fling YouTube videos to their TVs from their mobile devices.
See also: Stream Engines: How To Choose Between The Apple TV, Roku 2 And Chromecast
No word yet on whether owners of Roku 2 or others will also get the YouTube channel and related casting capabilities. But if those features remain on the Roku 3 alone, then that will likely help would-be customers justify the $100 expense (now $90, on sale). If the channel does come to less expensive Roku boxes, that might put a dent in its competitor's sales during this crucial holiday period. After all, the least expensive Roku, the LT, is $50 (now $40, on sale). That's not a major leap from the $35 Chromecast.
Even before this announcement, the hockey puck–shaped boxes already offered a large streaming inventory, especially compared to the wee Google device. (Chromecast's lineup only recently expanded to 17 streaming partners.) But the lack of an official YouTube channel had always been a sticking point—particularly when Google's cheaper TV doohickey offered it at launch. Now that gap has closed, at least for owners of the premium Roku box.
YouTube's motivations aren't all that difficult to imagine. Traffic is the name of its game, which is one reason why the service is ubiquitous across mobile, online, and TV products. Still, it's strange to think that the biggest strike against Chromecast originated from inside Google's own walls.
Lead image by Adriana Lee for ReadWrite