For Google Glass owners, the holidays just came early. Google just released the update notes for December's monthly build, XE12, and it's a doozy. Not only will XE12 introduce that cool wink hack we saw months ago as an actual feature, but it brings the release of MyGlass for the iPhone at long last.
MyGlass: The Missing iOS App Is Found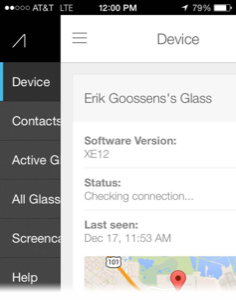 Just days ago we were bemoaning the sorry state of Google Glass for iPhone users, a lo, the iOS MyGlass app is (almost) here at long last. Not one to hoard software in its own ecosystem, Google historically provides a nearly equal experience for its apps between its own Android operating system and Apple's iOS. Given that precedent, we knew a Google Glass app was on the way for iOS—we just didn't know when.
The barriers to parity between MyGlass on Android and iOS are many, but the new iPhone app will add support for one major feature conspicuously absent for iPhone users: turn by turn directions. From the release notes:
MyGlass for iOS is ready. MyGlass has almost all of the features of the Android app, but designed especially for Apple mobile devices. Set up Glass, get turn-by-turn directions, add new contacts, and turn on Glassware.
While that's excellent news for Glass Explorers who aren't keen to cross over to an Android smartphone, it still won't quite bring the two apps in line. Unfortunately, the XE12 notes make no mention of support for iMessages. That means without a workaround (we'd suggest rigging something up in IFTTT), iPhone users won't be able to receive texts on Glass—a handy feature that's supported by Android's version of MyGlass. MyGlass for iOS will finally let Glass wearers toggle apps on and off from the iPhone, but unlike MyGlass for Android, it doesn't appear to support screencasting. Bummer.
Lots Of New Updates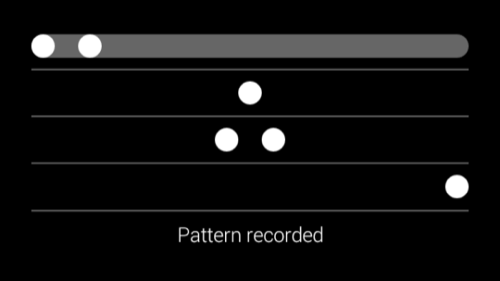 Beyond the big news of MyGlass for the iPhone, XE12 has plenty else going on. Building out Google Play on Glass a bit more, XE12 will add support for playlists and more options for tuning into artist radio stations. For Glass users concerned with security, XE12 adds a screen locking feature that looks to employ a programmable pattern, like Android. XE12 also introduces Glass apps for Hangouts and YouTube.
The Hangouts app lets Glass wearers send and receive chat messages, photos and calls with any of their Google Hangouts contacts. The much-requested YouTube glassware means that videos can be uploaded from Glass right to YouTube—a perfect pairing, considering the experiential nature of most Glass videos.
Perhaps even more surprising than the MyGlass iPhone app, XE12 builds the "hidden" wink detection feature right into the official software, letting Glass photogs snap a photo with a literal wink. Google claims that winking to take a picture is faster than both the camera button and the voice command method. As a note, wink will only work for the newer version of Glass, so early explorers will need to swap in to put it to use.
For the icing on the cake, Google has added a few voice commands and finally, finally done away with the "Sent Through Glass" signature that gets stamped on the end of every outgoing text message. That one made us look like a Glasshole every time.
As always, you can find the full release notes for XE12 on Google's Glass developer portal. And keep an eye out for the MyGlass app in the iOS App Store "later this week."