Sprint is considering a bid to take over T-Mobile in 2014, merging the third and fourth largest cellular carriers in the United States.
According to the Wall Street Journal
, Sprint could bid up to $20 billion for T-Mobile sometime in the first fiscal half of next year.
T-Mobile has been down this road before. AT&T attempted to acquire T-Mobile in 2011 for $39 billion, but federal regulators shot it down, calling the bid anticompetitive.
Since then, T-Mobile has kept innovating, introducing new ways to pay for smartphones without a subsidy or contract for U.S. consumers. T-Mobile also introduced the JUMP—Just Upgrade My Phone—plan earlier this year to allow consumers to get smartphone upgrades up to twice a year if they desire. All three of T-Mobile's major competitors (Sprint, AT&T and Verizon) have adopted similar plans after being pushed by T-Mobile's aggressive tactics.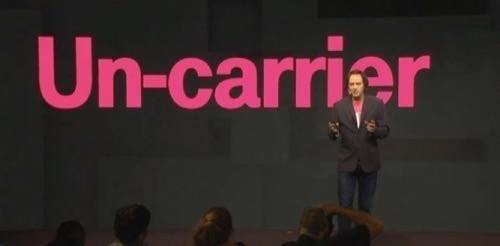 The logistics of a T-Mobile and Sprint merger are daunting. The companies come from different cellular-technology backgrounds (T-Mobile on GSM, Sprint on CDMA) and have different types of customers, since T-Mobile users often prefer cheaper or prepaid plans.
T-Mobile is a subsidiary of Deutsche Telekom while Sprint is majority-owned by Japanese firm SoftBank. T-Mobile also merged with MetroPCS (approved in March 2013) and started trading on the New York Stock Exchange this year. Integration of these two companies would not be easy.
Federal regulators may not be too keen on allowing this kind of merger, either, especially given T-Mobile's success as forcing change among its bigger rivals. A merged T-Mobile and Sprint would make that company technically as large or larger than AT&T and Verizon, but U.S. antitrust authorities might not be keen on letting three big companies dominate the country's cellular infrastructure.
Lead image via Flickr user Ervins Strauhmanis, CC 2.0