Windows Phone needs a champion, and Nokia is the only company that can give it the undivided attention Windows Phone deserves.
If the Windows Phone operating system is to ever succeed, Microsoft is not going to be the company that leads the charge. It can't be, really. Microsoft is a huge company with many, many different product offerings and priorities that sometimes it seems that Windows Phone is a forgotten stepchild to Windows 8, the Surface tablet division, its robust enterprise and cloud offerings, Bing and Xbox.
Nokia is about to be part of Microsoft. The software giant acquired most of the Finnish device maker earlier this year to make it into its own personal fiefdom. Nokia is toting along nearly 32,000 employees to Microsoft when the deal is given regulatory approval and every single individual has the responsibility of making Windows Phone a pillar of mobile computing.
Make no mistake: while Microsoft may be the company that built Windows Phone and will soon own Nokia, the onus is still on the Nokia division—and all the employees that come with it—within Microsoft to not only survive but learn how to thrive.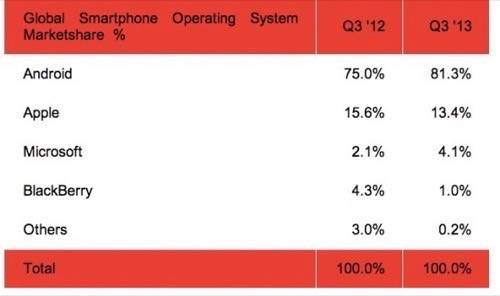 How the careful integration of the relationship between Microsoft and Nokia plays out will directly inform whether Windows Phone can grow from its marginal position in the smartphone ecosystem to a dominant player that truly gives Apple and Google a run for their money. That has not happened yet, as Windows Phone has 4.1% of global smartphone marketshare in the third quarter of 2013, the equivalent of about 10.2 million smartphones shipped. Nokia made up about 87% of those smartphones with its wide array of Lumia devices.
The momentum change is a lot slower than Microsoft would like. It has been almost three years since Microsoft announced Windows Phone. It has been 2.5 years since Nokia jumped off its burning platform and went whole hog into Windows Phone. It's been two years since the first Nokia Lumia was announced.
In that time, Nokia's smartphone marketshare has plummeted across the globe (mostly due to Android) and the company's position became increasingly tenuous. Before the Microsoft acquisition, Nokia's problem was simple: make Windows Phone a success or go out of business.
See also: What Microsoft Did And Didn't Buy With Its Nokia Acquisition
That position is fundamentally no different, even with Microsoft as the new corporate masters of Nokia. Nokia needs to play the role of being the masters of the operating system (like Android at Google), building developer tools and support (like Google Play services) while also designing and building terrific and beautiful smartphones that consumers will actually want to buy (like Jony Ive does at Apple). Nokia must do all of this while working within the constraints of Microsoft's poor legacy in mobile and an operating system that does not leave much to the imagination.
How can Nokia do it? Believe it or not, there is a plan. It involves a wide array of devices in different shapes and prices available across the world, getting developers to write apps for Windows Phone and giving the platform unique characteristics compared to those from iOS and Android.
Nokia's Unique Perspective
Nokia functions vis-à-vis Windows Phone in much the same way that other manufacturers like Samsung or HTC work in relation to Android: it takes the baseline operating system and builds features into and on top of it. The difference between Nokia's relationship to Windows Phone and Samsung's to Android is that many of Nokia's feature hooks are then integrated into the rest of the Windows Phone platform and can be available to other manufacturers building on the platform (of which, there are few).
At the same time, Nokia's hooks truly do enhance its Lumia line feature set. Combined with some top-end hardware, these features can truly be game changers for Nokia's smartphones.
Nokia presents developers and users with four differentiators:
Hardware & Software Design Integration: Nokia has moved from a few flagship Lumia devices to a widespread international device line consisting of smartphones with different sizes and price points. Nokia is not much different than Samsung in this regard. Nokia hits the low end with the 4-inch Lumia 520 and the very high end with the Lumia 1020 with a 41-megapixel camera. In between it has devices like the Lumia 928 and the new mammoth "phablet" Nokia 1520 that comes with a 6-inch screen. Nokia is essentially combating the breadth of Android smartphones across the globe by itself.
Imaging Software Developer Kit: The Imaging SDK was introduced with the Lumia 1020 and offers developers the ability to build apps that take unique advantage of Nokia's camera hardware. Nokia still considers the Imaging SDK to be in beta and will continue to expand and improve it in the future. The Imaging SDK was created by Scalado, which Nokia bought in June 2012.
Entertainment: Before Google announced a music streaming service and Apple came out with iTunes Radio, Nokia had its own music service for Lumia devices. Nokia Music allows for downloads and purchase of music as well as porting your existing library. This is not a Microsoft service but rather Nokia's own brand of entertainment.
Location (Nokia HERE): Everybody looks to Google as the top mapping software available on smartphones and tablets. Nokia's offering is no joke, though, as the HERE team employs nearly 6,000 people and offers developers the ability to integrate it into their own apps. HERE is not technically part of the Nokia acquisition by Microsoft but the two sides have come to a licensing agreement where HERE will be available to Windows Phones for the next several years.
It is perfectly fair to say that Windows Phone's feature sets are better or worse than Android or iOS because of these features. The aesthetics and features of different smartphone platforms are inherently subjective. Some people may like Android widgets while others simply could care less. As long as the features work like they are supposed to, the matter of liking one over the other is completely subjective and up to the individual to decide if it is right for them.
That being said, Nokia's job and primary directive is to build on top of the Windows Phone platform and make it more attractive to developers and users. As such, Nokia will create new feature hooks that live on top of Windows Phone going forward. Nokia will also continue to develop its own features that live on top of Windows Phone to be more mature and feature rich.
"Imaging and navigation are some of the features that we bring to Windows Phone and for those we have been very active in building first party apps," said Amit Patel, Nokia global head of developer relations at Nokia said in an interview with ReadWrite. "We also have what we call original productions. We have some original content and then key partner content. When it comes to those premium apps we are either building them or partnering with them so we have some unique apps for our platform."
Windows Phone: Chicken, Meet Egg
The classic conundrum facing critical adoption of mobile platforms is that they need apps to drum up consumer interest. But developers don't want to write apps for platforms that do not have consumer interest. If you are a company like Microsoft or Nokia, how do you solve this particular problem?
Microsoft has historically offered incentives to developers to build for Windows. That means either offering them free tools and services to build for Windows or to (sometimes) outright pay them to bring their apps to Microsoft operating systems. While Microsoft does this in a more general way for all of its developer-related products (Windows 8.1, Windows 8.1 RT, Azure Cloud, Bing, etc.), Nokia has one mission focus and that is to bring developers to Windows Phone.
Nokia's approach to developer relations includes three main prongs: the hooks that it provides Windows Phone like the Imaging SDK, its unique history as a global cellphone distributor and a rewards program called DVLUP. With DVLUP, Nokia has a system that teaches developers how to get started building apps for Windows Phone and provides a roadmap to building new features and supporting users. As developers progress towards meeting objectives in DVLUP, they can turn those achievements into points that can then be used for marketing and advertising purposes and better placement in within parts of the Windows Phone Marketplace.
See also: Nokia Lumia 1020: The Best Damn Smartphone Camera Money Can Buy [Review]
Nokia has a far-flung developer relations network across the planet that is unique among any device manufacturer. It has developer relations people in 21 countries, from Bejing to the Middle East to Sunnyvale, California. It uses these people to scout for well-performing regional apps as well as offer support to developers and help the get started as well as offer techniques and marketing support to help them be successful.
"One of the things that we are able to do is not just work with top developers on a global level but work in the countries that we operate in," Patel said. "We have 24 countries where we have people on the ground working with developers not just working on the development but working on the engagement and small events and even large events."
Incremental Momentum
The Windows Phone Marketplace now has 175,000 apps and is beginning to solve its biggest issues. Some of the biggest apps that previously had not built a Windows Phone version have now come to the platform, notably apps like Instagram and Vine announced Windows Phone apps at Nokia World in Dubai a couple of weeks ago. Instagram is a big win for Nokia and is one of those apps where Microsoft can point to and say, "we are big and important enough for Instagram, why not you?"
Nokia's last quarter was the best it has ever had with Windows Phone. In certain European markets, Nokia devices are the preferred smartphones of choice. Nokia and Microsoft still have a long way to go to capture sentiment in the United States (only 1.4 million shipments in North America last quarter) but at least the growth as been positive over the last several quarters.
Getting the biggest brands on Windows Phone is an ongoing struggle for the platform. Microsoft can provide the tools and support, but the people with boots on the ground and incentive to make Windows Phone a true success are the folks at Nokia.