The Wright Brothers' airplane. The Cosmic Buddha. A fossilized Woolly Mammoth.
For decades, the only way to see artifacts like these has been to visit the Smithsonian museums in Washington, DC. And even if you have the time and money to make the trip, you only get to view the item's front, from behind a glass case.
Today, 3D design software company Autodesk revealed an advance in technology that will let us get up close to our culture's our rarest relics. With the Smithsonian X 3D Explorer, anyone with an Internet connection can examine, manipulate, and even print exact 3D models of a few of the Smithsonian's most precious items.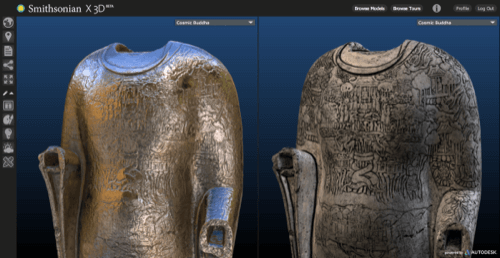 "30 million people visit the Smithsonian museums every year, but that's only one tenth of one percent of the global population," said Brian Mathews, a vice president at Autodesk. "We're making the collection more accessible than ever before."
Autodesk uses 3D lidar in order to create hyper-accurate models of artifacts. The technology works by running a laser scan over the object and capturing even the most minute details, resulting in replicas that are even more accurate than the original. Mathews said this was the case with the Cosmic Buddha, which dates to 300 AD.
"It has been worn down so tremendously that some of the markings arent readable. But because the laser data is so accurate, we could take the markings and magnify fine details your eye can't see, effectively restoring the buddha to its original form. It's amazing to show [the model] to the curator, who has studied the buddha his whole life, and watch it bring tears to his eye to see it restored," said Mathews.
See also: Seven Ways 3D Lidar Is Transforming Our Physical World
On Wednesday, Autodesk revealed the Smithsonian X 3D Explorer to the public at the Smithsonian Castle. The tool has been released with models of about 20 artifacts, all hand picked as the best of the best by curators at the Smithsonian's 19 museums. The Smithsonian hopes to work with Autodesk to model "many more" of its 137 million artifacts, a collection so large that the museum has yet to photographically archive each.
What's more, each 3D model will be open source, so students and researchers with 3D printers are welcome to print their own copies for further study. For example, said Mathews, imagine a classroom of kids learning about Native American tribes. The teacher could 3D print copies of the Smithsonian collection's pottery to show kids how each society crafted differently.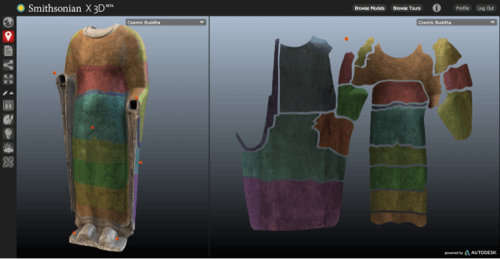 But what really gets Mathews fired up is helping to make the past come alive for as many people as possible. Just as important as its technology elements, he said, are the viewer's storytelling elements. Curators selected hot spots on each item for users to click and see what really makes each artifact special.
"When you're at the museum, you're standing right in front of an object, but you can only see one side of it," said Mathews. "You can't go around to the back of the Wright Brothers' airplane and see the inverted bicycle chain on the back that revolutionized the way we think about flight. Now that it's scanned and in 3D, you can see everything."
Screenshots of Smithsonian X 3D Explorer courtesy of Autodesk