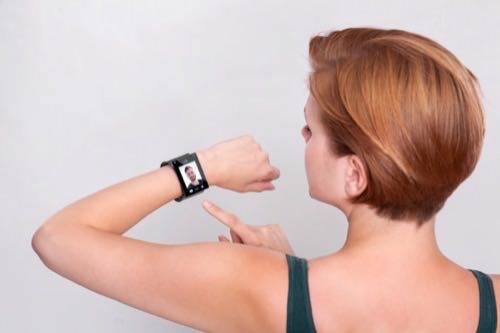 There was something odd in the latest issue of Wired magazine: eight full-page ads (totaling nearly 4% of the magazine) were taken out by traditional non-smartwatch companies like Rolex, Tudor, Seiko and Burberry.
It seems bizarre that a magazine dedicated to exploring emerging technologies would dedicate so much space to a technology that has been in existence since 1868 (Patek Philippe invented the first wristwatch in that year, according to Guinness World Records). A lot has changed since then.
In the last couple years, watches have been getting bigger brains and are becoming smarter by the day. I've spent a painstaking amount of time researching the most interesting smartwatch offerings available (or almost available, in one case) so you can see the best of what is available in one convenient place.
The features of these smartwatches vary vastly from simple notifications on an otherwise analog and old-school interface to full-blown smartphone extensions with touchscreen displays. In terms of pricing, be prepared to spend anywhere from $100-300. Perhaps you are looking for a device with incredible simplicity. Maybe you would prefer a device with an app ecosystem developers can dig into to provide extra functionality. Maybe you want some unique features that aren't found anywhere else. Whatever you are looking for in a smartwatch, you'll find it here (except for the long-anticipated Apple smartwatch… for that, you'll have to wait and watch just like the rest of us).
Omate TrueSmart
Funded by over 4,000 backers on Kickstarter, The Omate TrueSmart is a touchscreen smartwatch with a few unique features. First, and foremost, it is a standalone gadget that can work with a smartphone, but doesn't need to. That means you can have access to features like 3G, voice and gesture control independent from any tethered device. Additionally, the TrueSmart seems to be a bit more rugged than most of it's competition due to it's water-resistant finish and "scratch-proof" sapphire crystal display. For those consumers with an inner "James Bond" there is a 720p HD video cam onboard. Prices start at $249.
Qualcomm Toq
The Qualcomm Toq features a nicer, more artistic interface design than many of the screen-based smartwatches currently on the market. The Toq's screen is easy to read, thanks to the Mirasol display technology that makes use of natural light to make the screen brighter. Interestingly, the Toq sports zero buttons. One great feature available right out of the box is wireless charging, a convenience I think many smartphone manufacturers will need to duplicate in the near future. On a side note, users who want to listen to wireless audio can choose to buy optional wireless headsets that look similar to Bluetooth headsets designed for phone calls. Not yet available.
Kreyos Meteor
The Kreyos Meteor syncs with your phone using voice command and gesture control. The gesture control functionality comes thanks to the built-in six-axis accelerometer and gyrometer which interprets input when you move your hand up and down or side to side. Featuring a very basic looking black and white display, the Meteor can make and answer calls, send and receive texts, receive notifications and track a user's activity. Like the Omate TrueSmart, the Meteor is waterproof. If you want to show off your colorful personality, there are five band colors to choose from including black, white, pink, blue and green. If you are looking for a watch that can provide a bit of tactile feedback, you'll appreciate the Meteor's vibrating motor. Buy for $169.95.
HOT Smartwatch
The HOT (Hands On Talk) SmartWatch looks very similar to many other smartwatches seen here, and in many ways it is, but the HOT has one very unique feature you won't find anywhere else: private calling. If you don't want your conversation blasted via speakerphone to the world around you, the HOT watch lets you use your hand as a headset by cupping your palm/fingers and holding them near your ear. Additional features include a speakerphone (with caller ID), text and email, social updates (Twitter and Facebook), a built-in pedometer and some basic apps (weather, stocks, calendar, news, music control and a phone finder). If you're looking for an incredible screen/display, this will probably disappoint. If you want basic info at a glance, this may be for you. Retail price: $169.
Metawatch
The Metawatch, which will be available in BestBuy stores starting November 3, aims to keep things very, very simple. It's not a wearable computer and doesn't function like a smartphone wrapped around your wrist. All it is designed to do it keep you up-to-date. The unique four-area interface lets you choose what information you want to see on the screen (for example: a clock, your next calendar event, a stock ticker and the weather). While you can't answer calls or send texts or emails from the watch itself, you can see who is calling and read messages right on the device as well as wirelessly control your music. Currently the Metawatch comes in two band varieties: the metal "Frame" and the more rugged and plastic "Strata." Prices range from $179 to $299.
Pebble
Pebble is sort of the granddaddy of all current smartwatches. True, before there was Pebble there was the Microsoft SPOT watches by Fossil, Suunto and Tissot that displayed info like news, weather, stocks, etc. These were about a decade too early to market and not enough people bought them to keep them around. The Pebble, on the other hand, has built up a respectable amount of demand since launching on Kickstarter and has gotten a lot of positive attention from the press as well. This is thanks to a basic, yet functional display, easy access to notifications, waterproofing, a decent selection of apps, great battery life (5-7 days) and, importantly, good daylight readability. You'll like the price as well: $150.
Cookoo
The Cookoo is a different sort of smartwatch. It lets you know and do a lot, but it doesn't have a touchscreen (or any screen, really). Instead, it makes use of icons to alert you to specific events: a new email, for instance. While the lack of a screen might seem a bit limiting, it actually doesn't lose as much functionality as you might assume. Two great features that prove this point: you can check in to places and remotely trigger your smartphone camera right from the watch. When you are at home and you don't have your phone in your pocket, Cookoo lets you know you have an incoming call or message. Another great feature? Cookoo can let you know if you have left a phone or iPad behind. Probably thanks to the lack of a touchscreen, the Cookoo is reasonably priced compared with other smartwatches at $129.
Martian
Martian watches share some similarities to the Cookoo watch in that there is no touchscreen and the design marries an analog, more traditional feel with some digital functionality. That said, the Martian lineup stands apart in a few distinct ways. First, there is a small OLED display located underneath the actual clock which can provide a bit more information than generic notifications (such as a name). Also present: voice commands (and text-to-speech) and the capability to have texts read to you. Over a Bluetooth connection, you are able to place hand-free calls. Like the Cookoo, Martian's also allow you to trigger a camera app from a distance. You can become the proud owner of a Martian smartwatch for $299.
I'm Watch
The I'm Watch is yet another smartphone extension that "lets you leave your phone in your pocket" by allowing you to access calls, text and email messages and events on your wrist. The touchscreen can be controlled using gestures including taps, swipes and wrist-shaking. The I'm Watch aims to save battery life by activating itself only when you need it. Like a couple other watches listed here, the I'm Watch can issue a proximity alert if you get too far away from your phone. Built-in apps include Facebook, Twitter, weather, stocks, a compass and more. While the I'm Watch doesn't have a camera of its own, it does allow you to view images that reside on your phone. You can own the I'm Watch, in a variety of colors, for $299.
Sony SmartWatch 2
This watch is only compatible with Android smartphones. Again, this is a pretty straightforward smartphone-extending device that lets notifications and music control live outside of your pocket. Again, the Sony SmartWatch 2 allows for taking calls over Bluetooth. Purportedly, the Sony device comes with "a wide range of apps available" via Google Play, though what specific apps are not mentioned on the official site. NFC connectivity means easy pairing and Sony claims that the screen is very readable in full sunlight and that the device is water resistant. Price: $199.
WIME NanoSmart
The NanoSmart is actually a small GSM phone that can be worn on your wrist as a watch. The NanoSmart's interface appears to be designed to have a similar look to iOS (pre-7). You can view calendar events, see Gmail notifications, check your recent call history, access your contacts and view SMS messages. Aside from this, other functions include a built in FM radio tuner and … not much else. You can find the WIME NanoSmart for around $99 at various stores around the web.
Samsung Galaxy Gear
Samsung's entry into the smartwatch market is the Gear, a touchscreen-touting, picture and video taking, S-Voice-boasting wrist gadget that works with (and only with) Samsung smartphones. The screen can run one app at a time, including a music manager, a calendar, the weather, etc. You can only have 10 apps on your Gear at a time. The camera features a near 2-megapixel capture (and can shoot 720p 10-second video clips). It is very definitely an extension of the smartphone experience and, in my opinion, doesn't boast much in the way of unique features that really set it apart from other devices in this roundup. Debut price: $299.
Lead image courtesy Shutterstock.