Editor's note: This post was originally published by our partners at PopSugar Tech.
Yesterday's Apple keynote eclipsed another bit of important news: the unveiling of the Nokia Lumia 2520, Nokia's first Windows tablet. The Lumia 2520 faces stiff competition in its own field with the Microsoft Surface 2, which, curiously, shipped on the same day as the Nokia announcement (Microsoft owns Nokia).
Nokia's new tablet will also have to take on the just-announced iPad Air, which Apple claims is the "lightest full-size tablet in the world."
The Nokia Lumia 2520 ships with Windows 8.1 RT and comes in four colors (red, white, blue, and black), but only one model: 32GB with LTE. The Surface 2 does not offer an LTE cellular model, which may be why the Microsoft-owned Nokia decided to go ahead with a competing tablet.
The hardware is very similar to the Lumia smartphone line, and the tablet's specs boast a high-definition display, a great rear camera, and LTE.
When can you expect the 2520? Anytime between now and December 2013, Nokia said, with a $499 price tag. We bet that the tablet will ship just in time for the holidays, so you'll need to decide which gadget you should add to a wish list. To help you make up your mind, we pitted the Nokia Lumia 2520 against the iPad Air, spec by spec.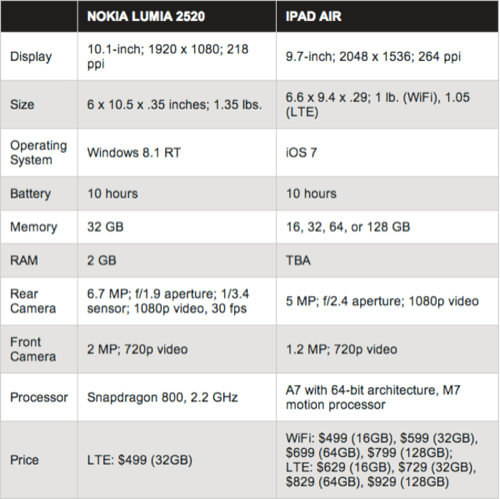 While the iPad Air bests the Nokia in terms of display resolution and lightweight hardware, the Lumia 2520's price and camera are clear winners. Memory choice is limited to 32 GB on the Lumia 2520, but perhaps the LTE connection will allow for more cloud storage.
Which tablet made your holiday wish list: the iPad Air or the new Nokia Lumia 2520?
More stories from PopSugar Tech:
The Truth About Dating in the Digital Age
This Instagram Novel Is 100 Percent Real
Girls Getaway: How the 2013 Toyota RAV4 Fared
Nokia's Refocus App Captures the Entire Light Field, Like a Lytro Camera
Candy Crush-ians, Get Ready to Be Addicted to the Real Thing