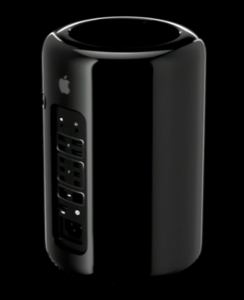 When it comes to Apple's new Mac Pro, there's at least one thing we can all agree on: This desktop computer looks like no other on the market. Yet the way this sleek, anodized aluminum cylinder resembles a future-forward, space agey trash can isn't really the point—at least not for the animators, video editors, photographers, filmmakers and other pro users Apple is targeting here.
For these folks and others who normally wouldn't think twice about purchasing a $3,000 desktop, it's what on the inside that counts. After all, when your job involves demanding tasks that require top performance, you need to make sure your gear is up to the task.
And that's where sentiment may diverge. Judging by reader comments, plenty of users were excited when Apple announced the latest Mac Pro this summer. But now that Apple has officially announced the product and set a ship date of December, eagle-eyed pro users facing an impending purchase may notice that this pricey computer falls down in at least one crucial aspect: expandability.
How This Apple Desktop Courts Pro Users
See also: Coming To A Theater Near You: Apple's Last Gasp At A Pro Computer
This year's version, says Apple, is more than twice as fast as its predecessor. The 2013 Mac Pro offers a more powerful processor (Intel Xeon E5 in 4, 6, 8, or 12 cores), faster memory (1866MHz DDR3 ECC), improved graphics handling (dual-station GPUs, AMD FirePro graphics), and speedy flash drive with up to 1TB storage available—all stuffed inside a casing that's 1/8th the volume of the previous Mac Pro.
In other words, this is not your Grandma's scrapbooking desktop. Good thing, too, because she might have a heart attack at the price tag. The mid-2012 Mac Pro started at $2499 for the "Quad Core" (3.2) model. This year's version ups the ante, starting at $2999. From there, the cost can go up thousands more, depending on the configuration.
Clearly, Apple is courting power users who don't blink at dropping a wad of cash on a specced out machine. For them, Macs are essential equipment, investments that provide the computing power they need for their craft and livelihoods.
And How It Lets Them Down
But if advanced users are the target customer, then Apple made a few curious decisions this time around.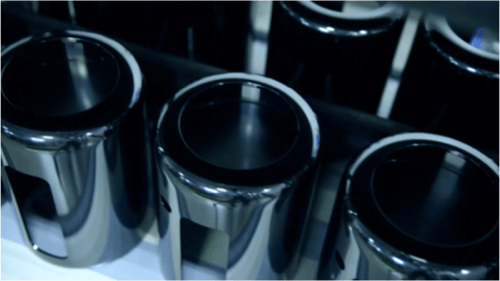 The first has to do with that pretty, cylindrical housing. The size and shape of the case will likely make it tough for these users to install whatever internal graphics or sound cards they need. They'll probably have to narrow the choices to whatever will physically fit in the case, not necessarily which offer the best performance.
Of course, users can hook up external peripherals—and yes, external graphics accelerators do exist, although they're not pretty—instead. But with the new Mac Pro, high-performance peripherals will need to connect via Thunderbolt 2 ports. And right now, these are far from the standard.
Apple has historically been willing to back newer technologies and to send older ones into obsolescence. Anyone remember floppy disks or CD-ROMs? Apple dumped them both unceremoniously, and proved prescient in both cases.
But Thunderbolt 2, coupled with the Mac Pro's physical limitations, restricts expandability to such a degree that it could wind up alienating the advanced users Apple is supposedly trying to court. That is, people like game designers, animators and others who regularly need to swap out and upgrade internals and certain peripherals.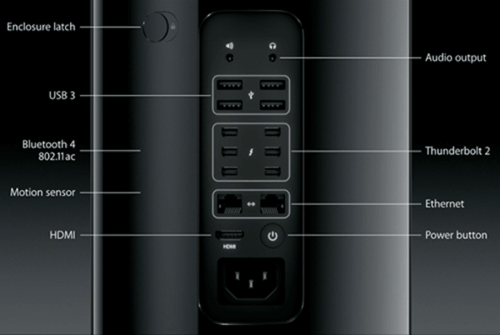 The Mac Pro's combination of powerful specs and woefully narrow upgradeability sends a confused, muddled message. It's hard to escape the impression that Apple has lost its focus when it comes to desktops.
Perhaps that should come as no surprise. After all, this is the company that helped usher in the "post-PC" era. And desktops are not where Apple makes its money these days. (That would be from iPhones and iPads.)
So who will buy a $3,000 Apple pro desktop? Ultimately, the answer to that may not really matter—least of all to Apple.
The new Mac Pro comes with a 3.7GHz quad-core Xeon processor, 12GB DRAM, Dual FirePro D300, 2GB VRAM each, and 256 SSD. It starts at $2,999 and will be available in December 2013.