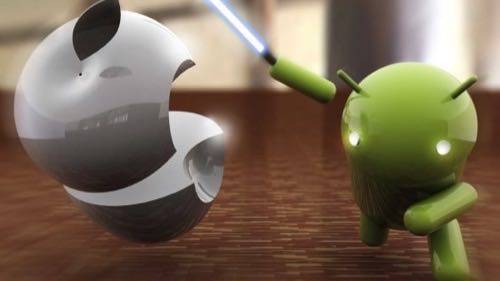 Google Chairman Eric Schmidt made waves this week at Gartner Symposium/IT Expo, declaring Android is "more secure than the iPhone." In part this was a response to Apple CEO Tim Cook's recent assertion that Android is a security nightmare. What it's not, however, is a response to customer demand.
Consumers simply don't care about security.
Oh, sure. We say we do. But does it actually impact our purchasing behavior? Not if Android's 79% smartphone market share is any indication.
The Android Security Quagmire
Don't these people read? Malware attacks are on the rise, after all, with Android malware growing 292% in the second half of 2012. Indeed, Android is malware hackers' favorite target. According to a recent Juniper Networks report, 92% of all malware has Android in its sights.
Part of this stems from its popularity, but part of it comes down to Android fragmentation. As Cook points out, Android distributors have not been adept at getting users onto the latest version of Android, which means they "have to go back and plug holes in all of this old stuff, and people don't really do that to a great degree. So [Android devices] are more susceptible to issues."
And yet…
Android adoption continues to explode, as Asymco illustrates:
Clearly a billion people didn't get the memo. Or, more accurately, security is a feature that doesn't compel mobile buying behavior.
Once upon a time, it did. But that was when companies bought phones for their employees and hence were able to mandate a secure option like Blackberry. Once consumers started voting with their own wallets, unsecured iPhones and then really unsecured Android devices infiltrated the enterprise en masse. Businesses turned to alternative security mechanisms, like secure APIs, to protect critical enterprise information on mobile devices.
Apps And Convenience Trump Security
Not that enterprises are ultimately much better than consumers when it comes to security. Again, we like to pretend otherwise, but for decades enterprises suffered through countless Windows security lapses, while consumers did the same within the comfort of their own homes. Despite everyone having a horror story about a desktop lobotomized by a Windows virus, we kept buying it despite an arguably more secure Mac alternative just a purchase away.
And why? Because Windows was where the apps were.
The same holds true today. As bad as it would be to have a phone infected by malware, the alternative is considered worse: a phone uninfected by apps. Consumers, and businesses, are going to use the platforms with the most apps and, hence, the best productivity, whatever the potential security pitfalls. It's a calculated risk.
It's also a corollary to Redmonk analyst Stephen O'Grady's assertion that "Convenience trumps just about everything" when it comes to purchasing behavior, whether at the enterprise or consumer level.
So while Cook and Schmidt may like to beat each other up over security, the reality is that no one but them actually cares. It's too inconvenient to bother.