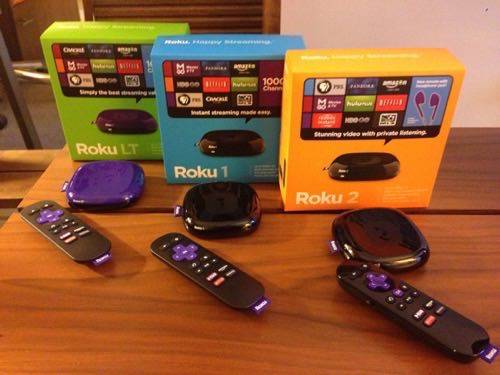 The battle for the living room heated up this summer, when Google's Chromecast streaming-video gadget hit the scene, sold out immediately, and put competitors like Roku on notice. Now, Roku is striking back with a revamped lineup of TV-streaming devices.
Roku's hardware now features a curvier, less boxy look, better video quality and new audio options, while software changes directly address one of the biggest complaints about Chromecast: Its inability to handle local streaming from mobile devices. Here's how.
What's New In The Lineup
Roku's hardware updates are fairly straightforward, though it's notable that none of its retail prices have changed. The $60 Roku 1 now offers 1080p video quality, up from 720p, while the $80 Roku 2 features improved dual-band WiFi and radio frequency remote control with integrated headphone jack. (The $50 Roku LT still only streams at 720p.)
On the software side, Roku devices have a new interface that offers premium placement to the new streaming service M-Go, a relatively recent partnership between the DreamWorks studio and the monstrous hybrid entertainment technology company Technicolor. M-Go sells and rents movies and TV shows, then streams them to viewers. Roku will handle billing for M-Go, and will share in the revenue generated by its sales.
Roku also recently revamped its iOS and Android apps, upgrading them in order to allow users to send local video from their mobile devices to their Roku boxes. That "Play On Roku" feature previously only streamed music and images.
Coincidentally or not, that change gives Roku a definite leg up on Chromecast, which at the moment can't send any kind of local media files from mobile devices to connected televisions.
We Will, We Will Roku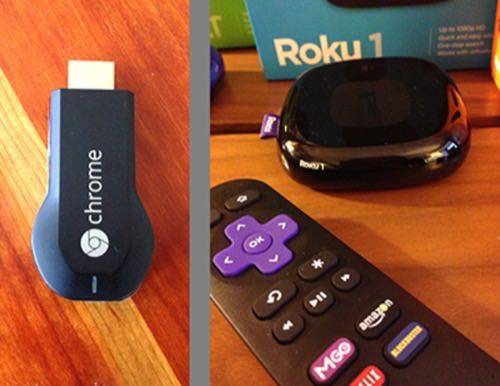 Interesting findings emerge when you pit Roku against Google's Chromecast. For example:
Price: Chromecast wins. $35 is a tough price to beat, and the cheapest Roku is still $15 more expensive than Google streaming media stick.
YouTube streaming: Chromecast, hands down. There's still no straightforward or easy way to stream YouTube on the Roku.
Streaming your own local media: Roku. You can easily sign up for the cloud-based media server Plex, which makes easy work of streaming from laptops to Roku. Now Roku's mobile apps do the same thing.
Google, however, has so far blocked indie developers from reverse-engineering its SDK to do something similar, although it claims to welcome such offerings in the future—so long as devs follow its guidelines. In the meantime, you can cast local media from a laptop via a tab in the Chrome browser (assuming it's in the right format).
Third-party apps: Roku. When it comes to third-party applications and services, none work on Chromecast (except for Netflix, which does stream beautifully). Numerous companies have gone on record to say they are interested in developing for Chromecast, but none actually support it yet. Meanwhile, Roku's Channel Store is bursting with offerings from the likes of Netflix, Hulu, Amazon Instant, HBO Go and many others.
In light of comparisons like these, you might think that Roku views Chromecast as public enemy number one—but it doesn't. In fact, when I mentioned the Google device to Lloyd Klarke, Roku's director of product management, he smiled and said, "Actually, our sales have gone up nicely after Chromecast launched." His reasoning: Chromecast piqued consumer interest in streaming to TVs, but when people dug into it, "they researched and found Roku."
If the company does have an arch nemesis, it's not Google (at least not yet). The Chromecast may be popular, but it's still a nascent phenomenon. If anything, Roku's true foil is Apple and the Apple TV. After all, the iOS television set-top owns 56% of the streaming devices market.
The new Roku lineup of products, which launches October 1, is available for pre-order online.