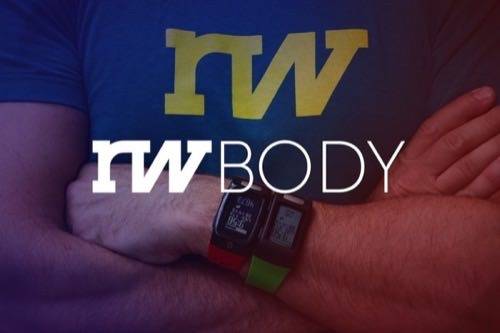 ReadWriteBody is an ongoing series where ReadWrite covers networked fitness and the quantified self.
After swearing off wearable computing, I've found, to my surprise, that I kind of like the EB Sync Burn fitness tracker I've been testing for weeks, since beginning my ReadWriteBody experiment.
I don't like watches or bracelets or bands, so there's a whole category of fitness gadgets that I'm disinclined to try out. When MapMyFitness sent me a Sync Burn to review, though, I decided I should give it a proper test in the spirit of journalistic inquiry.
And then I got its twin brother—a nearly identical unit, under a different brand name, and designed to work with a completely different fitness app.
See also: Quantify This! An Editor Works Out His Body Issues
The Lifetrak Move C300 is practically identical to the Sync Burn. Both have a watch-like LCD screen, and both track your heart rate as well as motion. It turns out there's a reason: They share the same manufacturer, a Fremont, Calif., company named Salutron.
Same Device, Different Apps
The main difference between the two devices, according to Dion Hild, VP of business development at Salutron, is how they're sold.
The EB Sync Burn, manufactured by Salutron for EB Sport Group, is marketed in big-box sports and electronics stores. It's pitched as an add-on to the MapMyFitness family of apps, like MapMyRun and MapMyRide.
The Lifetrak Move C300, meanwhile, is designed for pharmacies, and it's accompanied by the Argus app, made by Azumio, which is more suited for fitness novices.
But the two devices are technically identical: Both use Bluetooth, both have exactly the same settings and displays, and both, it turns out, connect to the other's companion app. Argus thinks the Sync Burn is a Lifetrak device, and MapMyFitness recognizes the Lifetrak as a Sync unit.
The Sync Burn has a slightly fancier casing and a tougher screen, Hild notes.
"Salutron at some point decided to go to market with the same item they developed for us but under a brand they created which is of course confusing and certainly not our idea, intention or expectation," Dan Kinsbourne, president of EB Sport Group, told me.
Despite that, he said, the relationship between the companies is "in good shape" and he said he doesn't expect a situation like this to come up again.
Gadget Overload
When you can get pretty much the same device under two different names, you know there's a problem. Device manufacturers, marketers, retailers, and app developers recognize that consumers are interested in gathering quantitative data about their fitness, from simple things like steps to more sophisticated measurements like heart rate and sleep patterns.
I think it's a shame that Salutron and its partners aren't getting behind one brand and one marketing strategy for these devices. From my conversation with Salutron's Hild, I'm impressed with the company's technology, which is far more in touch with consumers' concerns than a lot of devices coming out of Silicon Valley.
For one thing, its battery lasts a year—so you don't have to keep charging it. It connects to an app on your phone via Bluetooth, a ubiquitous technology; the app takes care of syncing your fitness data to servers maintained by the likes of MapMyFitness or Azumio.
And because it tracks your heart rate, a feature normally found in far more expensive fitness trackers, gym rats like me can get a far better idea of our exertion than if we relied on the fancy pedometers designed for runners that dominate the market. Salutron's heart-rate technology is in a lot of fitness devices—I'd like to see it in more, whether under Salutron's brand name or others.
The Fitbit Flex, Jawbone Up, and BodyMedia Fit Link all pose annoying gadget-management challenges—syncing, charging, and fiddling with connected websites and apps. At best, their batteries last a week. As ReadWrite reported, the Fitbit Flex is a struggle even to put on, let alone to connect with its easy-to-lose USB cable. I just tried the BodyMedia Fit Link, and I'm ready to rip the inscrutable armband off already. Don't get me started on its companion website and apps—products I hope Jawbone, BodyMedia's owner as of earlier this year, will fix.
Simple Wins
Where I think Salutron wins is in its simplicity. It doesn't attempt to do everything—it just tracks steps and heart rate. It does that well, and feeds the data to a connected device simply, accurately, and efficiently.
My only complaint is its partnership strategy: I don't want one app for the Sync Burn and another for the LifeTrak—I want an API, which would let any app talk to any device.
Hild told me that the company is considering publishing an open API, or specs for programmers to develop software that talks to them. The devices are essentially open already, he said, but the interfaces aren't published anywhere yet.
See also: Why The Quantified Self Needs A Monopoly
Ultimately I'd like this to be true for all the players in the business, so I can pick the device I want and connect it to the services I want and store the data online where I want. The digital-fitness industry is far away from where it needs to land, but it's headed in the right direction.
What we need to do as consumers and creators is reject devices that are hardwired to specific services, and demand openness and interoperability. That may make it harder for some device manufacturers to distinguish themselves—but such an environment would mean the ones who differentiate themselves on technology, like Salutron, will have a better shot than the ones who focus on marketing.