The iPhone, once seen as a revolutionary product that changed the face of computing, now suffers from seeming commonplace. Talk of a gold iPhone has people scoffing that gigabling matters more than gigabytes.
Even so, the iPhone, for me, remains a life-enhancing product. It helps me work better, it helps me remember where I've been, and it helps me play. One of the biggest benefits of opting for an iPhone is the broader iPhone economy: Because of the relatively standardized size of an iPhone, there are literally thousands of iPhone accessories out there designed to mod your phone experience. Some are just plain stupid, some are over-the-top, some are fun, some are useful.
See also: What To Expect From The iPhone 5S
One thing that worries iPhone owners and accessory makers alike is how a new model—like the widely expected 5S—will affect the accessories we already own. Here, I've decided to share with you five of the most useful iPhone accessories I have stumbled across as a tech writer. They're all relatively affordable—and the good news is they're futureproof, with utility that will outlast the introduction of new models.
This is one of those items that has permanently changed the way I do things. I could never go back to the way things were before. I've been using the BookBook wallet case since the iPhone 4s and it's awesome. It's the best implementation of a wallet/case combination I have seen, especially now that it has a camera hole for the iPhone 5 model. While there are many case/wallet combos on the market, and I have tried quite a few, the BookBook remains my favorite because it's rugged, stylish and has a place to carry cash. The good news is that the iPhone 5S isn't expected to change much in physical dimensions from the iPhone 5, so this seems like a safe purchase.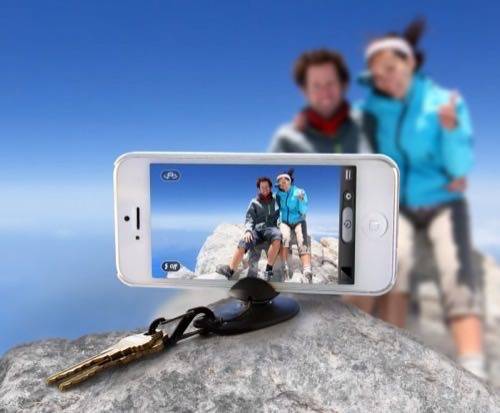 I don't know about you, but there are plenty of times I want to not just take a picture, but be in the picture. This is no longer as much of a problem thanks to the Tiltpod. This small device that cradles your phone is less dorky than holding a monopod like the iHandle. The tradeoff is that it's a tad less versatile. You must find a tall enough surface to rest it on to get a good angle. Still, this little gadget barely adds any bulk to your keychain and will always be there when you need it.
This is sort of a reverse accessory. Rather than attaching to the iPhone, the iPhone attaches to the Grid-It—as do all your other add-ons. This organizational tool keeps smaller accessories (headphones, storage, etc.) easily accessible and under control. Perfect for the coffee-shop worker or business traveler.
Only the newest homes these days come with built-in USB adapters in the wall. Our outlets simply weren't designed for the type of power-hungry lives we all lead today. (Our descendants will wonder how we lived.) Enter this handy little adapter that doubles the plugs of any outlet it encounters and adds two USB ports. Great for an office, bedroom, kitchen or for throwing in your travel bag.
This speaker system has been around for awhile and there are plenty of competitors in the portable-Bluetooth-speaker category … so why am I bothering to recommend this Bose unit? It's simple: The sound quality blows away any other similar speaker I have ever tested (and I've tested a lot). It also has an incredible design, with a foldout stand that doubles as a cover. iPhones are built to deliver content, much of it the audio variety, and this speaker makes it all sound great. I travel quite a bit and take this with me as a backup during presentations, sometimes preferring it to the sound systems provided for a small room. Many people in my office borrow this speaker from me for their own needs. It's that good.
Do you have a favorite iPhone accessory?