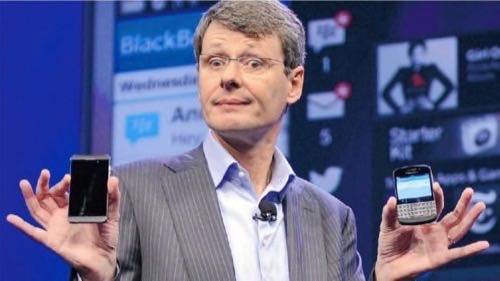 Canadian smartphone maker BlackBerry could soon have no choice: it may be time to sell the company or go under.
BlackBerry admitted as such today by announcing a special committee "to explore strategic alternatives to enhance value and increase scale in order to accelerate BlackBerry 10 deployment. These alternatives could include, among others, possible joint ventures, strategic partnerships or alliances, a sale of the Company or other possible transactions."
The BlackBerry special committee will be comprised of CEO Thorsten Heins, Barbara Stymiest, Richard Lynch, Bert Nordberg and chaired by Timothy Dattels.
"We continue to see compelling long-term opportunities for BlackBerry 10, we have exceptional technology that customers are embracing, we have a strong balance sheet and we are pleased with the progress that has been made in our transition," Heins said in a press release. "As the Special Committee focuses on exploring alternatives, we will be continuing with our strategy of reducing cost, driving efficiency and accelerating the deployment of BES 10, as well as driving adoption of BlackBerry 10 smartphones, launching the multi-platform BBM social messaging service, and pursuing mobile computing opportunities by leveraging the secure and reliable BlackBerry Global Data Network."
BlackBerry has retained JP Morgan to serve as a financial advisor. The company also notes that there, "can be no assurance that this exploration process will result in any transaction." In fact, we have seen this type of move from BlackBerry before under the stewardship of Heins. In May 2012, Heins sent a letter to shareholders saying that the company has retained JP Morgan and was exploring, "various financial strategies, including opportunities to leverage the BlackBerry platform through partnerships, licensing opportunities and strategic business model alternatives."
BlackBerry ultimately made no move last year after exploring alternatives such as licensing the BlackBerry product or other alternatives (such as third-party manufacturing or selling of its intellectual property). This time around may be a little different. In the May 2012 letter to shareholders, Heins and BlackBerry had made no mention of a sale of the company though everybody at the time inferred that's what the purpose of the special committee was. In this letter, the BlackBerry board is essentially saying it is open to whatever is possible to keep BlackBerry going in any size, shape or form.
BlackBerry has been struggling this year after the release of its BlackBerry 10 platform in January. The first financial quarter after the launch of 2013 was not abysmal (the company actually turned a small profit) but the next quarter was back to red on poor smartphone shipments. BlackBerry reportedly cut about 250 jobs in its research and development department in July and today's note could lead to more layoffs as BlackBerry trims to the bare essentials needed to keep the company afloat and making smartphones.