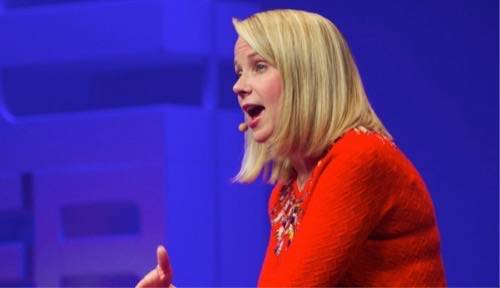 To satiate its apparently voracious appetite for things-that-looked-hip-for-a-hot-second, Yahoo has gobbled up yet another ailing product. In this lightning round, the Mayer regime snagged the social browser Rockmelt for a reported $60 million to $70 million.
According to a post on its company blog:
We're excited to announce that Yahoo! has acquired Rockmelt!
Rockmelt was designed to make sense of the Internet. The team has built a simple and beautiful technology that combines social, personalization and discovery to help you not only find what you're looking for, but also stumble across some cool stuff along the way.
The parallels between Yahoo! and Rockmelt are obvious: we share a common goal to help people discover the best personalized content from around the web. We can't wait to integrate the Rockmelt technology into our platform as we work to deliver the best experiences to our users in new and exciting ways.
I have to confess here that, three years ago, I was actually a Rockmelt user. Sort of. In an effort to compartmentalize work and play on the same computer, Rockmelt seemed like a viable option. I was actually even a little bit excited about it. That tempered excitement waned as it became clear that between Internet Explorer, Firefox, Chrome and Safari, there just wasn't room for a dedicated "social browser." Flock—no, not that Flock—is another example of this.
Social giant Facebook (or Twitter, for the literal IT-crowd) is the de facto social browser for the rest. Hell, we can't even get most people off of the one thousand fractured versions of Internet Explorer. Social news readers, like perennial favorite Flipboard, carved up that middle space, figured out mobile, and ate Rockmelt's lunch. With the launch of its (since discontinued) Axis browser last year, arguably even Yahoo ate Rockmelt's lunch.
Yahoo will be shutting down Rockmelt's existing apps by the end of the month, but Rockmelt didn't ever really understand mobile anyway—and it was way too late to the party. As of 2012, Rockmelt's app was a far cry from the company's surprisingly smooth, if unrealistically sequestered, desktop social browser experience circa 2010.
For Rockmelt, it's a surprisingly graceful exit. For Yahoo, it's well … just a little bit off. But when has Yahoo not been just a little bit off?
Still, Rockmelt isn't pricey, people still sort of know what it is well enough to buzz/snark about it for a minute. Most importantly, absorbing the hobbling startup's technology aligns with the big Y!'s social Web browsing aims. It's a little awkward, but that's plenty on brand for the Yahoo we knew before Mayer went in and turned it upside-down anyway.
Image via Flickr user Adam Tinworth.