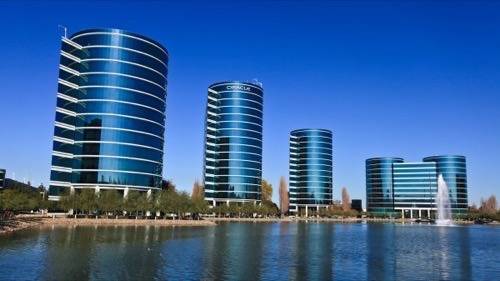 It's classic Larry Ellison: earnings for his company showing weakness? The CEO of Oracle will blame the market. Or try to distract investors with promises of better things to come.
During yesterday's earnings call for Oracle's Q4 yesterday, things must have been pretty bad, since Ellison was apparently doing both. The database giant missed expectations for software sales and cloud computing subscriptions for the second quarter in a row, which set the stage for Ellison's ginormous cavalcade of amazement.
First up, CFO Safra Catz blamed the sales misses last quarter on weak sales in Latin America and Asia. She also expects sales in the current quarter to grow anywhere from 3% to 6%, with some of that growth coming from hardware sales. If true, this would the first quarter where the hardware division grew in revenue since Oracle bought Sun Microsystems in 2010.
To be clear, Ellison said the same thing about the hardware division in December, and that has yet to pass. Of course, those comments may have been missed during Oracle's distraction moves last quarter.
The star performance in the big Oracle distraction game was Ellison himself, who made a big to-do about "partnerships with the largest and most important SAAS companies in the cloud." And, before anyone could wonder who Ellison was talking about, he rattled off Salesforce.com, NetSuite and Microsoft.
Note to self: never invite Ellison to my kids' birthday parties. Before they even start to open the presents, he'll yell "Hey, you're gonna love that new 'Xbox 180' I got for you!"
The name-dropping appeared to have worked, a little, in that some of the media picked up on it and started speculating what it could all mean. Specifically, Ellison indicated that Salesforce and NetSuite would be "committing to our [12c database] technology for years to come."
That's not exactly a surprise, since both companies already use Oracle's database software. Salesforce has been making noises lately that it was seeking an alternative to Oracle's solutions, probably in part because Oracle's cloud computing offering is a direct competitor to Salesforce's. If an actual deal is in place between the two companies, that would be interesting, sure, but hardly earth-shattering. Even if Salesforce did settle on an alternative technology, it would take a long time – years, even – to migrate 100% to such a solution.
Oracle's 12c database is likely at the heart of the announcement that is scheduled for early next week. 12c – the "c" stands for cloud – is a multi-tenant database that enables multiple clients to access and store their data on the cloud. Preferably, I would imagine, Oracle's cloud.
Ellison's mention of Microsoft does give a clue to one possible bit of interesting news… because now I am wondering if we might see Database 12c instances deployed on Azure? That would be news of note, because Oracle could use a little subscription love for its databases that wasn't completely tied to its own services.
Whatever the news, shareholders aren't buying it. Fifteen minutes before the market opened today, Oracle shares were down 7.80% in after-hours trading, but they were down as much as 9% overnight. That's after yesterday's general market beating, where the stock fell 2.58% in regular trading.
They may change their minds next week, but if Oracle fails to deliver real substance to back the Ellison Show, expect more of the same problems for Oracle's market value.