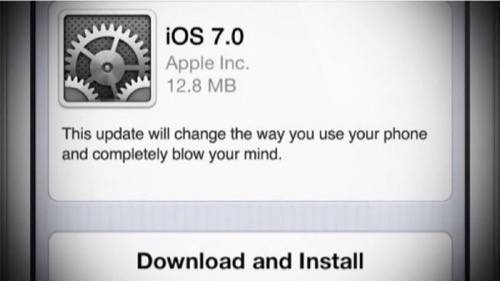 What is black and white and flat all over? Depending on who you believe, that would be iOS 7, Apple's next version of its mobile operating system that runs on iPhones and iPads.
(Update: See our live coverage of Apple's announcement for the latest details on iOS 7.)
Apple is expected to announce what is new in iOS later today at the keynote to its World Wide Developers Conference at the Moscone Center in San Francisco. Apple-focused blog 9to5Mac was shown a supposed early alpha version of iOS 7 of what the new operating system should look like. According to the blog's source, iOS 7 showcases flat design (without shading or looking like real-life objects), has a "black and white" mode and changes the font featured across the operating system.
[See also: Why Apple Really Needs To Kill It With iOS 7]
The blog's source would not allow it to take screenshots of the new iOS 7 and said that it was an early "alpha" of the product, meaning that there could be significant changes to what is shown today at the WWDC keynote and what 9to5Mac was shown. To the right is a mock that the blog put together to show off the potential changes to iOS.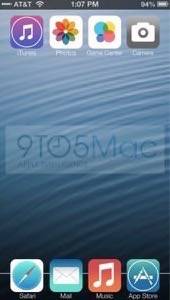 Here are the potential changes:
Primary font in iOS 7 could be Helvetica Nueue Ultra Light, which has been seen on the WWDC posters at Moscone Center as Apple was setting up for the conference last week.
Redesigned app icons that employ a simpler, flat design.
Two color schemes – black and white – that could possibly change depending on time of day. For instance, the black mode could be employed during the day while it is light out and the white mode at night. The iPhone could theoretically change the mode automatically depending on its environment.
Apple Maps might now have walking directions.
The drop-down notification menu has horizontal scrolling.
(See also: Survey: What Do You Want In iOS 7?)

In addition to updating iOS today, Apple is rumored to be releasing its own Pandora-like music streaming service called iRadio. Apple's virtual assistant, Siri, might also be due for a refresh with additional sources of information and improved functionality. Apple might also announce new additions to its MacBook laptops and Mac OS X, the operating system it uses to run its computers.
We will be covering the keynote when Tim Cook takes the stage later today. Come join us in the discussion and let us know what you want to hear from Apple today.