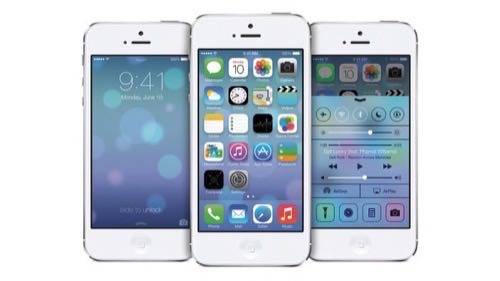 Apple just changed the operating system for the iPhone and iPad in a big way. On Monday at its World Wide Developers Conference, Apple unveiled iOS 7, a redesigned version of the software that runs its mobile devices. It is almost everything that we expected from Apple… and a little bit more.
Apple has several primary new features in iOS 7 to go along with a new design from its top developer, Jony Ive. The new iOS is sleeker and has gone "flat," eschewing shadows and real-life objects (like notebooks and bookshelves) to give the operating system a more modern look, which is a big departure from how Apple has presented iOS in the past.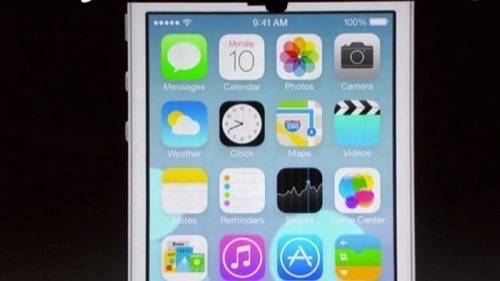 Outside the simplified design, here are the biggest new features to in iOS 7:
Multi-tasking: Apple has brought multi-tasking to every single app, not just a select few. The new multi-tasking features will allow apps to interact with the operating system and sometimes other apps. A new multi-tasking application programming interface (API) will allow all apps to run in the background and allow users to switch between apps. iOS 7 will know what apps that consumers use most and keep those running in the background.
Control Center: The new settings menu for iOS that will control features such as Wi-Fi, Bluetooth, mute, screen brightness and so forth. If you are familiar with Google's Android operating system, the iOS 7 Control Center will seem quite familiar, but instead of accessing the settings by dragging from the top of the smartphone screen, users in iOS 7drag from the bottom.
Notification Center: The drop-down notification center is now available from the lock screen on your iOS device and will provide you with details of your day, such as calendar appointments or weather updates.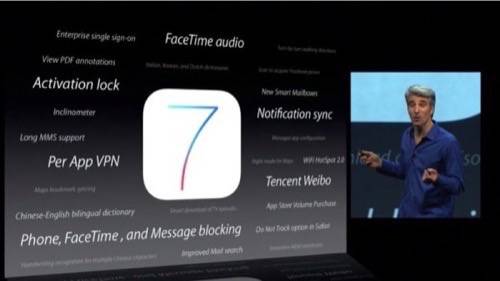 AirDrop: This is a new content sharing feature that works wirelessly. AirDrop allows you to share content with your contacts that are close to you. Select who you want to share with, select what you want to share and AirDrop will send that content to the person. By doing it through Wi-Fi or cellular data, Apple has essentially said that Near Field Communications (NFC, a technology that allows sharing with a "tap") is not coming to the new iPhone later this year.
Camera features: Apple has long been known to push the camera functionality of its iPhones. We will likely see more of what Apple has up its sleeve with its camera when the new iPhone is announced later this year. But iOS 7 gives us a sneak peek. Apple thinks it is four cameras in one as it has several different settings like a "square mode." The other three modes of the camera are video, normal photos and panorama. Users will be able to flip between the different modes with a swipe.
Photo gallery: More than any other new feature in iOS 7, the photo gallery benefits from Apple's personal cloud product, iCloud. The Photos app features the iCloud Photo Stream that aggregates all of your pictures through the years into one long timeline. The iCloud Photo Stream will allow users to easily share photos with other iCloud users.
Safari: Apple could not update its mobile operating system without giving its browser a big update. Mobile Safari should be faster, have simplified search and a new browser tab interface that is based on rotating tiles. It will also save your passwords with the iCloud Keychain and has enhanced parental controls.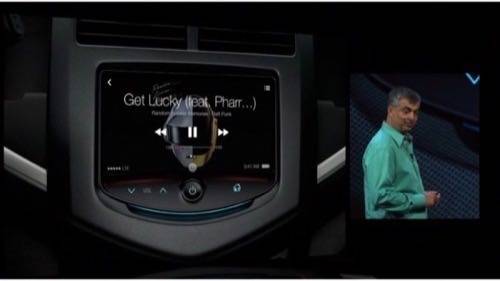 Siri: Apple's virtual assistant got a little bit better. Siri now hooks straight to Twitter, Wikipedia and Microsoft's Bing search engine. Users will also be able to control device features straight from Siri, such as turning on Wi-Fi or adjusting screen brightness. Siri will also have male and female voices as well as being available in several new languages. Siri will also have new features for automobiles.
iTunes Radio: The worst-kept secret before the WWDC keynote was the fact that Apple was coming out with a streaming radio music player. The rumors were not quite right in calling it iRadio though, as the new music app's streaming capabilities are called iTunes Radio. It is similar to Pandora or Spotify's radio app and has distinct similarities to Google's Play All Access music service. iTunes Radio is meant for music discovery and will be free to users. If you are an iTunes subscriber, it will be served without advertisements.
Auto Updates For Apps: No longer will your iOS device has a long backlog of apps that you have not gotten around to updating. Apple will now update those apps automatically for you.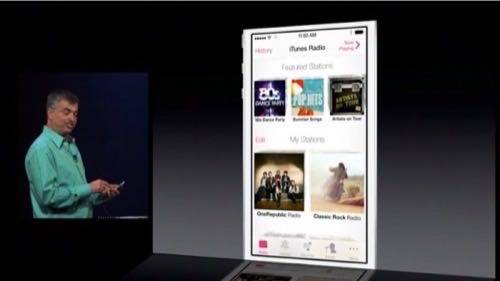 Apple also has a slew of secondary features in iOS 7 such as an "Activation Lock" for the "Find My iPhone" feature that integrates your iCloud Apple ID password to thwart people from stealing your phone and accessing your information. Night Mode responds to ambient light and adjusts the brightness of the screen to help you see.
Apple has nearly 1,500 new software developer kit (SDK) features for developers to access within iOS 7. That is a fairly considerable update. Developers will have access to iOS 7 beta today and users will see it this fall when Apple releases the next iPhone.