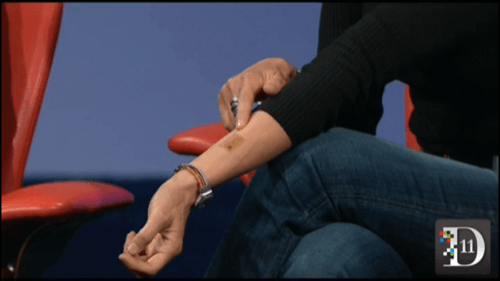 Think you're all bad-ass with your two-factor authentication and 40-character passwords? If Motorola's vision of the future comes to pass, that kind of security is for wusses.
In a conversation at All Things D's D:11 conference this week, Motorola Mobility's head of advanced technology and projects group Regina Dugan lamented the fact that for all of the technological advances that we have made over the decades, we are still relying on outmoded password-based authentication, the kind the guys in the lab coats were using back in the day.
And we're doing it a lot. Dugan speculated that power users would have to authenticate themselves nearly a hundred times a day.
(See also Two-Factor Authorization Is Awesome – Until You Lose the Damn Token.)
Dugan presented two options for better ways to securely access information in the near future: tattoos and "authentication vitamins."
The electronic tattoo, which Dugan demonstrated on stage at the conference, are biostamps made by the firm MC10, which can be used by healthcare professionals to monitor a patient's vital signs. In a medical context, these tattoos, which are thin and stretchable, could be implanted within the body to monitor conditions like irregular heartbeats or brain activity.
The technology, Dugan explained, can also be used as an authentication tool, worn right on the user's skin.
Ink not your thing? Dugan pulled out another conceptual idea: a small pill-like device that, when swallowed, would turn your whole body into a authentication device.
The device runs "like a reverse potato battery," Dugan explained, pulling power from the acids in your stomach to generate an 18-bit authentication signal from the embedded chip inside. The pill has reportedly been approved already by the U.S. Food and Drug Administration.
Motorola seems to be taking a shortcut to the coveted holy grail of pure biometric identification with these interim bio/tech hybridized tools. The more technology that an authentication system employs, however, the bigger the more chance it can be hacked.
That said, tattoos and pills are a pretty interesting place to move the authentication conversation.
Image courtesy AllThingsD.