Don't believe the hype. Teens are not abandoning Facebook – nor are they likely to leave anytime soon.
Like the once bittersweet, respectful and sometimes resentful interactions between Steve Jobs and Bill Gates, so is the prickly, contentious and mutually beneficial relationship between teens and Facebook. It's complicated, yes, but teens and Facebook – despite what you've heard – are practically joined at the hip.
I Hate You! I Hate You! Can I Borrow the Car?
Facebook would be wise not to ignore teen's complaints regarding the service – complaints that span peer pressure, image, prying parents, privacy settings, advertising and access. Nonetheless, for teens, Facebook has become a pillar of daily life, like school and parents.
A recent Pew Research report on teens and social media launched the blogosphere into a giddy, frenzied panic. Teens are "abandoning" Facebook, several sites claimed. This is false – likely the result of a limited reading of the report's data and a too-eager willingness to parrot an Associated Press report which stated that "teens are migrating to Twitter."
Twitter is booming as a social media destination for teenagers who complain about too many adults and too much drama on Facebook.
Such statements were based less on Pew's actual survey data, however, and more on cherry-picking responses from Pew's supplemental
. In particular, the media chose to focus their attention on two very small open-ended online discussions that Pew conducted: one with 11 middle schoolers and the other with nine high schoolers.
Here are the facts: nearly every teen in the U.S. is online and the vast majority of them are on Facebook – first and foremost. Nothing else is close. Indeed, the very same teen focus group complaints likely only reveal the pre-eminence of Facebook in teenager's lives.
What Are You Doing? Nothing.
Fully 95% of American teens are online and of those who use any form of social media, an incredible 94% have a Facebook account – a slight increase from 93% in 2011.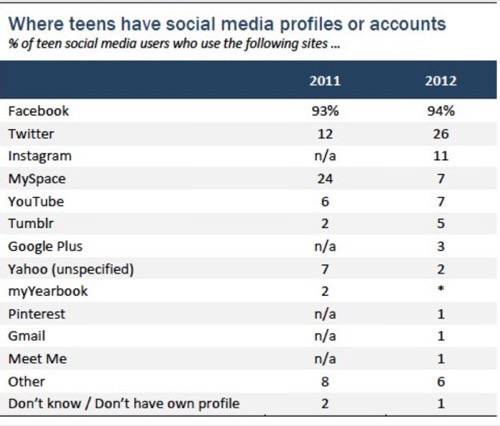 Teens aren't simply signing up for a Facebook account, of course. The data show that teens rely upon Facebook in numbers radically higher than any other social media platform, including Twitter. Note also that Google's much promoted Google Plus registers at only 1% as teens' preferred choice.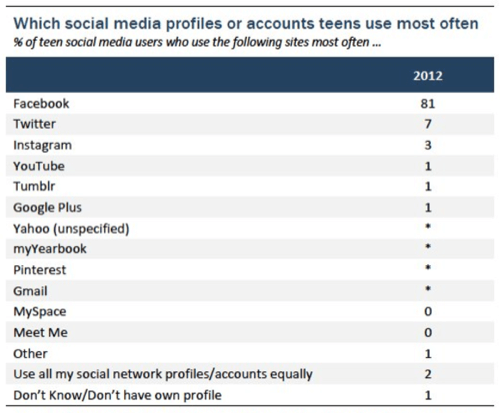 I'm In Charge
Two primary reasons many analysts claim teens will abandon Facebook is because of the site's confusing privacy policies and, possibly more concerning, the fact that teens' parents can see everything they post. In fact, neither of these are much of a concern.
Pew's data shows that nearly 90% of teens say Facebook's privacy settings are either "not difficult at all" to manage or "not too difficult." A surprisingly high 61% of teens have reviewed their Facebook privacy settings within the prior month of the survey – and nearly 80% of teens within the prior year.
Turns out, the granularity of Facebook controls are welcome. For example, 60% of teens keep their Facebook profile "private" – restricted to approved friends and family access. Further, only 16% choose to have their location automatically included in their updates. Teens are in control of their Facebook profile. Twitter, by contrast, is more likely to be viewed as fully "public" by teens.
With respect to mom and dad seeing what's on their profile, that also isn't much of a concern. Only 5% of teens "limit what their parents can see" on Facebook.
The vast majority of teen Facebook users say that their parents and other adults see the same content and updates that all of their friends see, suggesting that having multiple Facebook accounts is not a common practice.
Everybody's Doing It
The average number of friends for teens on Facebook is 425 – compared to 171 "followers" on Twitter. Teens are not likely to abandon these relationships – in part or en masse. There is simply no bigger, better or more robust alternative to Facebook. There is also a mutually beneficial "network effect" for teens on Facebook – that spurs social media across the web. Approximately three-quarters of teens surveyed have 150 or more friends in their Facebook network, and 20% have over 600 friends.
A close reading of the data reveals that the more friends a teen has on Facebook, the more their overall online social activity increases – across all social media sites, not just Facebook. No doubt, Facebook is seeking new methods of tracking and monetizing this enabling activity.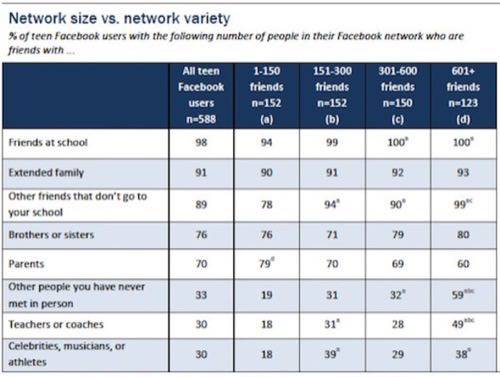 This is not to suggest that Facebook cannot be disrupted nor displaced. Nor that teens are sublimely happy with all aspects of the platform. Rather, that significant chunks of their online identity, friendships, and socialization activities are inextricably tied up with Facebook. They are not leaving.
A recent article in Huffington Post captures the relationship teens have with Facebook – unlike so many other social media services:
"I'll wake up in the morning and go on Facebook just… because," [fourteen-year-old] Casey Schwartz says. "It's not like I want to or I don't. I just go on it. I'm, like, forced to. I don't know why. I need to. Facebook takes up my whole life."
Teens may have a complicated, trying relationship with Facebook, but do not expect them to leave the service – or limit their use. For teens, Facebook is not only a destination, but a way of life.
Lead image courtesy of Reuters.